JACKSONVILLE – The reality hasn't sunk in. That may never happen.
But Tony Boselli indeed has achieved football immortality, and he's as prepared as possible for the moment that will come in Canton, Ohio, on August 6.
Boselli, who will become the first player in Jaguars history enshrined in the Pro Football Hall of Fame, said Tuesday he is essentially finished with the speech he will deliver that day. The difficult part?
Keeping that speech to the six-to-eight minutes allowed by the Hall.
"It's pretty much done," Boselli said Tuesday. "I've got some edits to do, because it's over the eight-minute mark and there's no chance I'm going to do it in six. I'm praying and editing and working hard trying to get it to eight because the last thing I want is (Hall of Fame communications officer) Rich (Desrosiers) coming on stage and trying to tackle me and telling me to get off.
"It's difficult in six-to-eight minutes to tell the story of how you got to a place like the Hall of Fame."
Boselli, a left tackle for the Jaguars from 1995-2001, discussed multiple Hall-related topics in a media videoconference Tuesday. Among them: Hall of Fame defensive end Bruce Smith's recent comments regarding Boselli.
Smith in a June Instagram post complained that "a large part of the campaign to promote Tony Boselli into the Hall of Fame seems to hyper-focus on a single successful performance he had against me in a 1996 playoff game." Smith also added that he found "it difficult to compare the totality of his (Boselli's) body of work with those of the NFL's greatest left tackles."
Boselli said the two have spoken since the post.
"I have the utmost respect for Bruce Smith," Boselli said. "Anyone who wants to go watch the tape, my play speaks for itself. My first thought when I read it was, 'I'm going to call Bruce.' Bruce and I had a conversation. I'll keep that private. We had a good conversation.
"We're good. I'm looking forward to seeing him when I get to Canton."
The Hall on Tuesday announced that Boselli will be the fifth of eight 2022 enshrinees/representatives to speak on August 6. Boselli called writing the speech an impossible task.
"The majority of the speech is talking about family and friends and the people who helped me get there," Boselli said. "I'm not going to be able to call everybody out by name that I want to. There's just not enough time. I'm a firm believer that no one reaches a goal by themselves, and I sure didn't. Trying to fit them all in is going to be hard."
Boselli, a three-time Associated Press first-team All-Pro selection, retired after seven seasons because of shoulder issues. Widely considered one of the best ever to play his position, the length of his career often was debated by voters when considering his candidacy. He made Hall in his sixth consecutive year as a finalist.
"I knew the big elephant in the room was the length of my career," Boselli said. "That was the thing being debated back and forth. That was hard because it was something I couldn't control. I also knew I had played more games than other Hall of Famers. I get the debate, but that was always hard.
"A lot of people talk about, 'There has to be a better process [for Hall selection].' I disagree. It should be hard. It has to be subjective on some level.''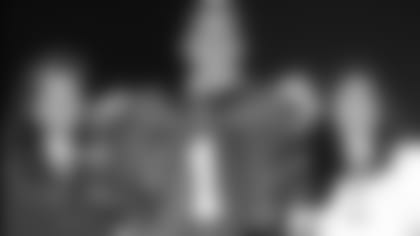 Boselli, too, on Tuesday discussed what the honor means for his family – and for the city of Jacksonville, which has been home to he and his family for most of the last 27 years.
"People are excited," he said. "People in Jacksonville have been super-supportive of me since the day I got here in 1995. The fans have been in my corner the entire time. I've said all along I'm bringing my family with me. I'm bringing every teammate and all the coaches I've played for.
"I'm also bringing the City of Jacksonville, fans of the Jaguars. They have a special place in my heart. They've always had my back, and I've tried to have theirs. I'm excited."
Boselli, as he often has done since his election to the Hall, called being the first Jaguars player enshrined "a huge honor."
"Being the first pick ever, I took that as a real responsibility," said Boselli, the first player ever selected by the Jaguars in the NFL Draft in their 1995 expansion season. "(Then Head Coach) Tom Coughlin and (Owner) Wayne Weaver trusted me in 1995 to be the first pick. I hope I lived up to that and tried to every day.
"Being able to do that as a Hall of Famer is outstanding. It's a big deal to me. I'm honored to be the first representative of the Jaguars in the Hall of Fame. It's humbling. I will do my best to represent the Jaguars and the city of Jacksonville every day."
Added Boselli: "The fact that I'm going to have a bronze bust in Canton for the rest of time … to be among all the great players who have ever played the game … it's mind-boggling to me. Half the time I pinch myself because I was the kid who grew up wanting to be those guys.
"Now, to be alongside them, is amazing."