CANTON, Ohio - His NFL career was all about firsts.
Fittingly, in his official moment of football immortality, Tony Boselli delivered a speech that will last. And that will be remembered.
Boselli on Saturday afternoon became the first person associated with the Jaguars to be enshrined in the Pro Football Hall of Fame. His eight-minute speech in Canton, Ohio, made his long-awaited and well-earned membership candidacy official.
It was an emotional day, and an emotional speech.
"It is a profound honor, and I thank the Hall for the privilege," Boselli said.
Boselli, considered perhaps the NFL's best left tackle in the late 1990s Golden Era at the position, played for the Jaguars from 1995-2001 before shoulder injuries shortened his career.
The Hall Class of 2022: Boselli, wide receiver Cliff Branch, linebacker Sam Mills, defensive linemen Richard Seymour and Bryant Young, Head Coach Dick Vermeil, safety LeRoy Butler and referee Art McNally.
"I cannot imagine being in better company," Boselli said.
Boselli's speech mentioned his wife, Angi, and family members including his five children: Andrew, Adam, Ashli, Alexis, and Ansli. It, too, mentioned the town that became his family's own.
"Angi and I are both incredibly blessed to call Jacksonville our home," he said. "It is where four of our five children were born, and all were raised. It's a beautiful city where the Bosellis have made lifelong friends. You won't find a better football town."
He was introduced Saturday by his Jaguars teammate and best friend, former Jaguars quarterback Mark Brunell. The Jaguars made four consecutive playoff appearances, played in two AFC Championship Games and won two AFC Central titles during their time playing together.
"It was my job to protect Mark Brunell … but it became evident to me early that I was protecting not only a star quarterback, but a man of remarkable character and quality," he said.
Boselli thanked multiple Jaguars officials, players and coaches from that era Saturday, including Tom Coughlin – the franchise's head coach from 1993-2002.
"It all starts with Tom Coughlin," Boselli said. "Tom was hard, demanding and had high standards. Tom made us winners. I am more grateful for Tom with each passing year."
Boselli, too, mentioned two other Pride of the Jaguars members from that era: running back Fred Taylor and wide receiver Jimmy Smith.
"I hope one day they'll join me in Canton," he said.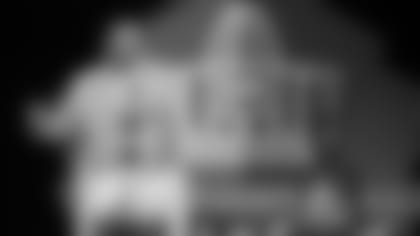 Saturday capped a remarkable journey for Boselli. The first collegiate draft selection in franchise history, he was drafted to be a franchise cornerstone. He became just that, then in 2006 became the first person inducted into the Pride of the Jaguars.
As he became first Jaguars player to be immortalized in Canton Saturday, the franchise – and its city – was prominent on his mind.
"I thank God for football and for the people of Jacksonville; DUUUVAL!" he said.
Boselli, too, mentioned former Jaguars offensive linemates such as Leon Searcy, Jeff Novak and Ben Coleman, also mentioning his line coach with the Jaguars, the late Mike Maser.
"This is not an overstatement: All of my Jaguars teammates, coaches and staff were instrumental in my path to Canton," he said.
He mentioned, too, former Jaguars Owners Wayne and Delores Weaver, current owners Shad and Ann Khan and team president Mark Lamping.
"Again, there is nothing more precious than family," he said. "There is nothing more important. There is nothing more powerful. The support and love of my family, in all of its forms and throughout my 50 years, is why I am here today."
Boselli spoke Saturday of his childhood in Colorado; of a large, extended and "harmonious" family; of his mother, Candy; of his siblings Jennifer, Michael, Liz and Lauren.
"My siblings taught me a valuable lesson … it wasn't all about me," he said. "Without the influence of my family during my formative years, my life in football isn't happening. No way am I standing in front of you at this moment."
He spoke, too, of wanting to play quarterback as a youth and dreaming of playing for the Denver Broncos. Legendary Fairview (Colo.) High School football coach Sam Pagano switched him to offensive line for his final two seasons there. He then played collegiately at Southern California before the Jaguars selected him No. 2 overall in the 1995 NFL Draft – making him the first draft selection in franchise history.
"My career, indeed, had taken flight at USC," he said. "Much more important, however … my life would take shape, thanks to meeting Angi Aylor … my wife, best friend, counselor, supporter and world's greatest mom for 27 plus years. Angi has been central to my life journey, as a football player, husband and father.
"The greatest thing football has done for me, is setting the stage for Angi to be my wife."
Boselli, fittingly, closed his speech talking about family. The ending began:
"I was born Don Bosco Anthony Boselli, Junior. The best part of my name … is Junior."
After a pause, he continued:
"To my dad, Tony Boselli, Senior … whose brave fight against cancer was decided on May 31, 2021 … and whose impact on my childhood, career and life can never be adequately expressed … Thank you, Dad. Thank you for everything. I am happy you are in the comfort of God. I know you are here … but I wish you were here. I miss you. I love you.
"And on this, one of the greatest days of my life, I honor your memory today, and thank you for the greatest gift of all: Family."
View Boselli's full Pro Football Hall of Fame Speech below.