JACKSONVILLE – Winning mattered. Cornerback Shaquill Griffin was clear about that.
The veteran cornerback was clear on something else Tuesday as players and assistant coaches spoke to the media for the first time since the Jaguars won for the first time in more than a year.
The timing of that victory? And the circumstances?
Those mattered quite a bit, too.
"I think it came at the perfect time," Griffin said Tuesday, two days after the Jaguars' rallied from multiple deficits with two long and late field goals for a 23-20 victory over the Miami Dolphins at Tottenham Hotspur Stadium in London, England.
The reason the timing was right, Griffin said, was because the Jaguars have their bye week this week – and rookie quarterback Trevor Lawrence agreed.
"This is a lot better feeling, coming off a win, than when you lose," Lawrence said of his first victory – and his first fourth-quarter victory – as an NFL starter. "Winning before the bye week, that's huge. Then you have all the momentum and you feel good. You get a little bit of a break. It's been good. It's been awesome."
The Jaguars, who snapped a franchise-record 20-game losing streak with the victory, had improved through the first five weeks of the season. After losing in one-sided fashion to Houston in Week 1, the Jaguars led in the second halves of a Week 3 loss to unbeaten Arizona and a Week 4 loss to 4-2 Cincinnati. They were rallying against 4-2 Tennessee in a Week 5 loss before an apparent touchdown run by Lawrence was reversed early in the fourth quarter.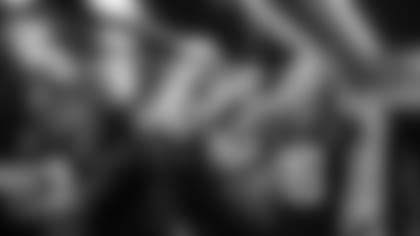 Lawrence said breaking the streak in a game in which they rallied from 7-0, 13-3 and 20-17 deficits with two late 50-yard-plus field goals by kicker Matthew Wright could provide confidence moving forward.
"I think it helps a lot," Lawrence said. "I think that win came at a great time. Obviously, we would have liked to have won a few of the other ones, but you get a lot of momentum going into the bye. We've got a chance to get our bodies right. We've got a lot of time, which we need.
"It shows no matter the situation – we had some guys out – we can still find a way to win. That's what it's all about. To see that carry over, to see us actually finish the game and pull it out, that's huge. You have that confidence that if we prepare and if we play four quarters, we'll be in a position to win.
"We proved that we can do that and we need to do that moving forward."
Griffin said, "It was big. We needed that feeling, just to know what it feels like to win a ballgame – especially in a crucial moment, in a game like that, a clutch situation. We needed that environment and that feeling. Now that everybody knows what it feels like, we don't want to lose it. That was the most important thing."
Jaguars defensive coordinator Joe Cullen on the bye week: "It's a great opportunity to get better, go out on the field and get work in. The rules now are you can't have pads on. In the old days, you could have three days of pads and you would scrimmage every day. You can't do that anymore. That's what we did when I first got in the league, but no more can you have pads in the bye week. It's [still] a great opportunity to get better and hone in on your techniques."
Offensive coordinator Darrell Bevell on running back James Robinson, currently the NFL's sixth-leading rusher with 460 yards and five touchdowns through six games: "He really is hitting his stride. There's almost nothing he can't do for us. He's running the ball well. He also caught three passes [for 28 yards against the Dolphins]. He's doing a great job. He's giving us everything he's got."
Cullen said safety Andre Cisco played well Sunday in a package in which he was responsible for defending the running back out of the backfield. Cullen also said veteran safety Rudy Ford had his best game on defense since signing with the Jaguars as an unrestricted free agent this past offseason. … Bevell on wide receiver/kick returner Jamal Agnew, who had a career-high five receptions for 78 yards Sunday: "I think one of our pleasant surprises to a lot of people has been Agnew. Jamal always has done a great job. I was fortunate that I had him in Detroit [from 2019-2020] and was able to see the beginnings of the skill set he had and things you might want to do with him. Everyone continues to see him as a kick returner, but he showed he has ability as a wide receiver. I'm excited for him in that way."