Nestled among busy roadways in Arlington is an oasis of special students with an exceptional school unknown to many folks who drive by it every day. One Jaguars player though drives to the North Florida School of Special Education as often as he can and frankly, it can't be too often for the students and staff.
Jaguars kicker Josh Lambo creates time in his schedule to be on a campus that is as special as its name suggests. On a sunny Friday morning before the Memorial Day weekend a soccer team, his soccer team, waited on the field for his to arrival. Lambo, a one-time professional soccer player, helped parents and coaches teach soccer skills so these kids could play the other game he loves. He so enjoyed and appreciated the chance to be a part of the effort that he brought every player their very own Josh Lambo, Jaguars jersey to celebrate the team as the school year came to an end. Needless to say, the jerseys were a huge hit. "What was really cool was the way they celebrated each other," Lambo offered. "They're so selfless, they were happy and clapping as each one of them came up to get the jersey and then put it on."
The students at the North Florida School of Special Education are different and that's something they don't shy away from explaining to visitors. Kids age six to 22 with intellectual and developmental "differences" not "disabilities" learn and grow together. The campus is one giant laboratory where hydroponic farming and the Delores Barr Weaver equestrian complex and a coffee shop and a weekend farmers market work together to both educate kids with mild to moderate developmental differences and get them ready to live an independent life. "This school treats the students with the respect they deserve and challenges them in the way they need to be challenged," said Bert Brown the President of the school's Board of Directors. "Josh shows up, an NFL player, but he fits right in. The most important thing to our students and staff is he is just part of the group. These kids see him as one of them."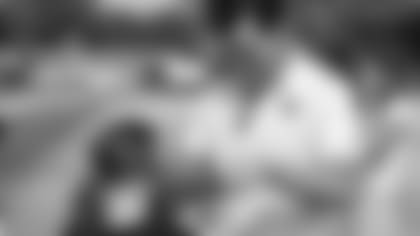 There's more truth in that statement than meets the eye. Lambo's brother and his nephew both have developmental differences and he saw in the school something they both missed out on. "This school is about inclusion, they make sure these kids are part of the world around them, not apart from it," he said. "Multiple members of my family would have benefited from a place like this where the parents and teachers work to give these kids something special, something they deserve."
Josh has contributed to more than just the physical education. He's helped build their library program through "Lambo Literacy Week" and brought positive attention to the school through My Cause, My Cleats, the NFL program that allows players on a given NFL Sunday to wear cleats with hand painted artwork featuring a cause close to their hearts. There is more in the weeks ahead. As the students donned their jerseys and celebrated the end of the school year, many were planning to return for an exciting summer adventure due in large part to Lambo.
The Jaguars 2020 Walter Payton Man of the Year nominee donated $20,000 from the NFL award to fund a unique program which teaches the kids to ride a bicycle. "How do you put a price tag on teaching a child how to ride a bike?" asked Sally Hazelip the Head of School. "Many of our students don't have the balance to ride a two-wheel bicycle but there is a program that has figured out how to do something that our parents struggle with. It's important to our kids to ride a two-wheel bicycle like their friends and siblings and not a three-wheeler. I've wanted to bring this program for a long time."
Lambo doesn't show up for the attention that being an NFL player brings in any school environment. He shows up for the actual, honest to goodness, genuine love he receives and the love he returns without hesitation. "Every time I drive away I feel as if I have a little better perspective on life," he said. "A missed kick is a missed opportunity, but I'll get another. A missed chance to be a part of this and to share the love these kids have for one another and their school. You don't get to be a part of something like this every day."
There are big moments, big kicks ahead for Lambo who's professional career thus far has a special look to it. But to observe his body language and listen to the gratitude that surrounded every word he spoke on that Friday morning, the opportunities ahead at the North Florida School of Special Education are exciting for Josh as well.