JACKSONVILLE – A difficult situation is now even trickier.
Jamal Agnew, a wide receiver/returner who had emerged as the most-consistent big-play threat on a Jaguars team struggling in that area, was placed on injured reserve Monday.
Agnew sustained a hip injury Sunday in a loss to the San Francisco 49ers.
Agnew, signed as an unrestricted free agent this past offseason, had the Jaguars' three longest plays this season – a 102-yard kickoff return for a touchdown in a Week 2 loss to Denver, a 109-yard return with a missed field goal in a Week 3 loss to Arizona and a 66-yard run in a Week 10 loss to Indianapolis.
Meyer said Monday Agnew is expected to make a full recovery.
"Obviously, we all love that guy," Meyer said. "He's everything you want as a competitor and as a person, and he has legit speed."
Agnew had 24 receptions for 229 yards and a touchdown this season and had rushed seven times for 111 yards. He returned 11 punts for a 6.7-yard average and 22 kickoffs for 23.9-yard average. He also had emerged in recent weeks as perhaps the Jaguars' most legitimate deep receiving threat.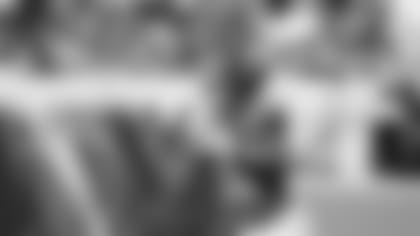 "We're working on that now," Meyer said when asked how to replace Agnew in the offense. "We still have playmakers. We just have to really utilize everyone's skillset and do a really good job with that."
Asked who would return kicks and punts in Agnew's absence, Meyer replied: "We're not sure yet."
Meyer on Monday also addressed other injuries sustained Sunday, saying that cornerback Shaq Griffin remained in the concussion protocol as of Monday and that left tackle Cam Robinson (knee) should play against the Atlanta Falcons Sunday. He said there was positive news regarding cornerback Tyson Campbell (shoulder) for Sunday and that safety Andre Cisco (groin) also should be available Sunday.
Meyer also said he plans to speak this week with running back James Robinson, who rushed for 29 yards and a touchdown on 12 carries. Robinson sustained a heel injury against the Seattle Seahawks on October 31, missed a victory over Buffalo the following week and played the last two weeks after being questionable on the injury report entering the weekend.
"We all love the guy, and he's tough as nails and he doesn't say much," Meyer said. "I just don't feel the same open-field running that he showed when he was healthy. We just want to do right by him and do right by us. But there's no one tougher than that guy."
Meyer said rookie quarterback Trevor Lawrence had "one of his better games" against the 49ers, completing 16 of 25 passes for 158 yards and no touchdowns with no interceptions. "There were some surrounding cast that at times didn't do very well," Meyer said. "Trevor would be the first one to tell you when he doesn't play well. In my mind, he played well. Good enough? No. Not good enough. But he played well, made some great throws and scrambled when he had to and made the right reads on some. We just have to put it together all areas and we're not right now."
Meyer on Monday addressed the team's offensive struggles over the last month that have led to the Jaguars scoring 43 points in four games. The Jaguars have just four touchdowns in that span, with all coming with the team trailing by 10 or more points. The struggles correspond with Robinson leaving the Seattle game in the first half. "Before that, I saw steady improvement," Meyer said. "I don't want to pull it all on him. He's obviously a very valuable member, but when someone goes down, someone else has to pick up that flag and go harder. We're not getting that right now."
Jaguars tight end Dan Arnold, after catching 27 passes for 315 yards in six games following his arrival in a September 27 trade with the Carolina Panthers, was not targeted Sunday. "It's our obligation … he's one of our better players … get him the ball," Meyer said. "That's something that I'll address here today. It's hard to say, 'Throw it to him.' We ran a couple of option routes to him and they (the 49ers) bracketed him. The ball went somewhere else. I give them credit. They bracketed him a few times. They realized the same thing. He's one of our best targets and we weren't able to defeat that."