JACKSONVILLE – This fit just feels right.
Lloyd, a linebacker from the University of Utah selected No. 27 overall by the Jaguars in the 2022 NFL Draft Thursday, arrived in Jacksonville late Friday. Saturday morning was his introductory press conference at the 'Bank.
Early in that press conference, he described the Jaguars calling him Thursday.
"I wasn't really expecting a call," Lloyd said, "but as soon as I saw it, I was ecstatic. You knew at that point you were home."
Pederson, hired as the Jaguars' head coach in February, on Saturday called the versatile Lloyd a quality player on the field and a better person off it.
"Our whole team is full of high character guys," Pederson said. "Devin is just going to be a great addition to not only the linebacker room but to our team and to Jacksonville."
Owner Shad Khan, as he did Friday when introducing No. 1 overall selection/outside linebacker Travon Walker to the media, called the Lloyd selection a result of a revamped decision-making process. Baalke is in his second season as the Jaguars' general manager, and Khan has spoken positively in recent months of a changing culture under him and Pederson.
"That was one of the first things with Doug and Trent: 'Let's be honest with ourselves, our record has not been good drafting, especially in the early rounds; how do we get better?''' Khan said. "The answer is basically two words: Collaboration, transparency.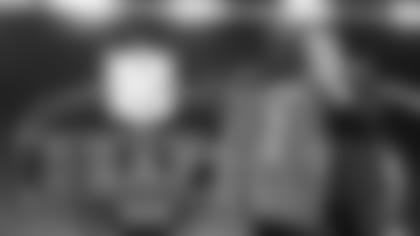 "This has been a very intensive process with the coaches and scouts viewing film together, a very grueling process, where there's integrity in the evaluation – which led to how the draft board shook out. Obviously, time will tell. But you can't be doing the same thing over again expecting different results. We are doing something very different. It started from Day 1.
"I feel fabulous and I think we've had a great last couple of days as an organization."
Lloyd (6-3, 237 pounds), a two-time first-team All-Pac-12 Conference selection, emerged the last two seasons as one of the top linebackers in college football. He was a first-team Associated Press All-America selection as a senior when he also was the Pac-12 Defensive Player of the Year.
"It really doesn't matter where you put me: I'm going to go out, I'm going to be competitive and I'm going to have success," Lloyd said. "I pride myself on being able to play anything you can ask a linebacker to play: coming off the edge, rushing the passer, man coverage, zone coverage, playing the run.
"Whatever you can ask a linebacker to do, I pride myself on being able to do at a high level."
Lloyd, projected by some analysts as a mid-first-round selection, waited a bit longer than was ideal to be selected Thursday. He described his wait in the NFL Draft "green room" in Las Vegas, Nevada, as "just waiting and waiting … and waiting a little more."
"I was finally just ready to get that call," he said.
When he did, he savored the moment by memorably lifting NFL Commissioner Roger Goodell several feet in the air when he walked across the draft stage – doing so at the suggestion of his mother, Ronyta.
"I said, 'Make sure you pick up Roger Goodell off the floor,' " she said, smiling. "I didn't know he was going to pick him up like that."
"I just wanted to see if he could," she said, laughing.
Lloyd also turned in a memorable, "Duuuval," cheer at the end of a draft-night interview with Melissa Stark of NFL Network.
"I actually had heard about it before," Lloyd said of the cheer. "As soon as I saw Jacksonville, when I hung up the phone, I immediately thought, 'I'm going to be able to say that now.' I did as soon as I got a chance to do it."
Lloyd, who began playing eight-on-eight football in the eighth grade, began playing football as a receiver and transitioned to safety as a high school senior. He moved to linebacker at Utah, and said it was there he first thought in college he could achieve what he considered a lifelong NFL dream.
"To be here, to be a Jag, to finally be home – it's just a blessing," he said. "I can't really put it any way other than that. You dream of playing in the NFL.
"To be in this position, it's exactly where I want to be right now."