DETROIT, Mich. – Senior writer John Oehser, senior correspondent Brian Sexton and team reporter Kainani Stevens offer quick thoughts on the Jaguars' 25-7 victory over the Detroit Lions in a 2023 Preseason Week 2 game at Ford Field Saturday
John Oehser, Jaguars Senior Writer…
Shining through. Saturday was about evaluating reserves and youth, and multiple players stood in those areas for the Jaguars against the Lions. Perhaps most notable offensively: Rookie running back Tank Bigsby, who rushed for 70 yards on 13 first-half carries and continues to show he likely will have a major role in Head Coach Doug Pederson's deep and versatile offense. Veteran wide receiver Jacob Harris also continued to make a push for a roster spot in a deep position group, catching a 23-yard pass for a first down on the Jaguars' lone touchdown drive of the first half. Keep an eye in this vein on rookie wide receiver Elijah Cooks, who had a 48-yard, catch-and-run gain on a slant pass in the second half. Defensively, lineman Jeremiah Ledbetter had a huge first half with a sack, two pressures and a forced fumble. That bodes well for the sixth-year veteran trying to be part of the defensive-line rotation. Hat tip, too, to veteran running back D'Ernest Johnson, who rushed for 36 yards and second-half touchdowns of one and 15 yards on six carries to secure the victory.
Sign of the times. Saturday's game lacked star power, which was by design and which continues to signal a change in how NFL head coaches approach the preseason. Both head coaches – Pederson of the Jaguars and Dan Campbell of the Lions – opted to not play most starters. In Pederson's case, this was because he felt the teams' two days of joint practices at the Lions' facility Wednesday and Thursday represented better and more important repetitions than could be had in the preseason. His approach therefore became to play backups, rookies and bottom-of-the-roster players Saturday to give those players their most extended in-game look of the preseason. This approach, or something similar, figures to be a trend moving forward as head coaches figure how best to prepare their front-line players – and evaluate their reserves – with the league having reduced the preseason from four games to three as of the 2022 NFL season. "Training camp's long and it's tough and hard and physical," Pederson said. "I just wanted our young guys to get really good opportunity to compete, to play, so we can evaluate properly."
Brian Sexton, Jaguars Senior Correspondent …
Powering through. The Jaguars' running game was outstanding in Detroit, with the running backs averaging 4.7 per carry behind an offensive line best described as patchwork. Bigsby continues to display an excellent blend of speed, power and instincts – and Johnson showcased an explosive burst around the edge on his 15-yard touchdown run. We know JaMycal Hasty's capabilities from last season. Pederson isn't a run-centric coach. This team is built to throw. So how do you avoid keeping four running backs who all have an added dimension? This is a deep group and will keep Pederson and offensive coordinator Press Taylor at the white board designing plays all season.
Battered up front. The offensive line was a deep group when the Jaguars arrived in Detroit on Tuesday. It's a M.A.S.H unit as they head home to Jacksonville. Veteran swing tackle Josh Wells was lost for more than a few weeks on Wednesday and rookie right tackle Anton Harrison's shoulder is a concern. On Saturday, promising rookie guard Cooper Hodges sustained what Pederson called a patellar injury, offensive lineman Chandler Brewer left the game with a shoulder and utility lineman Blake Hance – who has played all over the line this training camp – was also knocked out of the game. Combine that with the fact that left tackle Cam Robinson is going to miss the first four games of the regular season and you have a group they planned to be deep suddenly looking shallow and worrisome.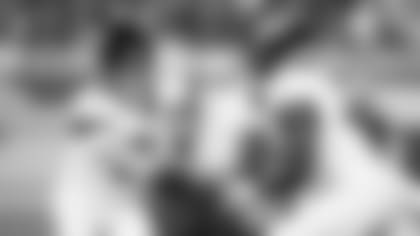 Kainani Stevens, Jaguars Team Reporter/Producer ...
Starters sit and the rookies get a chance to shine. Bigsby impressed with the bulk of the work at running back Saturday. His 13 carries for 70 yards showed he's ready to be a legitimate dual threat alongside Travis Etienne Jr. this season. This was another impressive game for cornerback Gregory Junior as he looks to have secured his spot on the 53-man roster.
No comp. There is no competition when it comes to being Jaguars quarterback Trevor Lawrence's backup. Rookie Nathan Rourke on Saturday had another solid preseason performance as he completed 10 of 12 passes and for 121 yards. Backup C.J. Beathard a bit more up and down as he threw for 138 yards, one touchdown and one interception. Rourke's preseason play has garnered some national attention, specifically his dynamic play against Dallas in Preseason Week 1. However, when asked if there is a competition between Rourke and Beathard, Pederson did not pull any punches. Pederson said definitively that Beathard is Lawrence's backup.