JACKSONVILLE – Consider this a happy homecoming. Very happy.
And if Josh Wells couldn't have imagined the scenario when he began his NFL career nearly a decade ago, he couldn't have been more pleased with how it played out early this week.
He's with the Jaguars again. And that's really cool.
"It's a small world," Wells said with a laugh.
Wells, who began his career as an undrafted free agent with the Jaguars in 2014 – and who spent five seasons with the team as a reserve offensive lineman – rejoined the team this week. He officially signed Tuesday afternoon.
"This is a huge blessing for me, and for my family," Wells said. "I'm at my house, the city I love, the city I played in for a while, the city where I'm raising my family. There are all those emotions, all positive. It's definitely a lot to take to in."
Wells, 32, spent the last four seasons with the Tampa Bay Buccaneers. He played mostly as a swing tackle there, backing up left and right tackle – a role he is expected to play in Jacksonville behind projected starters Walker Little and Cam Robinson.
"I love competing and I still believe I can play at a high level," Wells said. "I think they do, too. As I've gotten older, I've kind of assumed a role. I'm going to pour everything I know into Cam to be the best tackle he can be. And I'm going to try to help Walker. He's a great player.
"I think that's where I can bring a lot to the room. That's how you kind of carve out a thing, to be able to play multiple spots but also bring more to the table than just your performance."
Wells' signing reunites him with his best friend and former teammate, Jaguars center/guard Tyler Shatley, who – like Wells – originally signed with the Jaguars as a collegiate free agent following the 2014 NFL Draft. They live three houses from one another in Jacksonville.
"We talk every day, so he was absolutely excited," Wells said. "We talked about it. Our first year here, we were like, 'Man, if we could just play two years, that would be so cool.' Obviously you want to play a long time but you know how tough it is to play that long.
"You never expected it would happen for it turn out like this. You pray for it to happen and for it to come circle, and to be back with him – that was a huge part. We're best friends and have raised our families together. It means a lot, but I never expected it to happen this way."
"Cam's my guy," he said. "We have a great relationship. We've kept in touch. We've talked already and I'm just super excited to be home and get back with those guys."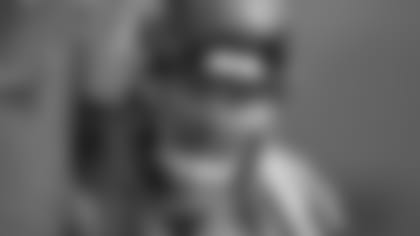 While Wells is returning to a very familiar city, and to a few former teammates, the franchise overall is mostly unfamiliar. Neither General Manager Trent Baalke or Head Coach Doug Pederson were with the organization in 2018, and the entire coaching staff also is new since then.
Wells said he met with the coaching staff Tuesday.
"It's incredible how from top to bottom it's the same vision, same culture, same mindset," Wells said. "It's awesome to see that from top to bottom meeting with everybody."
Wells left a Jaguars team that finished 5-11 in 2018 after advancing to the AFC Championship Game the season before. The Buccaneers made the postseason in three of Wells' four seasons, winning the Super Bowl following the 2020 season.
"I'm obviously grateful for my first five years here in Jacksonville," he said. "It almost feels like I left, and I grew up. When I left, I had a one-year-old daughter. Now, I have three kids. I've been married a lot longer now and learned how to win in Tampa. I got a Super Bowl in Tampa.
"Now, I feel like I'm coming back to something that's really special here. I feel like I can bring a lot to the team, but I feel like they've got a great thing going that's going to be super fun to be a part of. It's a completely different culture, a completely different situation than when I left.
"I'm super excited to be part of something that's rolling in that direction."