JACKSONVILLE – The next task is the biggest task. The reward is even bigger.
It's underdog versus favorite.
It's a No. 4 seed versus No. 1 seed.
It's a team with little postseason experience versus a playoff-hardened roster.
It's a team that hasn't made the postseason since making the AFC Championship Game following the 2017 season against the team that has hosted every AFC Championship Game since.
The pregame theme throughout the week has focused on the above storylines – and the No. 4-seeded, inexperienced Jaguars (10-8) indeed face a difficult challenge when they play the Kansas City Chiefs (14-3), who enter the 2022 postseason as the AFC's top seed for a third time in five seasons.
But a difficult challenge is in no way an impossible one, and there are intriguing matchups in Saturday's 4:30 p.m. game that will open divisional playoff week:
It's Jaguars Head Coach Doug Pederson versus Chiefs Head Coach Andy Reid.
Perhaps most notable, it's Jaguars quarterback Trevor Lawrence versus Chiefs quarterback Patrick Mahomes – a matchup of a player rapidly becoming one of the NFL's better young quarterbacks versus the favorite to be the NFL Most Valuable Player for a second time in four seasons.
The winner goes to the AFC Championship Game.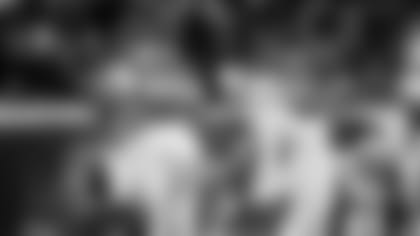 Here are 10 things the Jaguars must do to be that team:
Shut out the noise. Arrowhead is perhaps the NFL's loudest regular-season venue. It's louder still in the postseason. The Chiefs have won a lot of big postseason home games in recent seasons, so this is a difficult task. They also have lost big postseason home games in recent seasons, so it's not an impossible one.
Run. The Jaguars rushed for 75 yards in a 27-17 loss at Arrowhead in Week 10, with running back Travis Etienne Jr. rushing for 45 yards. The Chiefs have allowed 90 or more rushing yards 13 times this season. If Etienne reaches 100, that's a good sign for the Jaguars.
Be special. The Jaguars are a good offense. They're a great one when Lawrence makes special plays. They need to be a great offense to beat Kansas City on the road.
Get the lead – or at least stay close. The Jaguars have rallied in seven of their last eight victories, including coming from 27 points down in the first half in a 31-30 victory over the Los Angeles Chargers in an AFC Wild Card Playoff game at TIAA Bank Field last Saturday. But they haven't rallied from more than seven points behind to win on the road this season and trying to come back against an offense as potent as the Chiefs is a test that's tough to pass.
Minimized Jones. Chiefs defensive tackle Chris Jones is among the NFL's best at his position. He dominated at times in November against the Jaguars. He must be at least minimized to allow Lawrence time to throw and for Etienne to be effective.
Bother Mahomes. Mahomes is the NFL's best quarterback and likely will win his second Most Valuable Player Award. He can beat the blitz and he has improved against defenses that force him to play patiently. But any quarterback is affected by pressure. The Jaguars must get enough to force him into a rushed throw or two – and a turnover or two to match.
Take advantage of opportunities. The Jaguars failed to score on four of their seven possessions past midfield in the teams' first meeting. They can't beat a team as high-powered as the Chiefs squandering opportunities.
Beware the chicanery. Reid is 27-4 after a bye and he's really good at introducing new looks to confuse defenses. There will be trickery.
Contain Kelce. Chiefs tight end Travis Kelce is the NFL's best player at his position and Mahomes' go-to receiver. He will probably score and he will probably be productive. The Jaguars' task is to keep him contained enough to give their offense a chance to keep pace.
Keep believing. The Jaguars are one of the last eight teams playing because they have believed in themselves when no one else believed. They believed when they trailed the AFC South by four games. And they believed when they trailed in their last five home games before winning. There will be adversity Saturday. They must continue to believe.
Ten Things is brought to you by our partners at UF Health.