JACKSONVILLE – This is important stuff for Rudy Ford.
A chance to expand his role. A chance to solidify himself in the Jaguars' secondary. A chance to help the defense.
All are part of Ford's story, which is a good story among many such Jaguars stories these days. But the last part – helping the defense – is the safety/special teams ace's primary focus.
"It's an opportunity to go help our team. I want to prepare myself just for that."
Ford's story is not only about taking advantage of opportunity, it's about a player who has earned a key defensive key role – and who played that role remarkably well in the Jaguars' biggest victory in recent memory.
Ford, who signed with the Jaguars as an unrestricted free agent in March, moved into their nickel position two weeks ago. He not only registered his first career interception in a 9-6 victory over the AFC East-leading Buffalo Bills Sunday, he helped the secondary limit the NFL's No. 1 scoring offense.
"He's a great player," Head Coach Urban Meyer said this week. "He hasn't gotten many opportunities in the NFL, but he's a hell of a player."
Ford, a sixth-round selection by the Arizona Cardinals in the 2017 NFL Draft, indeed previously had few opportunities in the NFL – defensively, anyway. A standout special teams players first for Arizona and for two more years in Philadelphia, that's the role for which the Jaguars signed him as an unrestricted free agent this past offseason.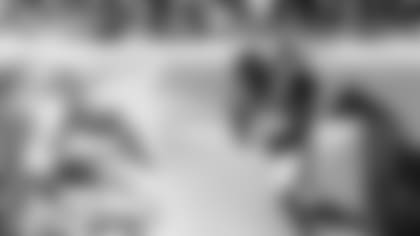 Meyer, who has emphasized special teams throughout his coaching career – and who has continued to do so since arriving in Jacksonville as head coach in January – often has called Ford as good a special teams player as he ever had coached. Meyer reiterated that stance Wednesday.
"The best cover guy I have ever seen," Meyer called Ford.
But Meyer also has said repeatedly that Ford is more than a special teams player.
Ford, who played collegiately at Auburn University, felt that way, too – and it was a reason he signed with Jacksonville. He has played in the secondary throughout the season, but he moved into a nickel role following a victory over the Miami Dolphins in London.
"When I signed here, it was an opportunity to come and possibly work for a role," Ford said. "I wanted to come and show what I could bring to the table. My mindset was to work hard, show what I can do and show my skillset, show what I'm capable of doing and show how I can help this team."
Ford, after averaging 11 defensive snaps through five games, played 25 against Miami. He played 36 defensive snaps against the Seattle Seahawks in Week 8, then had the biggest game of his career defensively to date against Buffalo: 66 snaps, seven tackles, three passes defensed and his first career interception.
"I never want to just be labeled as just a special-teams guy," he said. "When I'm on the field, I'm going to my all to my teammates and my organization. Whatever I do, I want to make sure I do it to the best of my ability and put my best foot forward."
Ford's speed not only helped the Jaguars' zone scheme frustrate Bills quarterback Josh Allen and the Bills' receivers, he was effective as a blitzer with a quarterback hurry.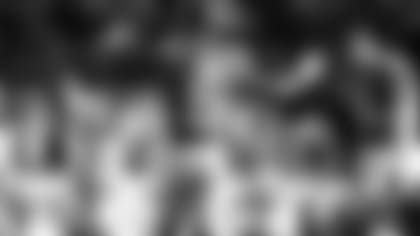 "Rudy [Ford]'s an explosive guy and he just continues to get better," defensive coordinator Joe Cullen said. "He did a great job on special teams and then we created some packages for him. [He] did a great job and now we're expanding that role because he is fast, he is explosive, and we're excited about moving forward with Rudy getting more reps."
Meyer this week praised Ford's work ethic and dedication, attributes Ford said were learned from veterans in Arizona and Philadelphia and were reinforced in Jacksonville by veterans such as cornerback Shaquill Griffin and safety Rayshawn Jenkins.
"I've always had great veteran guys around me," he said. "I always model what they do. I take everything very seriously."
Which he said he plans to do moving forward with an opportunity he earned – and that he will continue to savor.
"I'm just going to take advantage of every opportunity I get," Ford said. "I just want to keep building. I just want to keep showing what I can do to help this team, to help this organization. I'm thankful for Coach Meyer, and to Joe Cullen – and also thankful to my position coaches and my teammates.
"I take everything one day at a time. I want to keep preparing showing what I bring to the table. I want to show I can help this team. At the end, then we can see where we're at."