JACKSONVILLE – He's entering Year 3 now. Or Year 2.
Either way, for Jaguars running back Travis Etienne Jr., the difference from one year to the next is all the difference.
"It's night and day," he said.
Etienne, speaking on Day 4 of 2023 Jaguars Training Camp at the Miller Electric Center, is entering his third NFL season. Or, if seen differently, his second season. The No. 25 overall selection in the 2021 NFL Draft, Etienne missed that season with a Lisfranc injury. He returned last season, emerging as a starter and key player in a dynamic offense.
What matters to Head Coach Doug Pederson about Etienne isn't Year 2 or 3, but how he approached the last few months during his first full healthy professional offseason.
"He came back in great shape, ready and eager to go," Pederson said. "Just having an offseason where he didn't necessarily have to rehab, that just takes it off your mind, too. You just focus on getting yourself conditioned and ready to come back to training camp."
Etienne's camp focus: Using experienced gained last season – knowledge of the offense and blocking schemes – to become a better runner. It's a topic Pederson discussed throughout the offseason when discussing the entire Jaguars running game, and one he revisited during his media availability early Saturday.
"Just keep improving the vision of all the running backs – understanding the front, understanding where the hole is and where it could be," Pederson said. "All that just comes with time. We're eager, once the pads come on [in Day 5 practice Monday], to see him working."
Etienne emphasized details Saturday when discussing how he can improve this season.
"My main focus is my tracks, just getting the ball, my shoulders being square with the offensive linemen," Etienne said. "Watching last year, I kind of predetermined things. My shoulders wouldn't be squared. So linebackers are kind of getting a beat on where I'm going.
"This year there's more focus on keeping my shoulders square. That way, I'm giving myself a three-way go at all times. He's not able to predetermine anything. I'm able to play with him and take the yards that are there."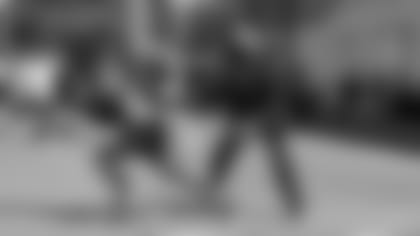 Etienne in his first professional season emerged as one of the NFL's most-consistent big-play runners, rushing for 1,125 yards and five touchdowns. His 25-yard run late in an AFC Divisional Playoff victory over the Los Angeles Chargers was one of the offense's most-memorable plays of the season.
To hear coaches tell it, there is potential there for more. To hear Etienne tell it Saturday, he agrees.
"I feel like my first year was all about gaining my confidence back," he said. "Once you get that and once you understand it's football, it's something we've been playing our whole life, you kind of get to yourself back to yourself again.
"Knowing what coaches are looking for, knowing the schemes, knowing what my offensive linemen are doing play in and play out, just having those reps. Just having that season behind me kind of propels me forward. Moving forward, I already know what coach is looking for.
"I feel that's going to be night and day for me. You're going to see levels of growth this year."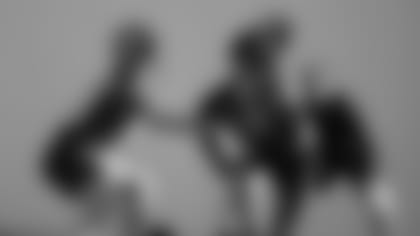 Etienne on the Jaguars' offense starting faster in '23: "I feel like we're going to start faster. Last year was our first year in this offense, so everyone was really learning week in and week out. Now, we already have that foundation. We know who we can be and we also added [wide receiver] Calvin Ridley. I feel like that's just an automatic reason we're going to start faster. You can't help but start fast with guys like that on the outside. I'm very excited for this year to see where we're going to go."
Trevor Lawrence was good in 2022. The Jaguars' quarterback must improve in 2023, and Pederson on Saturday said that improvement must come from consistency. "The back half of the year (2022), we got better; he got better," Pederson said. "It was more efficient. He understood more situations. Now it has to be that consistency, right? It has to just be for the 17-game schedule. It has to be every single week. It has to be like that. One thing that really helps him is having the type of guys around him that he has and the way they practice. Every single day that puts him in a game-like situations. I think that consistency will continue to elevate and get his game even better as we go."
Pederson on five-time Pro Bowl right guard Brandon Scherff: "There's a calmness there. There's a maturity level. He keeps things really simple and grounded. You watch him, the way he comes in the building, the way he prepares himself to practice, gets his mind right – that's what pays dividends to the rest of his line of guys. He's done it for so many years. His overall presence in that group just calms everybody down and he does a nice job of it."