JACKSONVILLE – The 2013 season was about rebuilding in Jacksonville.
First-year Jaguars Head Coach Gus Bradley took the reins of a team without meaningful talent, especially at quarterback. His mission was to find a few players to build around – and show improvement.
After an 0-8 start, capped by a 42-10 loss to the San Francisco 49ers, the Jaguars beat the Tennessee Titans, Houston Texans and Cleveland Browns to move to 3-9.
The Texans arrived in Jacksonville for Thursday Night Football in one of those weird quirks in which teams play twice in eleven days. The Jaguars' sudden surge built an energy at EverBank Field for a team showing signs of improvement and fight.
Quarterback Chad Henne drove the Jaguars on the game's opening drive, with running back Maurice Jones-Drew rushing for 30 yards and a key conversion run on third down. On third-and-goal from the 1, Henne found tight end Marcedes Lewis, who fought for the ball in the end zone for a touchdown that gave the Jaguars a statement possession – and an early lead.
The Texans were hard to figure. Wide receiver Andre Johnson was still a playmaker in his 11th NFL season and rookie wide receiver DeAndre Hopkins looked like the future at the position – which turned out to be the case. Houston had a good offensive line in front of quarterback Case Keenum, yet the Texans were in the midst of a 10-game losing streak.
Keenan moved the Texans a bit, but they couldn't find a rhythm; the absence of running back Arian Foster robbed Head Coach Gary Kubiak of a critical piece of his play-action-oriented offense. They punted on both of their first two possessions.
On first down at his own 14, Henne passed again to Lewis – this time for a 41-yard gain to the Houston 45. Henne threw deep to wide receiver Cecil Shorts III on the next play, and safety Shiloh Keo drew the flag for pass interference. Three plays later, the Jaguars took a 14-0 when Henne connected with Shorts on a six-yard touchdown pass. The momentum was tangible in Jacksonville.
The Texans finally answered when Keenum started connecting with Johnson, which built a nice touchdown drive with just under two minutes remaining in the half to make it 14-7. But the final two minutes of the half proved eventful.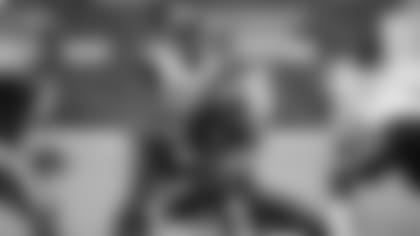 A Jaguars drive stalled thanks to a holding penalty on right tackle Cameron Bradfield. But the Texans gave it right back when Keenum threw an ill-advised deep pass to Johnson, a pass intercepted by cornerback Alan Ball.
Henne took a shot of his own and was intercepted, but holding on safety DJ Swearinger gave the Jaguars another shot. Kicker Josh Scobee's 40-yard field goal gave the home team a 17-7 lead at the half.
The Texans put up a bit of a fight in the third quarter, and a field goal by Randy Bullock made it 17-10. But as soon as the Texans felt some energy, the Jaguars hit them with a trick play. Wide receiver Ace Sanders took a toss from Henne and found running back Jordan Todman for a 21-yard touchdown pass and the Jaguars led again by two touchdowns, 24-10.
Kubiak decided his team needed something different and went back to veteran quarterback Matt Schaub, a key player for the Texans for five seasons but whose tenure in Houston was clearly done. Schaub to Johnson had killed the Jags for many years and Schaub went back to Johnson again.
Schaub put together a touchdown drive and a field-goal drive to pull the Texans to within four early in the fourth quarter. The Jaguars offense stalled with a 24-20 lead and gave the ball back to the man with the hot hand with 9:22 remaining.
Schaub passed to tight end Garrett Graham, then Hopkins, then Keyshawn Martin. The Jaguars had no answer as Schaub connected on six of eight passes and had his team at the Jaguars 21-yard line with just over four minutes to play.
On first-and 10, running back Ben Tate went around the left end for nine yards. But fullback Greg Jones was stuffed on second-and-1. Linebacker Paul Posluszny grabbed Tate for a one-yard loss on third-and-1 to set up fourth-and-1. Schaub as expected threw to Johnson, but he couldn't haul it in. The stadium erupted and the Jaguars sealed the win with an interception by linebacker Geno Hayes to set up Scobee's 39-yard field goal. The final score: 27-20 in front of a national television audience.
Finishing strong was the mantra for Bradley's first team, and with four wins in five games they looked to be on their way.
Purchase tickets to the Houston vs. Jacksonville matchup here.