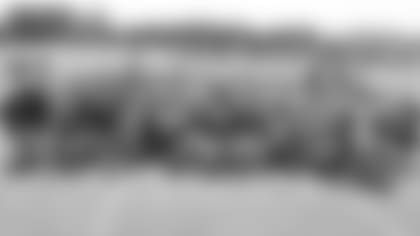 ](http://bit.ly/pics051614)

JACKSONVILLE – What We Learned from 2014 Jaguars rookie minicamp at the Florida Blue Health and Wellness Practice Fields this weekend …
1. The fans were ready.There had been a good feeling around this team throughout the offseason, starting well before free agency in early March, then continuing through the May 8-10 NFL Draft. You had a feeling the turnout would be good for the two-day rookie minicamp, and when more than 2,000 fans showed Friday, that confirmed it. A rookie Top 10-drafted quarterback? A highly-regarded draft class? The excitement was real.
2. In fact, they were more than ready.What's a better word than, "Ready?" Primed? Pumped? Poised? What you thought you knew about the fans' level of readiness Friday disappeared late Saturday morning when you saw the line extending from the practice fields past the Jaguar "Touchdown" statue in front of EverBank Field. This was special.
3. They were, in fact, record-setting.The lines were sign enough, and as practice continued Saturday, you started hearing estimates on the crowd. The real numbers told a striking story: 6,214 fans showed up Saturday, a record for any practice in Jaguars history.
4. The Jaguars are fan friendly …First off, not every NFL team opens rookie minicamps – or any offseason work, for that matter. A lot of front-office types are reluctant to have such things open – you know, state secrets and all … The Jaguars are committed to having fans see this team up close – to share the journey, as Head Coach Gus Bradley puts it. Credit General Manager David Caldwell and Bradley for allowing that to happen.
5. No, we mean really, really fan friendly.While many teams indeed open some offseason workouts, very, very few would go to the extent the Jaguars did late in Saturday's practice. The team already had extended the viewing area from the end zones at the end of Fields One and Two to include the end zones at the end of Field Three. That was the first time anyone could remember needing to do that. Then, in the final minutes, the Jaguars moved the ropes to allow fans onto Field Two for a better view of the work on Field One. That's fan-friendly, folks.
6. Blake Bortles is coachable.To hear Bradley and offensive coordinator Jedd Fisch tell it, perhaps the trait the Jaguars like best about rookie No. 3 overall selection Blake Bortles is his ability to put a negative play behind him. He showed that collegiately, and Fisch said he has showed it in his first week of practice with the Jaguars. That's important for Bortles, because he has developing to do. That will happen more quickly if he's not worried about the last play.
7. Bradley values weekends like this.There are many reasons players love being around Bradley. But in the end it boils down to his to a true appreciation for players – and an enthusiasm you can't fake. Another example came at the end of practice Saturday when Bradley gathered the 52 players who participated over the weekend at midfield. The group included 26 players who wouldn't be with the team Monday, but Bradley had a photo taken of the group that he will send to each player along with a letter. Bradley has said in the past he struggles with the idea of releasing players who have bought into his approach – no matter how long they've been with the team. All coaches struggle with this, but gestures such as Saturday's show players what he's about.
8. There are undrafted rookies who have a chance.Cornerback Rashaad Reynolds. Defensive tackle DeAndre Coleman. Safety Craig Loston. Wide receiver Jermaine Copeland. Wide receiver Allen Hurns. Quarterback Stephen Morris. This isn't a comprehensive list, and it's no guarantee all will make the team, but all were undrafted rookies who appear to have a chance to be on the practice squad or active roster next season.
9. The Senior Bowl remained a factor after the draft, too.Remember all of those stories last weekend about how the relationships forged between Jaguars coaches and players at the Senior Bowl helped the Jaguars select players such as Telvin Smith, Brandon Linder, Chris Smith and Aaron Colvin? Well, it turns out it had the same effect after the draft. Players such as Coleman and Loston said over the weekend that although they had decisions on where to sign as collegiate free agents their experience at the Senior Bowl with Bradley and the Jaguars' coaches prompted them to sign with the Jaguars.
10. Telvin Smith has a chance.A chance for what? To start? Maybe for the long term. To contribute? Certainly by next season. The former Florida State linebacker has speed to cover tight ends and running backs and the Jaguars thus far have to love his approach and enthusiasm. Bradley said Smith must add size, but if he can do that, he could be a very, very good fit.
11. Marqise Lee and Allen Robinson look solid, too.Lee showed the fluidity and an athleticism that had some believing he would be a first-round selection. Robinson clearly has No. 1-receiver size and physicality, and showed athleticism with several acrobatic catches over the weekend. Wide receivers coach Jerry Sullivan said he likes what he saw from both players this weekend. A lot of time will be spent with the two second-round selections in the coming months on precision route-running and fundamentals.
12. The fans were really, really ready.We'll close where we began because it should be noted, emphasized and re-noted that this was a rookie minicamp. No pads. No extensive team work. No known veterans. And still – more than 8,000 fans? Really? Yes, there was the attraction of Bortles and you can't deny the appeal of a Top-5, franchise-type quarterback, but this was more than that. This was about a fan base being ready to embrace the team and the team being ready to embrace the fans. This was cool.