JACKSONVILLE – He's versatile and really good.
Anton Harrison also had a lot of value late in the first round. As Jaguars General Manager Trent Baalke saw it, those factors – and others – made this a night for smiles.
Because for Baalke, this was a player too good to miss.
"There are a lot of things we like about him," Baalke said. "We definitely ended up with a player that was rated very high on our board."
Harrison, an offensive tackle from the University of Oklahoma, became the Jaguars' Round 1 selection in the 2023 NFL Draft late Thursday night. He was the No. 27 overall selection, with the Jaguars twice trading down to that selection and acquiring three additional selections in the process.
"He's a young man that checked all the boxes for us," Baalke said.
The Jaguars traded their original '23 Round 1 selection, No. 24 overall, to the New York Giants for the No. 25 selection. They also received the Nos. 160 (Round 5) and 240 selection (Round 7) in that trade. They then traded the No. 25 selection to the Buffalo Bills for the No. 27 selection and the No. 130 selection (Round 4).
"We felt really good about the pick," Baalke said. "We had opportunities to move back some more and we just felt at that point in time, there was too much risk involved. We felt really good about the pick and [Head] Coach [Doug Pederson] and I looked at each other and said, 'Let's make the pick.'''
Baalke added, "We knew we didn't want to make any big moves back, but when the opportunity came to move one back, pick up some draft capital, move two back, it was just too good a situation for us based on the way the board sat at the time."
Harrison (6-feet-4, 315 pounds), who played three seasons at Oklahoma, was a first-team All-Big 12 selection in 2022. He started at left tackle each of the past two seasons and also started one game at right tackle.
"He's an excellent football player," Baalke said. "He could play left side, right side – could potentially play guards. There's a lot of versatility. We've got a plan for him for sure."
Pederson said Harrison will begin his Jaguars career at tackle.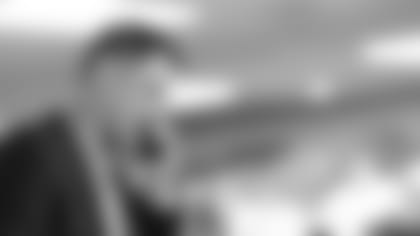 "Obviously tackle is the spot to learn," Pederson said. "We'll get him in here and get him going. The biggest thing is just getting him around the other guys and get him in that room, get him with Phil [offensive line coach Phil Rauscher], Coach Washington [assistant offensive line coach Todd Washington], the guys, just start the learning process.
"Right now, tackle will be the first primary spot for him, but as he develops and grows, just see where he can best help us win games."
Jaguars left tackle Cam Robinson could miss time early in 2023 season because of a suspension for performance enhancing drugs, according to reports. While Baalke said "everything plays into the draft," he emphasized late Thursday that Robinson's situation didn't dictate Harrison's selection.
"I can't stress enough our board was set," Baalke said. "We knew there was a pending situation for a while, but our board was set strictly outbuilding the value of the player. Coach and I talked a lot about it, 'Just trust the board. Let's walk away from the first round with the player we really like and covet regardless of the position.'
"So there were multiple opportunities. If it was that big a deal, we would've obviously made that pick and not traded back."
Baalke added, "We stick with the board. The value of the pick is important to us. That's our philosophy. Right, wrong or indifferent, that's how we set the board. It's not based on need; it's based on the value of the pick.
"We felt at that time when we made the pick, he was the highest-valued player on our board. We made the pick."
Baalke and Pederson each talked extensively before the draft about selecting players who fit with what they believe is a strong culture in the Jaguars' locker room.
Both spoke positively of Harrison in that area Thursday.
"That was a big thing for us," Baalke said.
The Jaguars hold 11 more selections in the '23 draft:
No. 56 overall (Round 2)
No. 88 overall (Round 3)
No. 121 overall (Round 4)
No. 127 overall (Round 4)
No. 130 overall (Round 4)
No. 160 overall (Round 5)
No. 185 overall (Round 6)
No. 202 overall (Round 6)
No. 208 overall (Round 6)
No. 226 overall (Round 7)
No. 240 overall (Round 7)
"We feel really good about how the day went," Baalke said. "We got a lot of picks to go here in Day Two and Day Three."