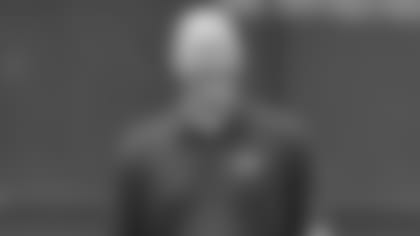 ](http://bit.ly/Camp061714)

JACKSONVILLE – The end of the offseason had a strong beginning.
That's how Jaguars Head Coach Gus Bradley saw Tuesday, the first day of a three-day mandatory veteran minicamp that marks the end of the on-field portion of the 2014 offseason.
The Jaguars practiced for about two hours and 20 minutes Tuesday morning and afternoon, and while nine players missed with injuries, all 90 players and four workout players attended.
It was a relatively difficult day by unpadded, offseason standards, and Bradley said he liked how players responded.
"I think these are important days for us, to challenge our guys to continue to get better," Bradley said Tuesday after the practice at the Florida Blue Health and Wellness Practice Fields, the first of two sessions this week open to the public.
Wednesday's 10:55 a.m. practice also is open to the public.
The Jaguars adjusted Tuesday's practice, moving from a scheduled early afternoon start to a 10:40 a.m. start time. Bradley said that adjustment, plus the longer hours of a minicamp day compared to the schedule in the recently completed organized team activities, made Day One of minicamp a challenge.
"We switched some things up – it's a longer day for them," he said. "They have a walkthrough in the morning, meetings, walkthrough, come out here and practice, meetings afterward. So, it's an extended day for them, and it's exactly what we need.
"We kind of threw a glitch in there. They handled it great. They didn't flinch at all, and I thought that was good."
Bradley, as was the case in the last week and a half of OTAs – which ran the last three weeks – praised the practice Tuesday.
"I think they just felt the energy," he said. "When the coaches coach you with energy and when the fans are here, that adds to it. When they feel that energy, the level of practice goes up.
"To us, practice is everything. It's the most important thing. We have to capture our practices."
The Jaguars also on Tuesday continued to work without a significant part of their wide receiving corps. Though wide receivers Mike Brown (groin) and Ace Sanders (thigh) worked full after returning last Thursday, five receivers remained out: Cecil Shorts III (calf), Tandon Doss (calf) and rookies Marqise Lee (ankle), Allen Robinson (hamstring) and Lamaar Thomas (knee).
Shorts had a helmet and worked on the side, but is not expected to work full this week. Bradley said while the inability to work with a full group of receivers has been disappointing, "I think we've looked at it as a positive because it has forced us to adjust."
"It has allowed us to look at a lot of other guys, which is a positive," Bradley said.
*Offensive line coach George Yarno missed Tuesday and is not expected to attend Wednesday or Thursday minicamp practices. Yarno, who was recently diagnosed with cancer, began treatment this week and Bradley said the decision was made for him to do so near his family in Spokane, Washington. "I had a good conversation with him – good attitude on the whole treatment process," Bradley said. "He decided to go back home, after conversation, and get the treatment and spend time with his family. We have one week left of this minicamp, and I thought for his first initial week of treatment that it would be good for him to be around his loved ones. So that's the decision we made." …
*Bradley said there's no timetable on Yarno's return. "We will just wait to see how he handles the treatment," Bradley said. …
*Rookie third-round guard Brandon Linder again worked with the first team on Tuesday, sharing repetitions with veteran guard Jacques McClendon. "We feel like he is a guy we are going to bring along and get him some reps with the ones and see how he handles it," Bradley said of Linder. "He is just a really mature kid - or man I should say. He is handling it really well." …
*The starting offensive line early Tuesday continued to be left tackle Luke Joeckel, left guard Zane Beadles, center Mike Brewster, McClendon and right tackle Cameron Bradfield, with Bradfield working with the ones because the team is being cautious with Austin Pasztor's return from offseason shoulder surgery. …
Bradley said the injuries at receiver have prompted the team to tweak how players will be brought along during training camp. Bradley said he, offensive coordinator Jedd Fisch, defensive coordinator Bob Babich and special teams coordinator Mike Mallory met with General Manager David Caldwell, strength and conditioning coach Tom Myslinski and head athletic trainer Scott Trulock on the topic this past Friday. "Although it (the injury situation at receiver) was unfortunate, I think it has forced us to reevaluate," Bradley said. "Training camp hasn't changed much, but we have tweaked some things. I'm excited about seeing those changes. That wouldn't have come about if we hadn't had that initially." …
*Linebacker Dekoda Watson (groin), cornerback Aaron Colvin (knee) and safety Josh Evans (foot) remained out, with safety Sherrod Martin (groin) also out. …
*The Jaguars signed the following players as workout players for the three-day minicamp: long snapper Charley Hughlett from Central Florida, cornerback Junior Mertile from Florida International, punter Kasey Redfern from Wofford and wide receiver Nathan Slaughter from West Texas A&M. …
*Bradley said rookie quarterback Blake Bortles continued to improve Tuesday, adding that veteran starter Chad Henne continues to be steady. "That was the challenge to him," Bradley said of Henne. "He had really good OTAs – nine practices we went through. Then he had to stack a minicamp on top of it and keep building on top of what he was doing." Bradley added that a telling sign for both quarterbacks will be how they play when the receivers return in training camp….
*Bradley continued to mention Henne, middle linebacker Paul Posluszny, defensive end Andre Branch and tight end Marcedes Lewis as players who have stood out in the offseason. "Those guys probably exceeded my expectations," Bradley said. "I already had them at a high level, and for them to come out and perform like they did – it's great."
The Jaguars started off mandatory minicamp with a practice open to the public on Tuesday, June 17.