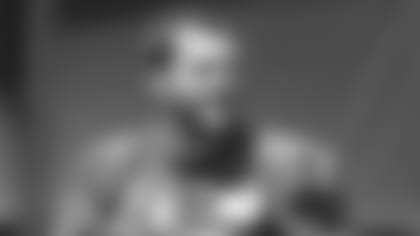 ](http://bit.ly/Day8pics061014)

JACKSONVILLE – He approaches this the way that makes sense to him, the only way he knows.
That's day-by-day, focused on the now.
And if that doesn't make for an up-and-down daily storyline on Jaguars rookie quarterback Blake Bortles during 2014 organized team activities, that's OK. The idea is to improve, and Bortles appears to be doing just that.
"Taking it day-by-day," Bortles said Tuesday afternoon following the eighth of 10 scheduled Jaguars 2014 organized team activities practices at the Florida Blue Health and Wellness Practice Fields.
"You talk about going into a season and taking it one game at a time – kind of that type of attitude, going into it and saying, 'This is what I'm going to work on today, this is what I'm going to try to do, and I'm going to try to raise the bar in these categories and improve on these things.'"
Jaguars Head Coach Gus Bradley, after saying Bortles made progress with a significant step late last week during Week Two of OTAs, said Tuesday the No. 3 overall selection in the 2014 NFL Draft continues to do so this week.
"He did good again today," Bradley said. "It was another nice day for him. I think his poise is coming around as well."
Bortles on Tuesday smiled when asked how a quarterback develops poise.
"I don't know," he said. "I think it's a good quality for a quarterback to have. I think it's something that just kind of comes with the territory. I think it's being able to stay calm and collected and make decisions and keep the rest of the offense poised."
Veteran Chad Henne is working with the Jaguars' starters in the offseason, and is expected to begin next season as the starter. The Jaguars have said Bortles won't start until he is ready and the team has not established a timetable for that.
Bortles, the first quarterback selected in the 2014 draft, said he meets each morning with offensive coordinator Jedd Fisch and quarterbacks Chad Henne, Ricky Stanzi and Stephen Morris, and that part of his process is being sure he prepares the night before for the morning meeting.
"You drive home, you go eat dinner, you go do something, kind of turn it off, take a break," he said. "Then (you) start up again what you need to learn, what you need to go over to be ready for the meetings in the morning."
Bortles said that time with the other quarterbacks – and the chance to learn from Henne on and off the field – is invaluable.
"It's good … to be able to bounce things off of (the quarterbacks) – and obviously getting reps, I think that's the best way for me to try and progress, to be on the field and watch Chad do it," he said. "Then I get an opportunity to go do it, learning from times when I mess up then try to do better at times when I succeed."
Also around the Jaguars Tuesday:
*Second-year defensive tackle Abry Jones missed practice Tuesday after leaving Monday's work with a sprained knee. The extent of the injury is unknown. …
*Seven receivers missed a third consecutive practice Tuesday: rookies Marqise Lee (ankle), Allen Robinson (hamstring) and Lamaar Thomas (knee) and veterans Tandon Doss (calf), Mike Brown (groin), Ace Sanders (thigh) and Cecil Shorts III (calf). Brown and Sanders continued to work on the side early in drills. Cornerback Aaron Colvin (knee) and safety Josh Evans (foot) also missed practice. …
*While Evans has yet to practice during OTAs, he has had a helmet in practice the last two days and has worked on the side early. The second-year veteran said Tuesday there is a slight chance he could practice next week during the team's June 17-19 minicamp. He underwent surgery May 20 to remove bone spurs. "I'm starting to do more tempo running and trying to get back in shape," he said. "It's coming along pretty good. I wouldn't be surprised if they said, 'Just wait until (training) camp.'"…
*Tuesday's practice was the warmest of 2014 Jaguars OTAs, with temperatures for the two-hour session reaching 88 degrees, though it felt like 95. "It's always hot, so it's not an excuse," defensive tackle Sen'Derrick Marks, who signed with the Jaguars as an unrestricted free agent from Tennessee last offseason, said. "I came into it last year, so I guess I got used to it. I don't think it was a problem." ...
*Bradley said the Jaguars had a second consecutive good practice to start the week, calling it a "spirited" session in which he challenged players to play hard, fast and together. "The playing fast part is about execution," Bradley said. "We're not there yet. We had a backed up situation where a receiver jumped offside on a completion. We're getting better. We see improvement and that's good but that's the playing fast part of it. Those are all things we can challenge our guys because they can control that, so we want to keep harping on that."…