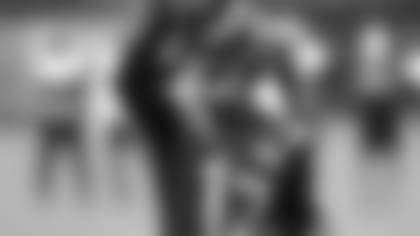 ](http://www.jaguars.com/media-gallery/photo-gallery/OTAs---Day-5/1025b61e-e115-44dd-9d9a-cf626983c7bb)

JACKSONVILLE – Kerry Taylor called it a solid day.
The Jaguars' second-year wide receiver was talking about Tuesday's organized team activities practice, a day that for Taylor's position was by any measure an odd day.
It was because of that weirdness that Taylor said it was a tiring day, too, because with a slew of wide receivers unable to practice, the Jaguars' receiving corps by the end of Tuesday's practice looked like this:
Taylor, Chad Bumphis, Allen Hurns, Damian Copeland.
That's hardly how the Jaguars expect the receiving group will look next season, and it's not how it looked when OTAs began last week, but because it looked like that Tuesday, Jaguars Head Coach Gus Bradley said it was an important day for the players who did practice.
"I thought those younger receivers, they competed really well," Bradley said Tuesday after the fifth of 10 scheduled 2014 OTA practices at the Florida Blue Health and Wellness Practice Fields.
"They did a nice job in the red-zone situations. For us, it's about taking advantage of seeing those young guys and I think we did that."
The Jaguars were down to four receivers by practice's end because of a slew of injuries to the position, most of which Bradley said were minor. Rookies Marqise Lee (ankle), Allen Robinson (hamstring) and Lamaar Thomas (knee) missed practice, as did veterans Tandon Doss (calf), Mike Brown (groin) and Ace Sanders (thigh).
"It was a good opportunity for the guys to get more reps," Taylor said, adding, "It tests your knowledge of the whole offense, and the more you know, the more value you bring to the team."
Cecil Shorts III left practice because of tightness in his calf.
"He felt a little bit of tightness and we said, 'That's OK – we'll get a chance to see Kerry and Hurnsey (Hurns) and those guys more,'" Bradley said. "Fortunately, these injuries aren't long-standing."
Shorts made conditioning and injury prevention a focus after being hampered last season with a sports hernia injury. He said it's important during OTAs to know when to push and when to be smart with an injury.
"It's a lot of precautionary stuff, and I think we'll be fine in the long run," Shorts said, adding that him leaving practice was precautionary as well. "My body's the best it's felt in a very long time. I just want to be precautionary about everything that I do. I'm good."
Bradley said he was impressed with the four healthy receivers' readiness.
"No matter how we look at it, in the NFL 'Next Man Up' is the mentality," he said. "You have to have that mentality. To see those guys step in and take advantage of the opportunity, what a great lesson for them."
Bradley also said it was a significantly better practice than Monday, when he stopped practice midway through and spoke to the team about working with better tempo.
"It was a much, much better day today," Bradley said, calling the day "extremely competitive" with red-zone work throughout and emphasis on the run game. "We got a lot of good work done.
"We slowed it down somewhat, but the execution and precision we were looking for – I just felt we bounced back and did a really nice job."
*Bradley said rookie quarterback Blake Bortles improved Tuesday after struggling in Monday's practice. Bradley said the improvement came after Bortles spoke to Bradley following Monday's workout. "He came and saw me," Bradley said. "He said, 'You know what? I didn't have a very good practice.'" Bradley said Bortles spent extra time with offensive coordinator Jedd Fisch and quarterbacks coach Frank Scelfo between Monday and Tuesday's workouts. "He had one errant throw over the top," Bradley said, "but he looked like he was back to attacking. It was really cool to see that from him."…
*Bradley said he wasn't surprised Bortles approached him, and added that the No. 3 overall selection really had not wanted to attend last weekend's 2014 Rookie Premiere, an NFL Players Association event that Bortles attended along with Lee and Robinson. "We try not to use excuses, but maybe if you look at the five days he was away from it – I think he was just in more rhythm and more command today.'' …
*Bradley spent time after practice Tuesday discussing several offensive linemen, saying veteran free agent guard Zane Beadles has impressed with his communication ability, and that rookie guard Brandon Linder "is really coming along" and picking up schemes well. He said, too, that the team has a lot of trust in veteran swing tackle Cameron Bradfield, and that veteran guard Jacques McClendon has performed well…
*Bradley also continued to praise starting quarterback Chad Henne, saying Henne continues to stack up very good practices in OTAs…
*Linebacker Dekoda Watson (groin), safety Josh Evans (foot) and cornerback Aaron Colvin (knee) also remained out of practice….