It's been said that a picture is worth a thousand words.
Whether it's a picture of a rookie making his first touchdown or an emotion-filled shot of a Jaguars fan at TIAA Bank Field, photographs tell stories.
Each week during the regular season, we will show you team photographer Rick Wilson's favorite photo from game day.
"Locked Down in the Bank"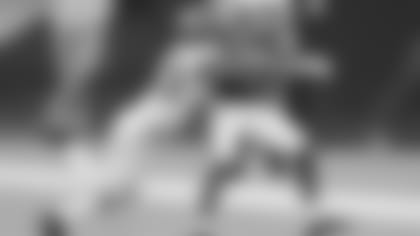 Camera: Nikon D4
Focal length: 400mm lens with a 1.4 teleconverter
Exposure: 1/2000 sec f/4.0 ISO 800
What does this image depict?
This is an image of a Jaguars rookie cornerback C.J. Henderson playing in his very first NFL game against Colts receiver T.Y. Hilton - a 9 year NFL veteran. With the Jags clinging to their 27-20 lead while the Colts are driving for a potential game-tying score on fourth down with only 49 seconds remaining in the game, Hilton appeared wide open along the right sideline to convert. Out of nowhere, Henderson breaks on the pass and dives in swatting the football from the grasp of Hilton to secure the Jaguars season opening victory.
Why is this your favorite?
I chose this image for a couple of reasons. When photographing a sporting event, the ultimate goal is to tell the story of the game capturing the defining moments. Sometimes there is one game-winning, defining moment and sometimes there are a series of moments grouped together that create the narrative of a contest, win or lose. This moment sealed the deal. This moment made the 'win' real.