The Jaguars' defense played a strong first half.
The unit followed it up with a half that will burn in their minds over the next ten days.
The Bengals used the faintest of sparks – a fourth-down stop to prevent a 21-0 Jaguars halftime lead – to build a fire coming out of the locker room. They scored on all four second-half possessions, rallying for a 24-21 victory with kicker Evan McPherson's 35-yard field goal on the final play of the game at Paul Brown Stadium on Thursday Night Football.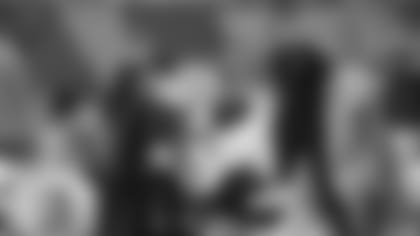 The Jaguars' defense held running back Joe Mixon to14 rushing yards in the first half, but he got loose for 53 yards and a touchdown in the second half before leaving the game with an injury late in the fourth quarter.
The Jaguars also couldn't get to Bengals quarterback Joe Burrow, who completed 25 of 32 passes for 348 yards and two touchdowns – including a 25-yard bubble screen to tight end C.J. Uzomah to set up the game-winning attempt.
"Played well in the first half obviously," Jaguars Head Coach Urban Meyer said in the postgame news conference. "They were running the ball pretty good in the third quarter and then we tightened up against the run and they had matchup advantages – they felt – in man coverage, and in zone coverage they were picking us apart and they caught us in the zero blitz.
"It was obviously the same thing you saw. We were up 14-0 and they go right down the field, hit a deep ball on rookie cornerback] [Tyson [Campbell] and then they came back, running the ball and picked us apart."
The Jaguars felt like they had made the one play they needed to give themselves a chance to win the game, but a sack of Burrow on third-and-one was negated by a holding penalty on cornerback Tre Herndon. Six plays later, the Bengals were in position to win the game on the final play.
"You get those plays and then you turn around and, uh, you've got to have amnesia at that point," Jaguars defensive tackle Malcolm Brown said. "You've got to forget about it and move on to the next play. Things happen.
"You've got to be able to roll with the punches and get back on the horse and ride."
Meyer expects his team to use the spurs, so to speak, when they get back on the field against the Titans in 10 days.
"There's no breaks, you've got to make your own breaks," Meyer said decisively when asked if things would eventually start to go his team's way. "You don't look at it that way – that you get breaks. You create your own breaks. I've said this from Day One – that the core of this team are good players. I thought we brought in some good players, and we are getting better each week. It's just a shame that we didn't win that thing.
"But like I told you: I am not wrong about that. I'm not wrong about those guys in that room. They're going to keep swinging as hard as they can."
Rookie quarterback Trevor Lawrence, who played perhaps his best game to date with 204 passing yards and no turnovers plus 36 rushing yards and a touchdown, stressed for the fourth consecutive week that this team was close to a breakthrough moment. "We'll have to regroup a little bit, this one hurts," he said. "We're up 14-0 at halftime and come back out and just somehow come up on the wrong side of it, that's tough. We're going to bounce back, no doubt, I know what we're made of. Just seeing how we've handled the first three weeks, I know nothing is going to change but damn, I really want to get a win with these guys. We've just got to finish, collectively. It's everybody. It's not one side of the ball or anything like that. It's all of us finishing. I'm not even going to say it's going to take time, we're right there and you guys have seen it the last few weeks."
The Jaguars were already down one running back as Carlos Hyde was inactive due to a shoulder issue he felt upon arriving at the stadium on Thursday evening. Three plays into the game, they lost their only field-stretching wide receiver when DJ Chark Jr. went down with an ankle injury – and not long after that right guard A.J. Cann left the game with what Meyer called an injured medial collateral ligament. "Tough one, I don't know the extent, but I heard it's a broken ankle," he said of Chark. "He's starting to play well and that's a big one."
Meyer on going for a touchdown in the waning moments of the first half, a play that failed when Lawrence was stopped on fourth-and-goal from the one: "Yeah, yeah, there was no doubt. No doubt … you're that close to it. I felt like our defense was playing so well and then our offense we felt like we were blocking them. Running back] [James [Robinson] was running the ball and our offense was pushing them and controlling the line of scrimmage, that's a good sign. You usually win those games, you take care of the ball and Trevor, your quarterback getting those first downs. Yeah, I felt really good."