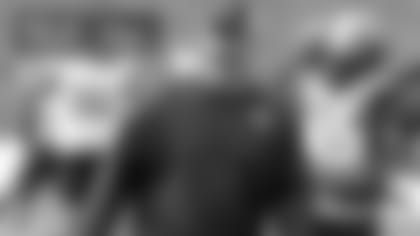 ](http://bit.ly/Photos102413)
BAGSHOT, England – Gus Bradley has liked a lot about this team all season.
He likes it a little more now.
Bradley, the Jaguars' head coach, on Thursday said Jaguars players not only weren't bothered by comments he made Sunday that the team lacked effort in a loss to San Diego that day, but that they have responded positively to the situation.
That's unusual, Bradley said. And it's very, very good.
"I think that I really complement our team on how they've handled this whole situation," Bradley said Thursday as the Jaguars (0-7) prepared to play the San Francisco 49ers (5-2) at Wembley Stadium in London, England, Sunday at 1 p.m.
"Rarely can you talk about effort with an NFL team and you don't get backlash; I think that generally happens. Our team really took it as a challenge and said it wasn't up to our standard of play and we will stand on that and we will support what the coaching staff says."
Upon arriving in England Wednesday, Bradley said that it was probably more accurate to say the team lacked spirit rather than effort Sunday. He said he talked to a few players one-on-one about the statements this week.
"I just think we really have stand-up guys," Bradley said. "I'm really impressed by the way our guys have handled this. It doesn't surprise me. It just makes me even more excited about coaching these guys."
Bradley on Thursday also further discussed the Jaguars' quarterback situation, having announced on Wednesday that Chad Henne will start ahead of a healthy Blaine Gabbert Sunday. Gabbert missed the last two games with a hamstring injury.
"I think we feel a little bit with Chad – I think he's done some good things," Bradley said. "We want to see where it takes us. Nothing to slight Blaine. The competition is ongoing. It's really handled no differently than any other position, I would hope."
Bradley also said he and Gabbert talked while walking back to Pennyhill Park Hotel from the team's practice facility Thursday.
"We didn't talk specifically about it, but he's doing good," Bradley said. "It's a tough situation, I'm sure. He's really a strong competitor. I think he's getting back to full health right now, but it was one of those things where we felt like we wanted to build on what Chad Henne has done the last couple of weeks, and see where it takes us."
*Wide receivers Cecil Shorts III (shoulder) and Justin Blackmon (groin/hamstring) returned to practice Thursday after missing Wednesday. With wide receiver Ace Sanders returning from a concussion on Wednesday, Bradley said it's the first time the Jaguars have had all receivers available for a practice this season….
*Bradley on Shorts/Blackmon playing through their injuries last week against San Diego: "I can really appreciate what they went through and the degree of pain they went through and what they fought through for this team. I have a greater appreciation for it after visiting with them."…
*Bradley said he right tackle Austin Pasztor has continued to develop in recent weeks, having started the last three games at right tackle. Pasztor moved into the lineup after the trade of left tackle Eugene Monroe, and stayed there when Cameron Bradfield replaced injured Luke Joeckel at left tackle. "I would say that the big thing with Austin is his consistency," Bradley said. "You see him do some things really well and then other things maybe are his weaknesses. But that's okay we all have those. What I have been impressed by him is that he is trying to attack his weaknesses and trying to get better in those areas. That's a big sign to us as a coaching staff.  So that's the biggest thing he needs to work on is the consistency."…
*Sanders will handle punt return duties Sunday, Bradley said. …
*Defensive tackle Roy Miller missed practice Thursday with a veteran day off.