Mike Mularkey left little room for misinterpretation.
Yes, it's early in training camp, and yes, that's a reason for the Jaguars' wide receivers to have some errors. At the same time, the head coach said Monday it's time for that group to improve.
"We've got to get more consistent at that position," Mularkey said Monday between a pair of 2012 Training Camp practices at the Florida Blue Health and Wellness Practice Fields. "There's no question.
"There's not just one guy. As a position we've got to get more consistent in our route running, our releases getting off on the ball, and we've had too many drops. Even though it's early in camp that's still too many drops. One is too many."
Several receivers dropped passes Monday morning, including free-agent acquisition Laurent Robinson, veteran Mike Thomas and Brian Robiskie. Mularkey said an issue as a group also has been fumbling after the catch.
"We've got to finish plays," Mularkey said. "We've made the catches turning up field and still have the ball knocked out. There's a lot of things we've got to get better at."
Mularkey also noted that Robinson is facing added pressure after signing a multi-year deal as a free agent from the Dallas Cowboys this offseason.
"I know it bothers him," Mularkey said. "I think he's probably pressing that he has been thrown into that role as the big free agent guy."
Mularkey on Monday absolutely wanted improvement from much of the offense.
But the displeasure he voiced Monday didn't include particularly strong criticism of quarterback Blaine Gabbert.
While much was made in the immediate aftermath of practice about Gabbert running often during the latter part of the session, Mularkey said that was the result of Gabbert having been told to not force throws that lead to interceptions.
Mainly, Mularkey said what he took from the morning practice was that the line and the backs must improve protection.
"We told him (Sunday), 'Don't force the throws that are going to create costly turnovers,''' Mularkey said. "The defense is putting some pressure on which is exactly what we want. It's the exact tempo we want out there but we've got to do a better job of holding the line and our backs have got to do a better job of stepping up and stopping the blitzes."
Mularkey also said he wants Gabbert to scramble in practice, and that he is a big believer in "eliminating what is the worst possible thing that can happen on a play."
"Even if the next thing is terrible, it's not the worst," Mularkey said. "Eliminate the worst. That's turning the ball over. Making a poor decision under pressure when it's a sack is not good but a turnover is terrible. It's worse."
Said Gabbert, "You can't force balls. We've been working on that. If there's a lane when things break down, we're taught to run and get yards on the ground. If we get flushed outside the pocket we've been trying to start working on our scramble rules, scramble drills, to get the receivers coming back to me running to the sideline, try to get some broken-play completions.
"The way we look at a throw-away is it was the only play so that's a good play. You turn a negative into a positive. You don't want to turn a negative into an awful negative by throwing a pick or getting a fumble, so that's kind of our mindset. If a play is there to be made we're going to do our best job to do that, but sometimes you just have to eat it and get down or thrown the ball away."
"It looks like he (running back Rashad Jennings) is very comfortable with the offense. He understands what we're trying to do, he's playing fast, he's seeing things with the run game, and even in protections he's doing better. There's no thinking going on like there was earlier when he first got here."
"You have to use last year as a reference. That's for everybody in this locker room. You never want to go through a season like that with so many ups and downs being so inconsistent, but at the same time you have to be able to reference it, know how things went and change those things. Get better from it and move on."
MULARKEY ON ROOKIE WIDE RECEIVER JUSTIN BLACKMON
"He's going to be behind (when he reports to training camp), and it will be probably pretty noticeable when you watch him on the field that he's behind."
The Jaguars held their first shoulder pads practice Monday, and an experienced defense continued to appear ahead of a young offense. Mularkey t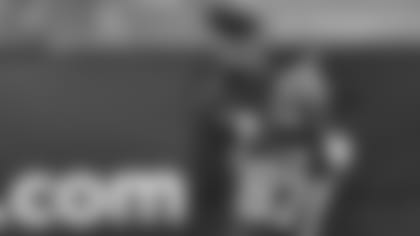 hroughout his post-practice remarks emphasized a need for the offensive line and backs to protect better, and praised the play of the linebackers. He also said the defensive backs were doing well in bump-and-run coverage. "Our defense, our corners, just hammered our wideouts," he said. Individually, there were some standouts, with safety Chris Prosinski intercepting a long pass from Chad Henne to Lee Evans in the morning practice and running back Rashad Jennings having several strong runs in morning running drills. Tight end Marcedes Lewis also had a one-handed reception in the morning. Defensive ends Austen Lane and Andre Branch also appeared quick and strong rushing the passer.
The 88 players present will keep to roughly the same schedule for Day 4 of 2012 Training Camp at the Florida Blue Health and Wellness Center Practice Fields. The team will practice twice Tuesday –a full practice at 8:30 a.m. and a 4:55 p.m. walkthrough. The 8:30 a.m. practice is free and open to the public.
We're just three days in, and Monday was the first practice with any sort of pads, but as we prepare for Tuesday's first full padded practice, make no mistake: this team has a better look and feel than this time last year. That starts with Gabbert. There was a gurgling of criticism levied toward Gabbert Monday, when some local media emphasized a 12-play stretch late in practice when he scrambled seven times and threw four incomplete passes. It is a commentary on the quick-reaction, Twitter world in which we exist that this grew into a story even before Mularkey had a chance to discuss how Gabbert had been told the night before to work on scrambling and throwing the ball away instead of throwing interceptions. Here's the bottom line through a few days on Gabbert: few who have attended the team's three practices would tell you he looks anything but improved, and most would say the progress has been significant. The real games haven't begun, and we're not even into the preseason, but Gabbert has looked far more in control, more confident and more accurate than last season. So . . . deep breaths, please. Thus far, he seems to be continuing the progress he showed throughout the offseason. We'll see where that takes him.
*Third-year veteran defensive tackle D'Anthony Smith said he is pleased with his level of play after three days, and said he liked how he felt after Monday's first work in shoulder pads. Smith missed his first two seasons with Achilles and toe injuries, and because he was on injured reserve last season, Monday was his first padded work in nearly a year. "Right now, I'm feeling good," Smith said. "Both legs are up under me. I'm getting back into it football-wise. I was a little anxious, because I hadn't hit in a year, but everything felt OK."
*Mularkey said overall he liked the pace and tempo of Monday morning's full practice. "It was actually pretty good for having a day off and a couple of nights off," he said. "The first day in pads was actually better than all the coaches anticipated it being. We all thought we were going to have to kick start it, and that wasn't the case at all. That was a good sign to see them come out."
*A particular point of emphasis for Mularkey following the morning practice was the running backs needing to improve pass protection.  "There's just too much pressure in the pocket and our linebackers are doing a good job," he said. "They're literally coming through our backs, so we've got to step up and hold the line up at the line of scrimmage. We can't wait for them to come and make contact in the backfield, because that's where our quarterback is standing." Mularkey said that's an area that is expected to need work early in camp because of the lack of padded offseason work.
*Cornerback Reggie Corner was placed on injured reserve, Mularkey said. He sustained a torn anterior cruciate ligament Saturday. The team signed fourth-year cornerback Trumaine McBride.