JACKSONVILLE – The kicking search continues.
The Jaguars on Tuesday claimed rookie kicker James McCourt, who kicked collegiately at the University of Illinois and who was waived Monday by the Los Angeles Chargers.
McCourt is now the lone kicker on the Jaguars' roster. The team waived kicker Ryan Santoso Tuesday, four days after he missed two of four field goal attempts in a 16-15 Preseason Week 2 loss to the Pittsburgh Steelers.
McCourt, who made 37 of 52 field goals in three seasons at Illinois, made 18 of 23 field goals for the Illini last season. Pederson called McCourt's leg strength "impressive."
"That part of it we like, and obviously the consistency is what you look for in kickers," Pederson said. "For us, just keep going through the process, we've still got a little bit of time before kicks mean something."
Santoso converted three of six field goals in three preseason games, missing from 57 and 51 yards against the Steelers and converting from 25 and 53 yards. The Jaguars early in the preseason waived kickers Andrew Mevis and Elliott Fry.
Pederson, asked his level of concern about the kicker situation, cited his experience as head coach of the Philadelphia Eagles in 2017. The Eagles tried out six kickers in Week 1 of that season, signing Jake Elliott – who kicked the entire season, including a Super Bowl victory over the New England Patriots.
"I've had some experience there," Pederson said, smiling.
The Jaguars on Tuesday also re-signed quarterback Jake Luton, who completed 22 of 38 passes for 186 yards in two preseason games with the Jaguars before being released last week. Luton gives the Jaguars four quarterbacks on the roster – starter Trevor Lawrence, backup C.J. Beathard, rookie E.J. Perry and Luton.
Lawrence and most other Jaguars starters aren't expected to play in Saturday's preseason finale against the Atlanta Falcons, and Pederson said the Jaguars want Beathard to get "100 percent healthy" from a groin injury sustained in organized team activities in June.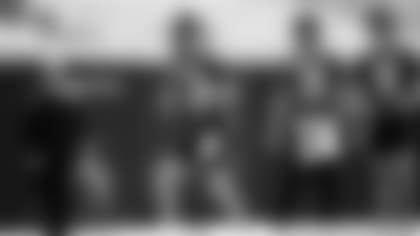 Pederson said Beathard "as of right now" is unlikely to play Saturday.
"It just looked and appeared on film [against the Steelers] that he wasn't 100 percent healthy coming off his injury from the spring," Pederson said of Beathard. "This gives him time to get healthy, and it's a great opportunity for Jake to get some more time and be seen and get some more reps. Hopefully he can take advantage of that."
Pederson on Tuesday also said offensive lineman Will Richardson Jr. and defensive lineman Foley Fatukasi won't play Saturday, with Fatukasi sustaining a calf injury against the Steelers. Cornerback Shaq Griffin (back) has been cleared to practice after missing the Steelers game, but – like most starters – likely won't play against the Falcons.
Cornerback Darious Williams (shoulder) and offensive lineman Badara Traore have been cleared to practice, with running back James Robinson expected to practice but "not full clear."
"We plan to increase his reps," Pederson said of Robinson, the Jaguars' leading rusher who is returning from an Achilles injury sustained late last December. "You'll see an orange jersey on him. I spoke with [Falcons Head Coach] Arthur Smith earlier this morning about that, so they'll be aware about him."
Pederson also said linebacker Devin Lloyd, the No. 27 overall selection in the 2022 NFL Draft, could play Saturday after missing the Jaguars' first three preseason games with a hamstring injury.
"If the week progresses in his favor and our favor, he will see some time in this game which is what we need to see," Pederson said. "It's hard to say [if Lloyd is behind because of the injury] until we see him in live action. This week can be important for him to get out there and try to increase his reps each day and hopefully get some time in the game and see where he's at.
"I know he's getting mental reps, and he's in there during the walkthroughs in the afternoons with the defense, making calls and all that, but when things get sped up is where things can kind of get sideways, so we just need to see him out there this week and hopefully in the game."