FLOWERY BRANCH, Ga. – The work is ongoing, and the work has been good.
Trevor Lawrence and anyone else associated with the Jaguars' offense has said as much throughout preseason and 2022 Training Camp. Those periods are nearing an end, and make no mistake:
Lawrence and others continue to like what they see.
"I really like where I'm at," the Jaguars' second-year quarterback said Wednesday shortly after the first of two dual practice days with the Atlanta Falcons at the Falcons' facility.
"As far as offense goes, I feel really comfortable. I'm feeling more and more confident each day and feel really good with where I'm at with all the receivers, tight ends, running backs, protection."
Lawrence and offensive coordinator Press Taylor each spoke Wednesday about Lawrence's goals entering training camp being about mastering Head Coach Doug Pederson's offense and developing chemistry with multiple new offensive skill-position players – as well as operating at the line of scrimmage.
"That's kind of a never-ending process," Taylor said, adding: "We're exactly where we'd like to be at this point in time. Now, we need to continue to move forward by the time we get to Week 1 with everybody as an offense. We're on track. We have plenty of time. We can't afford to waste any days, but we certainly have enough time."
Lawrence, the No. 1 overall selection in the 2021 NFL Draft, has completed 20 of 33 passes for 228 yards and a touchdown with no interceptions in two preseason games. The first-team offense has moved efficiently in their seven series, producing four field goals and a touchdown along with a missed field-goal attempt. Lawrence and most other starters aren't expected to play Saturday.
"Our communication, especially me and [center] Luke [Fortner] is getting really, really good," Lawrence said. "We're on the same page more and more, so I have a lot of confidence in that group up front, and I love where we're at. I've said it before, it's about getting better every week, so we'll see where we're at in a few weeks."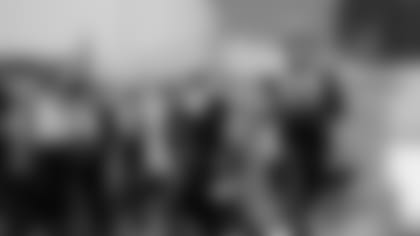 Jaguars Head Coach Doug Pederson on Tuesday said Lawrence performed as expected through training camp and two preseason appearances.
"One thing I like about Trevor, where he's at is he's still learning, still growing," Pederson said. "There has been a lot of turnover and change. He's really handled it extremely well, very mature, and it's just still a work in progress.
"We go slow. He understands, even when we show him on tape what he's doing or what he's not doing, he makes the corrections and moves on. I'm encouraged by where he's at right now."
With the Jaguars changing head coaches this past offseason, Pederson noted that Lawrence had a different head coach, offensive schemes and offensive coordinator each of the past three seasons.
"Some people don't understand the magnitude of that," Pederson said. "Everybody's going to have the same pass concepts, same routes, same lines on a page, all that, but it's how teams call them, the terminology, the verbiage, learning that. On top of that, we're putting a bunch of situational stuff on top of that, and he's hearing it from me or Press Taylor or [quarterbacks coach] Mike McCoy.
"It's not an overnight fix or process. It takes some time. He's handled it well. He grows every day. That's the encouraging part. I know sometimes people don't want to hear that it takes time, but it does."
Taylor on the explosiveness shown by second-year running back Travis Etienne Jr. in preseason and training camp after missing 2021 with a Lisfranc injury: "That's certainly something you expected to see with him. To see him really kind of trust his body coming off the injury, to trust that he has that juice, is just reaffirming. It's really what we expected from him and he expects of himself, so again, he's I think right where he needs to be at this point in time."
Defensive coordinator Mike Caldwell on rookie inside linebacker Devin Lloyd, who practiced full Wednesday for the first time in '22 camp after a pre-camp hamstring injury: "He has a unique ability to be able to cover and also pressure the quarterback. We like that about him, and with his length and all the tackles he made in college, you know he can play the run, so we just want to continue to see him go out there and find his niche and make plays for us."