JACKSONVILLE – Doug Pederson's rested and very ready.
He's also uber-NFL-experienced, qualified and the right fit at the right time – all of which led to the two-time Super Bowl champion being whisked around his new city and franchise Saturday.
Pederson, a Super Bowl champion as a head coach and player, was officially presented as the seventh permanent head coach in the Jaguars' 27 seasons in a press conference in the Gallagher Club at TIAA Bank Field Saturday afternoon. Owner Shad Khan made the announcement.
"Obviously, I'm eager and ready to hit the ground running," Pederson said at a podium at TIAA Bank Field, flanked by Khan on one side and by General Manager Trent Baalke on the other. "This culture is all about winning. The players here want to win. I want to win."
"That's what I can bring to the Jacksonville Jaguars, to this community and to our fan base."
Pederson, 54 years of age and a 25-year NFL veteran, served as the head coach of the Philadelphia Eagles from 2016-2020, and coached the Eagles to the Super Bowl LII title following the 2017 season. He spent 13 seasons as an NFL quarterback with four organizations and was an NFL assistant seven seasons. He was a member of the Green Bay Packers' Super Bowl XXXI champions following the 1996 season.
Khan cited Pederson's experience, previous success, ability to build culture, reputation for developing quarterbacks and leadership among reasons for the hire.
"We wanted someone who knows exactly what it is to be the last team standing in February and is passionate about doing it – and doing it again," Khan said.
The Jaguars, two weeks after the December 16 dismissal of then-Head Coach Urban Meyer, opened their head-coach search by interviewing Pederson. They announced the hire officially this past Thursday evening.
"There was no timetable to announce the next head coach," Baalke said. "We went at it with a very open mind. We had a process that we were going to go through. We stuck to it and at the end of the day, it was about getting it right. We truly believe we got it right with Doug. No doubt about it."
Khan called the process "long" and "exhaustive," with "no preconceived notions." He also said he did not offer the position to any candidate but Pederson.
"We had a process," Khan said. "We ran the process. We had great candidates, but Doug is our guy."
Khan added, "This was a highly-sought position. We were comfortable in really taking our time and being sure we made the right decision for us. For me, this had to be exhaustive, but it had to be the right one."
Khan also added levity to the press conference, referencing his oft-quoted statement – "This time, I got it right" – made upon Meyer's hiring last January.
"Well, I was just a year premature," Khan said with a smile. "So, I did get it right."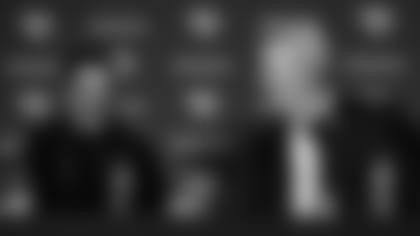 Khan – who said he spoke to current and former Jaguars players during the process – said Saturday the team interviewed more than 10 candidates who were "quite impressive."
Pederson also called the process "very exhaustive."
"I can appreciate the diligence the Khan family presented, what Trent presented, what they went through with Tony [Khan],'' Pederson said. "The fact that they took time to get to this decision today makes me even more proud – that yes, I was the first candidate interview and that yes, I was the last candidate interviewed. In between, there were a lot of great candidates and a lot of candidates could be sitting here today."
Pederson added, "There are some really, really good players on this football team and the pieces are here. That's why I'm excited. That's what drew me to the Jacksonville Jaguars."
Pederson spent this past season out of football after leaving the Eagles last January.
"It was a great year for me," Pederson said. "I had opportunities to get back in the NFL at the end of the season last year. I just felt at the time that I needed a break and needed to step away and kind of refocus myself, kind of recenter everything about me."
"I knew still in my heart of hearts that I did want to coach and still be a head coach in this league and still be successful. That never left. I just needed time to step away and kind of gather myself a little bit."
Pederson also addressed the immediate future for the Jaguars, who hold the No. 1 selection in the 2022 NFL Draft and who have won four games over the past two seasons.
"This is not an overnight fix," he said. "This is not, 'We're just going to snap our fingers and start winning football games.' Our goal is to win football games, but we're going to do it one player, one coach, one person in the organization at a time. It's about ownership. It's about support. It's about leadership. That's what I'll bring to the organization."
"I'm not going to settle for anything less than a championship-caliber team."
Pederson closed his opening remarks with a direct statement to Jaguars fans, saying: "I know you've been through a lot, even this past season, but that's about to change. I can promise you that I'm going to come to work every single day with the diligent task to make this a winning organization.
"This is what he (Khan) has asked me to do. This is why I've been hired here today. This is a relationship that is just beginning."