JACKSONVILLE – They traded, then they traded some more.
They filled a need or two along the way – and if that was the Day 3 story of the Jaguars' 2022 NFL Draft, the overall story was one of new direction, collaboration and hope.
Add in a big dose of defense and that's the Jaguars' '22 draft – one that left Head Coach Doug Pederson and General Manager Trent Baalke pleased. Very, very pleased.
"I think the draft went well," Baalke said.
Baalke, in his second season as the Jaguars' general manager, spoke along with Pederson early Saturday evening at TIAA Bank Field. This was just after a Day 3 that featured the Jaguars trading multiple selections, using three players after entering the day with six.
The Jaguars, after entering the draft with 12 selections, selected seven players. They were:
"Overall, I feel great," said Pederson, who was hired in February as the Jaguars' seventh head coach. "We addressed a lot of issues early [in the offseason] with free agents and now we've picked it up here with the draft."
Jaguars Owner Shad Khan throughout the draft praised the collaborative nature of the offseason, the first with Baalke and Pederson working together.
"We are doing something very different," Khan said Saturday. "It started from Day 1. I feel fabulous and I think we've had a great last couple of days as an organization."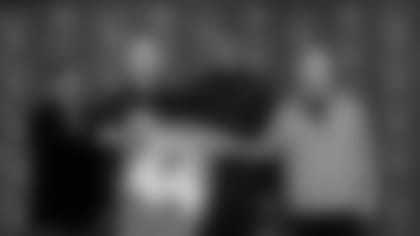 Pederson on Saturday also addressed the franchise's offseason approach – and specifically, the nature of the draft preparation.
"We really spent a lot of time with these players, and the board," Pederson said. "For me, it was refreshing to do that, to be a part of it that extensively. I know the coaches felt the same way. There's accountability with the board and with Trent and his staff. I felt the process was really good, really smooth. It just holds us as a staff accountable to the players we're drafting. We get to coach these guys. I can't speak for the other 31 clubs, but I know it's not the same.
"That's why this process has been really good not just for me, but I think for our staff."
Conner, Junior and Brown were Saturday's selections, capping a draft in which the Jaguars used five of seven selections to bolster a defense that finished 28th in the NFL in yards allowed last season – last in turnovers forced (nine) and 28th in sacks.
"The free-agent period allowed us some freedom to look at the draft a little differently than we might have pre-free agency," Baalke said. "It's all about developing the best roster, the best 53. That's how we approached free agency. That's how we approached the draft.
"Obviously, you have to address needs and we felt we did that. We're going to continue to address the need we see as we work through the offseason program."
The Jaguars on Saturday traded twice. They first traded the Nos. 188 and 190 selections in the '22 draft to the Philadelphia Eagles for the No. 154 selection used to select Conner. Then around the same time Saturday, the Jaguars traded the No. 157 and 222 selections in the '22 draft to the Tampa Bay Buccaneers for a 2023 fourth-round selection.
"We were picking at 157, and Tampa Bay had called us about trading it," Baalke said. "We were going to use that pick to take Snoop. When we had that on the table for Tampa to come up, we packaged two sixes to move ahead of that pick so that we could make the pick of the running back we wanted and pick up the fourth for next year. That's kind of how that unfolded."
Baalke and Pederson throughout the weekend emphasized character and fit with an organization that is building under a third head coach in three seasons.
"That's one thing we're proud of with this draft class," Baalke said. "These are really good young men who are going to represent the community very well. We're looking forward to having them as members of our team."
While the draft marks the end of the second major player-acquisition period of the offseason, both Pederson and Baalke on Saturday spoke of work still to be done for a team that has improved its roster in the recent days and weeks.
"Nothing's set," Pederson said. "Obviously we did some really good things this offseason – going back to free agency and this weekend. It's still a work in progress. It's going to continue to be a work in progress, really through training camp until we get to the final cutdown. But I think overall, the men we drafted this weekend really helped us."
Said Baalke, "We like this team. We like the group that's there obviously. But you never stop looking to improve each room, to try to make it as competitive as you can. You're constantly looking to create competition and improve the roster, so we're not done."