THIS WEEK: The undefeated Jacksonville Jaguars will seek their fourth victory of the season when they make their second road trip of the season and travel to Washington to face the Redskins. Kickoff is 1:00 p.m. EDT in Jack Kent Cooke Stadium. The Jaguars, alone in first place in the AFC Central Division and riding an eight-game regular-season winning streak and an 11-2 record since last November 10 -- both league bests -- will play the Redskins for the first time ever.
The Jaguars are coming off a thrilling 30-21 victory over the Pittsburgh Steelers in their debut on "Monday Night Football," while Washington is 2-1 and coming off their open week following victories over Carolina and Arizona and a one-point loss to Pittsburgh.
The Jaguars are 3-0 for the first time in franchise history and are one of four undefeated teams left in the league. They have won five of their last six games on the road (including post season) dating back to November 24, a record that is the best in the league in that time.
TELEVISION BROADCAST: The game will be televised nationally by NBC and locally by WTLV Channel 12. Tom Hammond will call the play-by-play, Paul Maguire and Phil Simms will add analysis and Will McDonough will be the field reporter.
RADIO BROADCAST: All of the Jaguars' games are broadcast on WOKV (690 AM), WBWL (600 AM) and WKQL (96.9 FM) and the Jaguars Radio Network. Brian Sexton will call the play-by-play and former NFL quarterback Matt Robinson will add analysis. Sexton and Robinson are in their third season together. Robinson, Jennifer Kumik, Vic Ketchman, and Cole Pepper handle the pre-game show, and Pepper and ex-Oakland Raider Pete Banaszak do the post-game show. A total of 29 affiliates in four states on the Jaguars Radio Network will also broadcast the game. The game will also be broadcast nationally by Westwood One, with Tony Roberts calling the action and Rick Walker adding analysis.
THE OPPONENT: The Redskins were formed as the Boston Braves in 1932 and re-named the Redskins a year later. They moved to Washington in 1937, the year they won their first NFL Championship behind the passing of the legendary Sammy Baugh. They won their second league title in 1942 and took three Eastern Division titles between 1943 and '46 before losing the world championship game each season. The Redskins didn't qualify for the playoffs again until 1971, and a year later they appeared in their first Super Bowl, losing 14-7 to the undefeated Miami Dolphins. Joe Gibbs was named head coach in 1981, and the Redskins won the Super Bowl in 1982 behind Joe Theismann and lost in Super Bowl XVIII the following year. Doug Williams led the Redskins to the Super Bowl XXII championship in 1987 and Mark Rypien quarterbacked the Super Bowl XXVI title in 1991. Norv Turner was named head coach in 1994 and has guided the team to a 20-31 record.
A JAGUARS VICTORY OVER THE REDSKINS WOULD: Give the Jaguars a 4-0 record for the first time in franchise history, their ninth consecutive victory during the regular season and sixth in their last seven games on the road (including post season). It would also leave them alone in first place in the AFC Central.
THE SERIES: This is the first game between the Jaguars and Redskins.
JAGUARS INJURY UPDATE: DT John Jurkovic suffered a tibia plateau fracture to his right leg in the Pittsburgh game and QB Rob Johnson (left ankle) has missed the last two games. Their status will be updated later in the week.
PRACTICE SCHEDULE: Practice and interview times for the next week are as follows:
Day Practice Coach Coughlin Players Wednesday 1:20 p.m. 11:45 -- 12:15 12:15 p.m. (conference calls with Norv Turner and Gus Frerotte at 12:15 and 12:30 p.m., respectively) Thursday 1:20 p.m. 11:45 -- 12:15 12:15 p.m. Friday 12:15 p.m. 11:45 -- 12:15 No availability Saturday Walk-through No availability No availability Sunday Jaguars at Redskins, 1:00 p.m.
ROSTER NOTES: On opening day, the Jaguars tied for the ninth-youngest team in the league with an average age of 26.0 (the league average was 26.5 years). The Jaguars had 10 rookies and first-year players (the average was 10.2), but they had only six players age 30 and over, which tied for the fourth fewest in the NFL. ... The average age of the roster as of September 23 was 26.11 years old. There are 23 players 25 or younger, 25 players between 26 and 29 years old, and just five players 30 or older. The youngest player is DE Jabbar Threats (22 years, 4 months), and the oldest is P Bryan Barker (33). ... Eight rookies made the final roster, including the first six draft choices (DT Renaldo Wynn, DB Mike Logan, LB James Hamilton, DT Seth Payne, TE Damon Jones and FB Daimon Shelton) and two undrafted rookies (CB Kevin Devine and DE Jabbar Threats). ... More than half of the players (27) have three years or less of NFL experience, and only five players are in their eighth season or more. ... There are 12 players (23%) who are new to the team this year, and 41 (77%) who were with the team before this year. Of the 12 new players, there are eight rookies, as well as QB Steve Matthews (claimed on waivers from Kansas City), WR Will Moore (veteran free agent), CB Deon Figures (unrestricted free agent from Pittsburgh) and QB Jim Miller (signed as a free agent). Six Jaguars have played in all 38 games (regular season and post season) in franchise history: WR Jimmy Smith, TEs Pete Mitchell and Rich Griffith, DT Don Davey, PK Mike Hollis and P Bryan Barker. ... One member of the Original 10 Jaguars who signed contracts on December 15, 1994 is still with the team: C/G Greg Huntington, who has played in five games over two seasons. ... The Jaguars have 10 players on their roster who were first-round selections in the college draft, including four of their own picks: DE Jeff Lageman (1989, New York Jets), DT Kelvin Pritchett (1991, Dallas Cowboys, but traded to Detroit on Draft Day), TE Derek Brown (1992, New York Giants), OT Leon Searcy (1992, Pittsburgh Steelers), S Dana Hall (1992, San Francisco 49ers), CB Deon Figures (1993, Pittsburgh Steelers), OT Tony Boselli (1995, Jaguars), RB James Stewart (1995, Jaguars), LB Kevin Hardy (1996, Jaguars), DT Renaldo Wynn (1997, Jaguars). ... OT Leon Searcy has started the most consecutive games, 67 dating back to 1993 when he was with the Steelers. OT Tony Boselli has started 31 straight games, not missing a snap since moving into the lineup on September 24, 1995. ... DE Clyde Simmons has played in 175 straight games, going back to 1986 when he was with the Eagles. In fact, Simmons has never missed a game during his career (except the three 1987 strike games). DT John Jurkovic has played in 88 straight games (though he will be out with a leg injury, and Searcy in 81 straight. ... Four players have played in more than 100 games during their careers: Simmons (175), C Dave Widell (142), DE Jeff Lageman (108), P Bryan Barker (106). ... Simmons has 156 career starts, followed by Lageman (104), Widell (83) and LB Eddie Robinson (74). ... Widell will make his 34th regular-season start as a Jaguar in the next game, extending his team record. OT Tony Boselli and DT Don Davey will each make their 32nd start for the Jaguars, and for Boselli, it will tie Mickey Washington's record of 32 consecutive starts set in 1995 and '96. THE COACHES: Jacksonville head coach Tom Coughlin led the Jaguars to the AFC Championship game in 1996, as the team finished the regular season with a 9-7 record and second place in the AFC Central Division. In the playoffs, the Jaguars upset the Bills and Broncos on the road before losing at New England. In 1995, Coughlin's Jaguars finished with four victories in their inaugural season. He became head coach of the Jaguars on February 21, 1994 following three successful seasons as head coach at Boston College. Coughlin compiled a record of 21-13-1 from 1991 to '93 at Boston College, and had two appearances in bowl games and a ranking of 13th in the final AP poll of 1993. A veteran of 27 years of coaching, he was previously an NFL assistant coach with the New York Giants (wide receivers, 1988-90) and with the Green Bay Packers (wide receivers and passing game coordinator 1986-87) and Philadelphia Eagles (wide receivers, 1984-85). He has a record of 16-19 during the regular season and 2-1 in the post season. In his third season as head coach of the Redskins in 1996, Norv Turner saw his team improve to 9-7 after finishing 6-10 in '95. In each of his three seasons, Washington has improved its record by three games over the previous season, starting at 3-13 in 1994. Turner took over the Redskins after serving as offensive coordinator for the Cowboys from 1991 to '93, helping Dallas win back-to-back Super Bowl championships (XXVII and XXVIII). He joined the Cowboys in 1991 and helped mold an offense that had ranked last in total offense in 1990 into one of the NFL's 10 best. His offensive teams ranked fourth in the league in each of his last two seasons as the Cowboys' offensive coordinator. Before joining the Dallas staff, Turner helped improve the Los Angeles Rams' passing game (1985-1990) by guiding quarterback Jim Everett to his most successful seasons. Turner coached at Southern California from 1976-1984, serving as offensive coordinator in 1984. Turner also coached USC quarterbacks (1981-83), defensive backs (1980), and receivers (1976-79). JACKSONVILLE-WASHINGTON REDSKINS CONNECTIONS: The Jaguars have two players who are former Redskins: WR Keenan McCardell was a 12th-round pick in 1991 and spent the season on injured reserve as the Redskins won the Super Bowl; and G/C Greg Huntington, who was drafted in 1993 by Washington in the fifth round and saw action in nine games in his rookie season ... Jaguars from the Washington, D.C. area include: DT Leon Searcy (born in Washington, D.C.), DE Jeff Lageman (Sterling, Va.) and TE Derek Brown (born in Fairfax, Va.) ... Four Redskins are from Florida: WR Albert Connell (Ft. Lauderdale), WR Alvin Harper (Frostproof), DE Kenard Lang (Orlando and University of Miami), LB Twan Russell (Ft. Lauderdale and University of Miami) ...Redskins DT William Gaines attended the University of Florida, where he was a teammate of Jaguars WR Willie Jackson ... Redskins defensive line coach Earl Leggett was born in Jacksonville and attended Town High School ... Jaguars offensive coordinator Chris Palmer worked with Redskins linebackers coach Dale Lindsey from 1984 to '85 with the New Jersey Generals in the USFL ... Palmer worked with Redskins tight ends coach Michael Pope in New England from 1994 to '96 ... Jaguars assistant pro scout Les Snead played with Redskins RB Stephen Davis at Auburn ... Jaguars LB Kevin Hardy and Redskins CB Scott Turner were teammates at Illinois ... Jaguars S Chris Hudson played at Colorado with Redskins LB Greg Jones and WR Michael Westbrook ... Jaguars CB Dave Thomas was teammates with Redskins WR Alvin Harper and DE Chris Mims at Tennessee ... Redskins CB Cris Dishman played at Houston from 1988 to '96, where he played with Jaguars LB Eddie Robinson (1992-96) and Chris Palmer was on the coaching staff (1990-92) ... Jaguars OG Ben Coleman played with the Cardinals in 1993 with Redskins LB Ken Harvey and DT Keith Rucker ... Redskins QB Jeff Hostetler played with the New York Giants from 1984 to '92, during which time Jaguars head coach Tom Coughlin was the team's receivers coach from (1988-90), tight ends coach Fred Hoaglin (1985-92) was the Giants' offensive line coach, and Jaguar Derek Brown was a tight end (1992) ... Jaguars RB Natrone Means spent three season in San Diego, where he played with Redskins DE Chris Mims and S Stanley Richard ... Jaguars OG Jeff Novak played in Miami in 1993 with Redskins C Jeff Uhlenhake, and Uhlenhake played with Jaguars DE Joel Smeenge in New Orleans in 1994, where defensive line coach John Pease was on the coaching staff ... Jaguars WR Keenan McCardell and S Dana Hall played in 1995 with Cleveland with Redskins G Bob Dahl. JAGUARS ARE BEST IN THE NFL: The Jaguars have the best record in the NFL dating back to last November 10 (regular-season and post season games). The Jaguars' only two losses in their last 13 games were last November 17 at Pittsburgh and January 12 at New England in the AFC Championship game. Here's a look at the league's best records since last November 10:
                       1996           1996          1997

Team Reg. Season post season Reg. Season Total Jacksonville Jaguars 6-1 2-1 3-0 11-2 Tampa Bay Buccaneers 5-2 -- 4-0 9-2 Green Bay Packers 5-2 3-0 3-1 11-3 New England Patriots 5-2 2-1 4-0 11-3 Carolina Panthers 7-0 1-1 2-2 10-3 Denver Broncos 5-2 0-1 4-0 9-3 San Francisco 49ers 5-2 1-1 3-1 9-4 Dallas Cowboys 5-2 0-1 2-1 7-4
WITH THE LONGEST WINNING STREAK: The Jaguars also have the longest winning streak during the regular season, with seven consecutive victories dating back to last November 24. Here's the teams with the four-longest winning streaks:
Jacksonville Jaguars 8 straight victories New England Patriots 5 straight victories Tampa Bay Buccaneers 5 straight victories Denver Broncos 4 straight victories
THE BEST RECORD ON THE ROAD: The Jaguars' 5-1 record on the road since (including post season) last November 24 is the best mark in the NFL in that time. Here's the league's top road teams since last November 10:
Jacksonville Jaguars 5-1 Carolina Panthers 4-1 San Francisco 49ers 4-1 New England Patriots 3-1
AND THE SECOND-BEST RECORD AT HOME: The Jaguars' 10-1 record at home in their last 11 regular-season games is tied for the second-best mark in the NFL in that time. Here are the records for the last 10 home games for the leaders:
Green Bay Packers 11-0 Jacksonville Jaguars 10-1 Denver Broncos 10-1 Carolina Panthers 9-2 Pittsburgh Steelers 9-2
ANOTHER GAME, ANOTHER QUARTERBACK: The Jaguars have started three different quarterbacks in their three victories so far this season. Rob Johnson started the season opener, when the Jaguars defeated the Baltimore Ravens 28-27 in his first NFL start. Steve Matthews made his first NFL start on September 7 against the New York Giants, leading the Jaguars to a 40-13 victory, marking the second straight game that a Jaguars backup has started and won in his first NFL start. Following the team's open week, Mark Brunell started the season's third game on September 22, a 30-21 win over the Pittsburgh Steelers on "Monday Night Football." The starting of Brunell in the 1996 season finale and Johnson and Matthews in this year's first two games marked the first time since the Dallas Cowboys in 1994 that a team started three different quarterbacks in three consecutive games. And when Johnson and Matthews made their first NFL starts in back-to-back games, it marked the third time that has happened since the 1970 AFL-NFL merger and the first time a team has won both games. (The 1978 Colts were 0-2 with Mike Kirkland and Bill Troup; the 1979 Rams were 1-1 with Jeff Rutledge and Vince Ferragamo.) Prior to this season, Brunell had quarterbacked the Jaguars to all 15 victories in franchise history. LAST WEEK: The Jaguars defeated the Pittsburgh Steelers 30-21 in their first appearance on "Monday Night Football." Mark Brunell returned from a knee injury suffered on August 9 and made his first start since last season. He completed 26 of 42 passes for 306 yards and one touchdown and was not intercepted. He led the Jaguars back from a 21-20 deficit with 4:46 left in the game, as Mike Hollis kicked the go-ahead field goal from 27 yards. Then, on the final play of the game, Clyde Simmons blocked Norm Johnson's 40-yard field goal attempt and Chris Hudson rambled 58 yards for the final touchdown. The victory was the Jaguars' third at home against no losses over the Steelers. Jimmy Smith caught 10 passes for 164 yards and a TD and collected his third 100-yard receiving game of the season, and Natrone Means scored the team's other touchdown on one of his 24 rushes. FROM COACH TOM COUGHLIN ON THE STEELERS GAME: "I'm very thankful to win the game. That's all I can say. I give Pittsburgh a lot of credit. They played very hard. We had a poor second half. It was not a good football game for us, but we found a way to win, and that's what good teams do. I was disappointed because our first half appeared to be a little more productive than our second. We didn't rush the ball; they rushed the ball. Kickoff coverage was an absolute embarrassment. We couldn't score in the red area. We got to the red area but couldn't get the ball in the endzone." (on Jacksonville's red zone performance): "We'll look at that hard. Pittsburgh's blitz package is tough, and when you get down in that enclosed area there is not a lot of area to put the ball. We did not have the run game, and the previous games we have had the run going and it had been a nice mix." "It was some kind of football game. It was one of those games where what we can say about ourselves is that we found a way to win. We missed a couple of field goals that put the game in jeopardy all the way through. Again, we won the football game; we are very happy to be the winner. I said to the team on Sunday night not to every take anything for granted. One of the themes that I'm on, that happen to be games that I watch and watched on Sunday, is the number of errors that took place on field-goal protection and kicking field goals. We felt good at our opportunity to block that kick at the end of the game. We work on that, and we knew exactly what we wanted there, and Clyde had the opportunity. We got good pressure inside, Clyde had a chance to do what he does very well. And then Chris picking it up and scoring was just incredible to have that as the finish." FROM QB MARK BRUNELL: (on ranking the victory) "This is big. This is one of our best ones. One, because it was Monday night. Two, because it was the Steelers. Three, because of the way we won. It came down to the last play, and it was very good for this franchise and for the city of Jacksonville." (was he rusty from the layoff) "Yes, as far as my footwork, and some of the throws weren't as accurate as they should have been. But it was good to get a game in. We got a win, so I'm pleased." (on his injury) "The knee was solid. I had no pain. I didn't tweak it or get hit on it; I felt fine. It was very strong. I had no problems whatsoever. In the beginning I had to be careful. I didn't want to take off and put myself in a position where I could get hit. I thought for the most part I was smart and I didn't take any chances and I stayed in the pocket when I had to. I felt good how my knee came out." (on Jimmy Smith) "Jimmy's incredible. He's a great athlete. He made great catches in critical situations. Jimmy's a go-to guy, as is Keenan (McCardell). With their blitz, we were going with max protection, keeping guys in, and we made it one-on-one outside and we felt Jimmy's going to win those nine out of 10 times. (on the "Miracle Mark" T-shirts being sold in Jacksonville) "I don't do miracles. I'm not a miracle man. One thing I do believe is what I told you guys a long time ago that God healed my knee. I still believe that. He's the reason I was able to play today. If anyone was the miracle man, it's Jesus. He gets credit for this and for me getting a chance to play, and if anyone deserves credit, it's Him. That's where all the credit and all the glory goes." FROM WR JIMMY SMITH: "I just did what it took. I get paid to go out and catch footballs. It felt good to have Mark back out there. In the second half, I got the wind knocked out of me. I couldn't see, I couldn't breathe. I could barely make it to the sideline, but fortunately Reggie Barlow came in and made a big catch." FROM DE TONY BRACKENS: "They pay me to make big plays here, so I just go out and make big plays. That's all I'm going to say about that." FROM G BEN COLEMAN: (on Brunell playing) "Coach (Coughlin) had said that Mark would be our starter at game time and we knew it would be a big momentum swing for us. We knew the crowd would be into it. Mark was probably a little rusty, but he still played exceptionally well. That gives you an indication on how good he can be." NOTES FROM THE STEELERS GAME: The attendance of 73,016 is a new record for ALLTEL Stadium. The previous high was 72,363 on 9/3/95 vs. Houston in the Jaguars' inaugural game. ... DE Clyde Simmons field goal block to end the game was the sixth of his career and 12th total blocked kick of his 12-year career (six field goals, six extra points). Since joining the Jaguars last year, he has four blocked kicks in 22 games counting post season -- two field goals and two extra point tries. ... The Jaguars scored three touchdowns, giving them 11 in three games so far, their biggest three-game total ever. ... The Jaguars did not turn the ball over for the first time this season and have just two turnovers in the last three games. They had two takeaways (one fumble and one interception), giving them a plus-six turnover ratio for the season. ... The Jaguars outgained the Steelers 343 yards to 306 yards, marking the third time in three games they have done so. ... The Jaguars have not thrown an interception yet this season (one of just two teams in the NFL, Dallas being the other) and have made five. ... Jacksonville controlled the ball for 33:55, the third time they've had the edge in time of possession this year. ... Three players extended their streaks for consecutive games with at least one reception: Pete Mitchell (28 straight, the team record), Jimmy Smith (27 straight) and Keenan McCardell (25 straight, 19 with the Jaguars). Smith and Mitchell joined Don Davey, Rich Griffith, Bryan Barker and Mike Hollis as the six Jaguars who have played in all 35 regular-season games in team history. ... C Dave Widell made his 33rd start with the Jaguars, breaking Mickey Washington's team record. ... WR Jimmy Smith had his seventh career 100-yard receiving game, sixth in his last eight games and third in a row (a team record), as he set personal bests with 10 catches for 164 yards. Smith's TD catch gave him 15 career touchdowns with the Jaguars, tying James Stewart's team record. Smith has three consecutive games with 100 receiving yards, which is a Jaguars team record. Smith now has seven 100-yard games, a career high and team record. ... WR Reggie Barlow had his first two NFL receptions. ... RB Natrone Means scored a touchdown in his third consecutive game, tying the team record shared by WRs Jimmy Smith and Cedric Tillman, Means also broke the record for consecutive games with a rushing touchdown with three, topping the record shared by Mark Brunell and James Stewart. Means' TD gave him four for the season, one fewer than the five he had in all of 1996 (counting post season). Means rushed 24 times for 40 yards, his seventh straight regular-season game with 21 or more carries. ... Jerome Bettis ran 21 times for 114 yards to become the first player to rush for 100 yards against the Jaguars since Baltimore's Bam Morris last November 10 (26-109), a streak of 11 games, including post season. ... Brunell recorded his ninth career 300-yard game. It was the first 300-yard passing performance allowed by Pittsburgh since Dec. 24, 1995 when Green Bay's Brett Favre passed for 301 yards. ... PK Mike Hollis kicked three field goals in five attempts and had three extra points for 12 total points, his 11th game with 10-plus points and his sixth in the Jaguars' last 13 games. Hollis' five field goals attempts tied his team record (12/3/96 vs. Cincinnati)... P Bryan Barker punted just one time for 38 yards (not returned), his third time as a Jaguar that he's punted just once (the team record is no punts on Oct. 20, 1996 at St. Louis). ... LB Eddie Robinson led the team with 11 tackles (6 solo), followed by LB Bryan Schwartz with nine (2 solo). ... CB Aaron Beasley had his second career interception. ... DE Tony Brackens had his first two sacks of the season, tying his personal high (9/29/96 vs. Carolina) and a forced fumble, and LB Brant Boyer had the first sack of his career. The Jaguars' three sacks gives them eight for the season. ... QB Steve Matthews and C Michael Cheever were the only Jaguars who dressed but did not play. ... Friday's inactives were: QB Rob Johnson, C/G Greg Huntington, DT Seth Payne and DE Jabbar Threats; Sunday's inactives were: QB Jim Miller (third QB), G/OT Jeff Novak, WR Will Moore and TE Damon Jones. ... Jaguars captains were OT Tony Boselli, WR Keenan McCardell, DE Jeff Lageman and LB Kevin Hardy. NEXT WEEK: The Jaguars will return home for the first of back-to-back games in ALLTEL Stadium. They host the Cincinnati Bengals at 1:00 p.m. for their third game of the season against an AFC Central Division opponent. The Bengals are 1-2 so far this season. They won their season opener 24-21 over Arizona, then dropped road games at Baltimore 23-10 and at Denver 38-30. The Jaguars are 1-3 lifetime vs. the Bengals, losing the first three games before winning last December 1.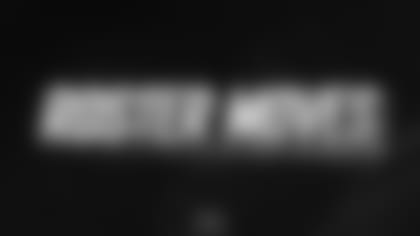 news
Roster Moves: Jaguars Sign K Brandon McManus and Traded K Riley Patterson