Jacksonville, Fla. – The Jacksonville Jaguars have been allocated DB Ayo Oyelola through the NFL's International Pathway Program the team announced today.
Oyelola, 5-11, 205, was introduced to football at the University of Nottingham, where he graduated from in 2020 with a law degree. The 23-year-old participated in the 2021 International Player Pathway training phase but was not allocated to a team. He spent last season with the Winnipeg Blue Bombers of the Canadian Football League, who eventually were crowned Grey Cup champions in December of last year.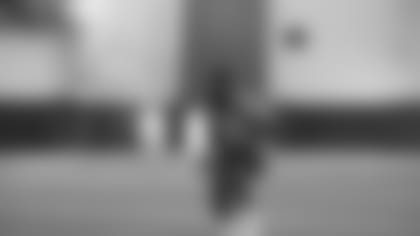 This year marks the sixth season for the International Pathway Program after starting in 2017. Each season since the program's inception, four international players are assigned to teams within a division; this season, the AFC South was chosen. The program is part of the NFL's efforts to strengthen the pipeline of international players and aims to provide elite international athletes the opportunity to compete at the NFL level, improve their skills and ultimately earn a spot on an NFL roster.
As a part of the pathway program, Oyelola will be on the Jaguars' roster until the end of training camp. At the conclusion of training camp, Oyelola is eligible for the international player practice squad exemption, granting the Jaguars an extra practice squad member.
As a first step in the IPP process, the NFL conducted International Combines in the U.K. and Mexico last October that featured 66 athletes from 21 countries. Following the Combine, Oyelola was among a group of 12 selected to receive additional training and development alongside NFL players and draft hopefuls in the United States this past winter at the OLP Performance Academy run by NFL Legend and NFL Senior Advisor of Player Development & Performance LeCharles Bentley. Oyelola then had the opportunity to showcase his talent at the University of Florida Pro Day in March.