JACKSONVILLE – The 'Bank was packed, and it was loud. Really packed and really loud.
The night was memorable, cool and rowdy – and in the aftermath of a division-title clinching victory, pretty much all Jaguars and coaches agreed:
The fans mattered Saturday. A lot.
"The crowd was just jumping," Jaguars cornerback Tyson Campbell said. "They were giving us a lot of energy. So, I appreciate the crowd that came today. They were a big part of us winning this game."
Jaguars wide receiver Marvin Jones Jr. called the "electricity" Saturday as the Jaguars clinched the 2022 AFC South title with a fifth consecutive victory "second to none."
"They deserve everything," Jones said. "It was good to see a sea of teal. When they (the Titans) made a play, there was nobody that was celebrating. It was all good. They deserve it. This team deserves a winner. That's the culture we're obviously building here.
"The work is not done. We couldn't be more happy."
Jaguars quarterback Trevor Lawrence called Saturday "one of the best game environments I've been in, honestly."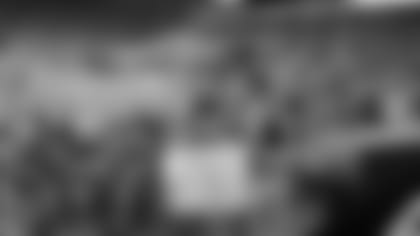 "It says a lot, just how the fans have rallied around us this year as this season has gone on, and obviously late in the year like we've been playing," Lawrence said. "To see the stadium packed tonight was awesome. It was special. They were loud all game. It was really, really cool. It was a cool experience. I'll always remember that, so hopefully we do the same thing next week."
Said Jaguars outside linebacker Josh Allen, "We expect them to come out every week. We expect them to be loud. When we put our hands in the air and tell them, 'Let's go,' we expect them to be louder and go crazy. That's the expectation they have for us. That's the expectation we have for them, so let's get this going."
Pederson upon taking the Jaguars' head-coaching position in early February talked of a culture change and of the team playing "meaningful games" in December and January. He said crowds such as Saturday's are "what we were hoping for."
"The crowd delivered," Pederson said. "It was loud. They stayed until the end. I'm very proud of our fans. We're going to need them again in a week or so. Just a great way to cap off the regular season. As we head into the postseason, we're going to need them again, so let's gear up and get ready. It was awesome."
The Jaguars' special teams turned in a front-line performance Saturday, with kicker Riley Patterson converting field goals of 36 and 26 yards – and wide receiver Jamal Agnew returning two punts for a 16.5-yard average and four kickoffs for a 31.3-yard average. Agnew's 54-yard kickoff return in the second quarter set up the Jaguars' lone offensive touchdown. Perhaps the Jaguars' top performance from any player Saturday came from punter Logan Cooke, who punted four times for a 51.5-yard average with all four punts inside the 20. "Logan kicked his tail off," Pederson said.
Pederson: "I'm just proud of these guys, to be in this position, to be the AFC South Champion and just to know the journey that it took us to get here. It's just a step in the direction we want to go. I want it to be sustainable. I just don't want to be like, 'OK, you were the 2022 champs and not in '23.' You want to be competing for this division every year."
Lawrence on winning seven of the last nine games to win the AFC South after a 2-6 start: "We had to do a lot. We had to win a ton of games down the stretch. We were able to do it. We never lost faith or belief in ourselves. How we got here was just taking it one week at a time. We gave ourselves a shot, and we went and took it tonight, so it feels really good. To do what we've been able to do the past five games and give ourselves a chance, that's really hard to do. It makes it special for sure."
Campbell: "Just to see all the work we put in and the faith we've had in one another and the faith that we had in the process, just to see it all unfold and to be in this position, it's a tremendous blessing. We're hungry for more. Just to see the growth of this team is incredible. I'm excited for our future."