JACKSONVILLE – The moment is big, and so is the stage.
It's the only focus this week for the second-year quarterback.
"Just that opportunity in and of itself is special, and that gets you going," Lawrence said as the AFC South Champion and No. 4-seeded Jaguars (9-8) prepared to play the No. 5-seeded Los Angeles Chargers (10-7) in an AFC Wild Card Playoff game at TIAA Bank Field Saturday at 8:15 p.m.
Lawrence, the No. 1 overall selection in the 2021 NFL Draft, has emerged this season as one of the top young quarterbacks in an AFC stuffed with ascending and elite players at the position.
"You want him to have these moments," Head Coach Doug Pederson said. "That's the winning culture we're trying to build here and establish. We want to be in the conversation at the end of the season – and to have the team playing in these meaningful games and that's a credit to the quarterback.
"He's your leader of your team and your franchise. These are all games that continue to prepare and teach Trevor just how important not only they are, but in the future when you're talking about these matchups down the road."
A major storyline Saturday will be Lawrence and Chargers quarterback Justin Herbert, with both considered among the NFL's top young players at the position. It's a matchup that will be common in the AFC throughout the postseason, with all conference playoff teams featuring young, front-line quarterbacks: No. 1 Kansas City (Patrick Mahomes), No. 2 Buffalo (Josh Allen), No. 3 Cincinnati (Joe Burrow), No. 6 Baltimore (Lamar Jackson) and No. 7 Miami (Tua Tagovailoa).
"There's not a ton of teams left," Lawrence said. "When you're in this position and you're playing guys like that, that means you're playing the best teams and that's where you want to be at this time of the year."
Lawrence added, "I'm just excited for the opportunity that our team has to go play these teams that are really good teams that have great quarterbacks."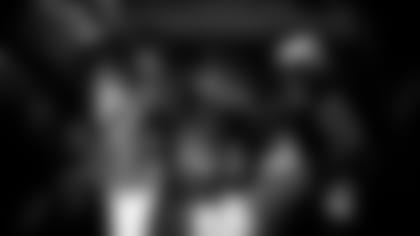 It was a remarkable run, and a remarkable turnaround for a team that finished with the NFL's worst record the past two seasons – but Lawrence said now is no time to reflect on the immediate past.
"I really just feel like it's on to the next," Lawrence said. "It was kind of an uphill battle for a while, tunnel vision week after week, just trying to put ourselves in position, and then we finally did it. So there was kind of a feeling of, 'We accomplished this, we've made the playoffs.' Obviously that's a huge stepping stone for us. But now it's really just moving on to the next week and focusing on the task at hand and realizing it's the same thought process this week to earn another opportunity next week.
"You just find a way to win whatever it takes this time of year. Games are going to be tight. Games are going to be close. You just have to find a way to win. We understand that and our team has really rallied around that idea: 'Whatever play needs to be made, we're going to find a way just to win the game.'
"We've done a great job of that. Now it's kind of, 'Just ready to go play again."
The Jaguars finished the season ninth in the NFL in total yards and 10th in scoring but scored five offensive touchdowns over the last three games. Their 222 yards offense against the Titans Saturday marked their second-lowest yardage total of the season. "The offense needs to have a better game than the other night, quite frankly," Pederson said. "We didn't do enough. We obviously we missed some opportunities in the game." The Jaguars scored two field goals on two red-zone possessions against Tennessee, also losing a fumble after driving to the Tennessee 22 in the second quarter. "We've done what's needed to win the last three weeks," Lawrence said, adding that the offense against Tennessee "Definitely didn't play our best, but that's going to happen from week to week. There's always going to be stuff to clean up. I still think our offense is in a great spot. The progress we've made is still there."