JACKSONVILLE – The Jacksonville Jaguars today kicked off a month-long celebration of Latinx/Hispanic Heritage Month with a series of community events and activations that honor the rich history and cultural significance of the Latino community, one of the fastest growing populations in Northeast Florida.
Last night, a new, original, hand-painted mural by Northeast Florida regional artist, Whitney Perez, was unveiled at Alfred I. DuPont Middle School in an art dedication ceremony on the eve of Latinx/Hispanic Heritage Month. This artwork was underwritten by a grant to the Cultural Council of Greater Jacksonville from the Jacksonville Jaguars Foundation, in partnership with Duval County Public Schools (DCPS) and the First Coast Hispanic Chamber of Commerce. Click here to access photos of the new mural for editorial use.
"It's been a pleasure for the Jacksonville Jaguars Foundation to work with the Cultural Council's Art in Public Places department, DCPS and the First Coast Hispanic Chamber of Commerce to help create this important public art installation," said Adriel Rocha, Director, Jaguars Foundation and Community Impact. "It's a great kickoff to our month-long celebration of our growing Hispanic community that is living and thriving in Duval County."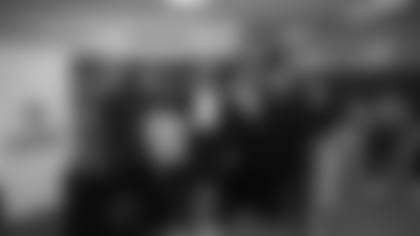 In addition to the mural, the Jaguars will continue to recognize Latinx/Hispanic Heritage Month through a variety of activations to celebrate the diversity and vibrancy of our fans, players and front office personnel:
On Sept. 24, the Jaguars will recognize the three winners of the Duval County Public Schools Latinx/Hispanic Heritage Month Essay Contest. One winner from elementary, middle and high school will each receive game tickets, a custom Jaguars jersey, Jaguars apparel and in-game recognition.
The Jaguars will celebrate Latinx/Hispanic Heritage Month at the Jaguars vs. Cardinals game on Sunday, Sept. 26 at 1 p.m. Each of this year's essay contests winners and scholarship recipients will be recognized on the videoboards.
Global Outreach Charter Academy students will receive a special visit from Jaxson de Ville and members of THE ROAR of the Jaguars on Sept. 30. They'll participate in a creative project and receive special t-shirts to commemorate the month.
On Oct. 16, the Jaguars Foundation will partner with local church Roca De Salvacion and Feeding Northeast Florida to provide meals that will benefit more than 400 Hispanic families in Jacksonville.
The team will conclude the month-long celebration at the presenting sponsor of the First Coast Hispanic Chamber of Commerce's (FCHCC) Annual Achieving the Dream Scholarship and Hispanic Heritage Gala. Through the support of the Jaguars, the NFL and other FCHCC sponsors, a total of $20,000 in scholarships will be awarded at the event to 10 deserving senior high school and college students.