JACKSONVILLE – The smile was wide and well-earned.
Owner Shad Khan spoke to the media late Saturday night outside the Jaguars' locker room at TIAA Bank Field. On his face was that wide smile.
In his hands, a white football commemorating the Jaguars' 2022 AFC South title.
"It's hard to describe," Khan said. "I'm speechless."
It's the second division title in Khan's 11 seasons as owner.
The Jaguars won the 2022 AFC South title in Head Coach Doug Pederson's first season as head coach. They had finished with the NFL's worst record each of the last two seasons, winning four regular-season games in that span and 10 over the last three seasons.
"He's a class act," Khan said of Pederson. "He understands how important it is to the city and everything else we've done. It's wonderful to see what has happened."
Khan added of Pederson, "He's practicing what he's preaching. He walks the walk. He never gets too high or low."
Khan also praised General Manager Trent Baalke and the staffs of Baalke and Pederson, also praising the Jaguars' players.
"What a difference they've made," Khan said.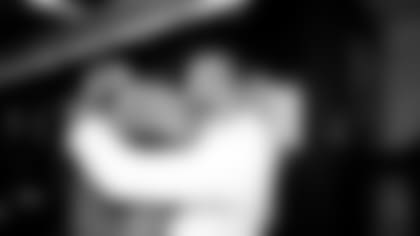 The Jaguars overcame a 2-6 start and a three-and-half game deficit in the AFC South at midseason (four-game deficit after the Week 11 bye) winning seven of their last nine regular-season games. Khan on Saturday laughingly called Pederson "the man with the crystal ball," a reference to quarterback Trevor Lawrence recently saying that Pederson at midseason predicted the run to the division title in the second half of the season.
"He did have the crystal ball," Khan said.
The Jaguars rallied to win six times in the last nine games of the season. They not only trailed by 10 points in the first half Saturday, they rallied to win from 17-point deficits earlier this season against the Las Vegas Raiders and Dallas Cowboys and rallied from a nine-point deficit in a victory over the Baltimore Ravens.
The Jaguars on Saturday trailed by three points before outside linebacker Josh Allen returned a fumble 37 yards for the game-winning touchdown with 2:51 remaining.
"I'm seasoned now," Khan said when asked if he was worried before Allen's touchdown. "We had games like that. This team has done that. That's a huge difference."
Saturday's game was a winner-take-the-AFC South scenario, with 70,050 Jaguars fans in attendance in a game televised nationally on ABC and ESPN.
"The 12th, 13th, 14th and 15th man and woman in the stands got us over the edge," Khan said. "It's a day, and we're just getting started."