During Week 13, NFL players, including seven players from the Jacksonville Jaguars, will display the causes that are important to them as part of the NFL's My Cause, My Cleats campaign.
More than 500 players league-wide are planning to showcase their cause on-field, and many have worked directly with Nike, Under Armour and Adidas to design their cleats.
Below is a list of the Jacksonville Jaguars players that will wear cause-specific cleats on Sunday against Denver:
Left Tackle Kelvin Beachum: Supporting efforts to end hunger through a nationwide network of member food banks through Feeding America.
"Since joining the Jaguars, I knew I wanted to continue raising awareness for hunger-related causes in my new community. Designing my cleats is a perfect way for all of our fans to see the need to end hunger, not just in our community, but also around the world."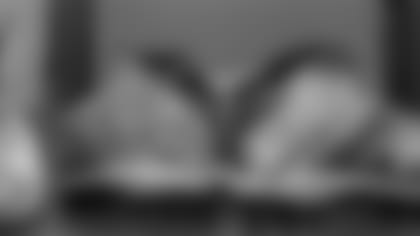 Quarterback Blake Bortles: Supporting children with intellectual and developmental challenges in their pursuit of full, independent lives, as well as local first responders through The Blake Bortles Foundation.
Bortles: "Designing our own cleats is a great opportunity to show some of the things that we're involved in off of the field. It's an honor to support children with developmental challenges pursuing their full and independent lives, and a privilege to recognize local first responders who consistently put their lives on the line for our safety."
Strong Safety Jonathan Cyprien: Supporting at-risk youth through the At-Risk Youth Foundation.
Cyprien: "I'm blessed to be able to show the world some of the things that I am passionate about through my foundation. I hope that my cleat design reinforces the importance of supporting at-risk youth in the community and I am proud to represent the kids that we're working with on a daily basis."
Defensive Tackle Malik Jackson: Supporting and building programs that serve at-risk children, military children and families, animal rescue missions and family emergency assistance through Malik's Gifts.
Jackson: "I'm excited to represent all of the great people and causes that I've been blessed to interact with through Malik's Gifts. It's important to me to support at-risk children, military children and families and animal rescue missions, and I'm excited to represent each cause in an impactful way on Sunday."
Kicker Jason Myers: Supporting ovarian cancer research through the Colleen's Dream Foundation and the Kicking for the Dream initiative founded by former NFL kicker Billy Cundiff.
Myers: "Kicking for the Dream is something very personal to me. Billy Cundiff is a great friend of mine and to be able to support him and his wife, Nicole, is a special opportunity. The early detection and treatment of ovarian cancer is important to the entire kicking community."
Wide Receiver Allen Robinson: Supporting educational opportunities and resources to low-income and inner-city Jacksonville-area students through Allen Robinson's Within Reach Foundation.
Robinson: "The goal of my cleat design is to emphasize the need for increased resources for at-risk and low-income students in the Jacksonville community. My Within Reach Foundation strives to give educational opportunities for these kids and I hope that by wearing these on game day, awareness for this critical issue grows."
Tight End Julius Thomas: Supporting at-risk youth and education through Episcopal Children's Services.
Thomas: "Being active in the community is so important to me considering our ability to affect change and inspire people. To take it to another level and design cleats that we wear on game day is a great opportunity to emphasize the benefit of reading and education locally and around the country."