That's the question on everyone's mind as the impact of COVID-19 continues to be realized around the First Coast and our country. Jaguars players are no different. They're practicing social distancing, washing their hands regularly and doing their part to flatten the curve, but they too are eager to do more for healthcare workers, essential employees and those in our community most in need.
Jaguars CB Tre Herndon and his girlfriend, Treyleanna Robinson, stepped in right at the start of this crisis and on March 26, gifted more than 10,000 meals to those in need on the First Coast via Feeding Northeast Florida.
"Last year, I did an event in my hometown, Chattanooga, Tenn., where I fed a couple hundred people at a soup kitchen," said Herndon. "Since then, I have made it a point to try to do something like that every year where I can help out a community that is going through those kinds of things. With this virus going on right now and knowing that I am a part of another community, I felt that helping Northeast Florida in any kind of way … those who may not be as fortunate to have money for meals and have to use their money for hand sanitizer and other supplies to protect themselves. I felt it was a great opportunity to help out another community that I'm a part of."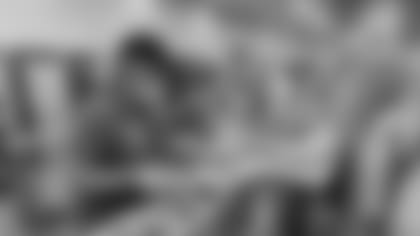 As the crisis continues, Herndon's teammates have also continued to find unique ways to give back to communities and causes about which they are passionate. Below is a sample of their actions at work:
Jaguars RB Leonard Fournette is lending his support to his hometown of New Orleans, which has faced a growing number of infections recently. Fournette has contributed funds to ensure that for the next eight weeks, more than 7,000 meals will be distributed per week via the Second Harvest Food Bank.
Senior citizens represent one of the populations most vulnerable to COVID-19. With that in mind, OL Tyler Shatley has gifted more than $10,000 towards multiple outreach efforts that will be matched by the Jaguars Foundation. The funding will support both a partnership between Florida Blue and Feeding Northeast Florida that ensures more than 1,500 prepared meals are delivered daily to seniors around town as well as another program feeding first responders and healthcare workers.
Although DL Carl Davis is relatively new to the First Coast, he's already connected with Jacksonville's military community. He recently spent time with residents at Five Star Veteran Center, a local non-profit aiding supporting veteran mental health and re-integration into civilian life. This week, Carl Davis and his Trenchwork Foundation partnered with the Jaguars Foundation to provide a catered meal to the organization and its 31 residents for the next four weeks.
While practicing #STAYHOMESTAYSTRONG, K Josh Lambo knows there's no better house companion then a dog. On March 27, he offered to cover a portion of the adoption fees and six months of dog food for any dogs adopted from local Jacksonville Beach shelter Fur Sisters, where he also adopted his dog, Indie, in February. In just one week, 12 dogs were given a forever home and the organization was flooded with hundreds of applications. He is now partnered with Pet Paradise and other organizations to continue his efforts for the next 20 adoptions from Fur Sisters.
Jaguars WR Chris Conley, alongside his goldendoodle, Waffles, put his video game skills to good use by taking part in a Twitch Stream-Aid. On March 28, he finished in second place in the online Fortnite tournament, raising $9,300 for the World Health Organization.
Pro Bowl WR DJ Chark Jr. knew right away that small businesses would be greatly impacted by social distancing guidelines. On March 18, he put out an all-call on Twitter to support local businesses. He then took a step further by retweeting Jacksonville-based small business to his 32,000 followers and calling on all of DUUUVAL to help them out.
Player support follows a lead gift on March 24 by Jaguars Owner Shad Khan who personally committed $1 million in support of Northeast Florida's response to the COVID-19 crisis.
"I want to say thank you to every group or individual who is personally stepping up for the people of Jacksonville during these uncertain times," Khan said. "It's my privilege to help."
The Jaguars family continues to do its part to supporting the Northeast Florida community during this uncertain time. For more COVID-19 resources to keep you informed, engaged, active and entertained, visit www.jaguars.com/covid19.