JACKSONVILLE – Whatever the approach, Myles Jack wants this to change.
Jack, the Jaguars' most tenured defensive player and a defensive captain, made that clear speaking to the media Thursday as the team prepared for regular-season finale.
"I'd much rather be known as a football team that's out there kicking ass on Sunday than all the other stuff and losing," the sixth-year veteran linebacker said as the Jaguars (2-14) prepared to play the Indianapolis Colts (9-7) at TIAA Bank Field Sunday at 1 p.m.
"It's not fun at all. I just want to win, man. That's it."
The Colts enter Sunday's game needing a victory to qualify for the postseason, with the Jaguars needing a victory to avoid finishing with the NFL's worst record for a second consecutive season.
"It's definitely not a favorable situation," Jack said. "I'd rather be at this time talking about how we're going to go to the playoffs, fun stuff. This is real life. It's kind of a time right now that we're all just excited to be together for the last time and enjoy each other."
"But this is the last time this group of people will be together."
The Jaguars, after finishing 1-15 last season, lost their first five games this season before winning two of three around a Week 7 bye. After what at times seemed weekly off-field drama, Head Coach Urban Meyer was dismissed December 16.
The Jaguars have lost their last eight games, and Jack – who has played on four previous double-digit-loss teams with the Jaguars – was asked if this was his most difficult NFL season.
"I'd say yeah … definitely," he said. "It's been challenging. This year was tough, to be honest with you. It's really tough. It's not what we want to do. It's hard. I would say that because it's the freshest one. It stings. It's tough."
Jack was asked what made this one the toughest.
"We felt like at the beginning of the season we had established the culture," Jack said. "We just really felt we had established an identity. We really believed that good things were going to happen. I always believe, but this year it was undeniable. And it was a whirlwind of stuff that was going on."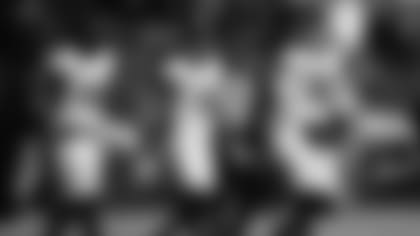 "It's no secret what was going on. As a player, there's so much going on and we're not even talking about football. I don't want to say 'scandals …' but stuff that doesn't have to deal with football that now is part of the Jaguars name."
Jack, asked what needed to be fixed in the offseason, focused on what he called "disfunction."
"It falls on everybody's shoulders," Jack said. "We can't beat ourselves. Disorganization and disfunction leads to us beating ourselves. We have to tighten up a lot of little things that end up becoming big things. If I was to say what needs to be fixed, that would be it."
With the Jaguars' search for a head coach ongoing, Jack was asked Thursday what he wants to see from the next person in the position: "All that 'players coach' … that really doesn't matter. We just need, No. 1: A leader of men, somebody that when they say something, it holds weight. Everything's detailed and you can tell it's a finished product. No. 2, it has to be somebody that it's about ball. We just have to win. All that player-friendly, he's a nice coach and all that … we don't really care about that. We want to win. Me, personally, I'm tired of losing."
Jack on defensive coordinator Joe Cullen: "I support him 100 percent. I feel like our defense has made strides. Obviously last week (a 50-10 loss to New England) was atrocious. We didn't hold up our end of the deal at all. It was bad. He (Cullen) is a leader of men. He can get people motivated to do things. You believe what he says. He's a very aggressive defensive coordinator. I have his back 100 percent. I love Coach Cullen. Everybody has a great relationship with him. It's good to see how we've grown with him and how he's been able to adjust as well."
Wide receiver Marvin Jones Jr. on Sunday's regular-season finale: "You never want to leave the field on the last game of the season with a sour taste. It's always good to go into the offseason having a great game. It's never the same every year. You want to have fun with the people you've grinded with and leave with a good taste in your mouth."
Tight end James O'Shaughnessy missed practice for a second consecutive day Thursday with a hip injury that kept him out of last Sunday's loss to New England, with Jack missing practice for a second consecutive day with a knee issue. Jaguars players practicing full Thursday included wide receiver Marvin Jones Jr. (rest Wednesday), running back Ryquell Armstead (knee) and linebacker Damien Wilson (rest Wednesday). Defensive lineman Malcom Brown missed practice with a rest day Thursday and linebacker Dakota Allen practice limited for a second consecutive day with a shoulder injury.