On Sunday afternoon at TIAA Bank Field in Jacksonville the Jaguars will end their journey through the 2021 NFL season.
At halftime, however, 74 Florida residents will gather on the field to complete the final step in their individual journeys to become United States citizens. The Jaguars are owned by Shad Khan, a first-generation immigrant who himself went through the ceremony in 1991 and that his team is the only club in the NFL to host such a ceremony and has done it four times is obviously not a coincidence.
The Honorable Marcia Morales Howard, United States District Court Judge will administer the Oath of Allegiance to each of these lawful permanent residents who have met all the requirements under the law for citizenship.
The group of 74 comes to TIAA Bank Field on Sunday from 32 different countries as far flung as Albania and Vietnam. They range in age from 19 years to 66 years old and include active-duty members of the U.S. Navy, health care workers, information technology workers and families.
The Silbers always wanted to live in the United States. Their lives and careers in finance and IT took them from South Africa to the United Kingdom to Hong Kong.
"When my husband was offered the opportunity through his job to work in the U.S., I said 'That's amazing, let's go!' I didn't even visit. I just knew I wanted to live here and in the south particularly," explained Robyn Silber. "This is my new home and I love it. It's a privilege to be an American. I love the opportunity and education that is available here."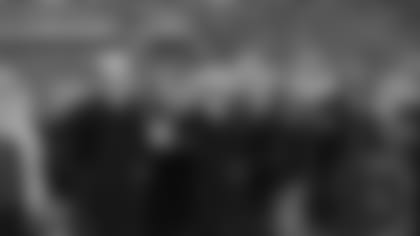 Marcelo Rosa's story is different than the Silbers, but he is just as excited to be an American and his passion for his new country is on display every day. Rosa grew up in the small, Brazilian town of Tubarao but immigrated to the United States in 2013. He joined the U.S. Navy 18 months ago and serves at Naval Station Mayport in Helicopter Maritime Strike Squadron 40, also known as the Airwolves.
"I joined to pay back to this country," he said. "I love my job in aviation. I'm doing what I love. I plan to make a career in the military and now being a citizen will give me more opportunities. The American people have such an appreciation for the military. I wanted to serve for a long time, and I literally joined as soon as I could. The day my green card arrived in the mail, I went to the recruiting office."
The Jaguars are excited to once again welcome new American citizens at halftime of the Colts game and they're also welcoming new Jaguars fans at the same time.
"I'm a little intimidated and nervous about becoming a citizen at the Jaguars game in front of so many people," said Silber. "I'll probably be very emotional because I feel so privileged and moved. I'm not an expert at football but I always cheer for the Jags. I'm totally a Jaguars fan, this is my hometown now."
Rosa is a little more knowledgeable of the game since he played high school football where he grew up in Massachusetts. "I didn't even imagine this could happen," he said. "It's so awesome. I really love football. It's a dream come true."