JACKSONVILLE – His confidence remains high.
Trevor Lawrence has said that throughout a difficult 2021 season, and the Jaguars' rookie quarterback said that hasn't changed entering the regular-season finale.
"That's something I've built over the years – confidence in myself and confidence in the future," Lawrence said Wednesday as the Jaguars (2-14) prepared to play the Indianapolis Colts (9-7) at TIAA Bank Field Sunday at 1 p.m.
Lawrence, the No. 1 overall selection in the 2021 NFL Draft, has struggled in recent weeks along with an injury-depleted Jaguars offense that ranks last in the NFL in scoring. Lawrence, who has thrown 10 touchdowns with 17 interceptions this season, has two touchdown passes and eight interceptions since a Week 7 bye.
The Jaguars since the bye have averaged just over 11 points a game.
"Like I've said, it has been a tough year," Lawrence said. "Regardless of all of that, I really do have a strong belief that we're going to do some great things here and I'm going to be a part of that. That's what I believe deep down. I hang on to that and I know it's coming."
"This year has been challenging, but I think that's one of the biggest areas I've grown – is keeping that faith. It's easier to keep the faith when things are going well. When you're not winning a lot of games and there's a lot of drama – a lot of things going on – it's a little bit harder."
"That has been something I've actually grown a lot in this year."
The Jaguars, who have led just twice since a November 7 victory over the Buffalo Bills, enter the regular-season finale on an eight-game losing streak – and knowing there will be offseason change.
The team dismissed former Head Coach Urban Meyer on December 16, and the Jaguars reportedly have met in recent days with multiple head-coaching candidates including former Philadelphia Eagles Head Coach Doug Pederson, former Indianapolis Colts/Detroit Lions Head Coach Jim Caldwell and Tampa Bay Buccaneers defensive coordinator/former New York Jets Head Coach Todd Bowles.
Lawrence laughed when asked if he felt he was prepared for anything that might occur in his NFL career moving forward.
"I don't want to say, 'Anything,''' he said. "You never know what's around the corner. I really do feel I've been through more than a lot of people can say they've been through in their first season. It does give you confidence, 'Hey, man, whatever comes at me, I know I can handle it.'"
"Obviously you don't want to go through what we've gone through again this year. I have confidence we won't. But that gives you a little of, 'Whatever's around the corner, it doesn't matter. I'm just going to keep being me every day.'
"I know there's some really good days ahead. I'm excited to experience that with whoever's a part of those teams in the future. This city, these fans … this place deserves it. I'm excited for that. I know it's going to come."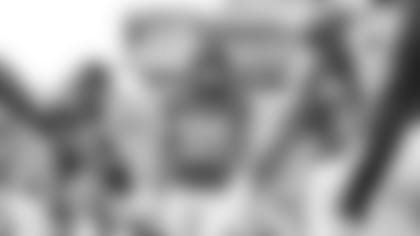 Jaguars Interim Head Coach Darrell Bevell said the hope is the Jaguars will be far healthier in terms of COVID-19 Sunday than was the case last week. The Jaguars activated tight end Dan Arnold, tight end Jacob Hollister, wide receiver/returner Jaydon Mickens and defensive tackle Jay Tufele from Reserve/COVID-19 list Wednesday – with Arnold returning to the team's injured reserve/designated to return list. Players such as guard Ben Bartch, left tackle Cam Robinson, center Brandon Linder, cornerback Shaq Griffin and defensive end Dawuane Smoot remain on reserve/COVID-19. "We're hoping to be almost full," Bevell said. "I don't know if we'll get all the guys back. But every guy we can get back will only help us. We just have to let the week play out and see where it goes."
Tight end James O'Shaughnessy missed practice Wednesday with a hip injury after missing Sunday's game. Other Jaguars players out of practice Wednesday were wide receiver Marvin Jones Jr. (rest), linebacker Myles Jack (knee) and linebacker Damien Wilson (rest). Linebacker Dakota Allen (shoulder) practiced limited Wednesday after missing Sunday's game and running back Ryquell Armstead (knee) practiced full Wednesday.
Bevell: "I do understand the frustration they (fans) have. The players are frustrated. We're frustrated with what's going on. We want it to be better as well."
Allen: "I play every week, buckle up for my pride and my family name. I put everything on the line. I don't go out here to lose. That's not my mentality. That's not our mentality. That's not how we think. We go out here and prep every week to win a game. Things might not work out. They have good players. We have good players. But the mentality is we go out here to play, to win and to dominate. We have to check everybody's selves before we get in there so we can be ready to go."