Jaguars DL Calais Campbell, WR DJ Chark Jr. and DE Josh Allen won't be the only athletes representing DUUUVAL in Orlando at the Pro Bowl this weekend. The First Coast YMCA (FCYMCA) boys team from the Dye Clay Family YMCA headed south on Thursday to compete under the Jaguars banner at the NFL FLAG National Championships. 
"It means a lot," said Burt Cannon, operations director for the Dye Clay Family YMCA and the FCYMCA head coach. "I've coached for a number of years in all different sports and having an impact on a child's life no matter how small is something I will cherish forever.  This weekend, we get to do that and represent 1 of just 32 teams in the NFL, and that is incredible. I lived in this community my whole life and to see the positive impact the Jaguars have had on the First Coast community is tremendous!"
Team members range in age from 13 – 14-years-old and have been playing together for a few years. They'll compete in pool play on Friday and Saturday at the ESPN Wide World of Sports Complex. Should they make it to the finals, the championship game will kick off just prior to Sunday's Pro Bowl at Camping World Stadium. Upon arrival on Thursday, they got the red carpet treatment at Play Football Opening Night where they interacted with NFL players and Disney talent. On Sunday, they will all receive a ticket to the Pro Bowl.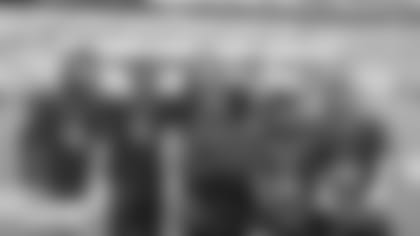 "They are looking forward to competing, but also seeing NFL players compete at the highest level," said Cannon. "This is a once in a lifetime opportunity, and I know they are excited to see positive role models in action up close."
In preparation for the FCYMCA team's playoff appearance, the Jaguars hosted the entire FCYMCA team to Jacksonville's final regular season game at TIAA Bank Field on Sunday, Dec. 29. The players were on the sideline for pregame warmups and player introductions prior to the Jaguars 38-20 victory against the Colts
"It was an amazing time," said Cannon. "The looks on their faces were priceless, especially when Calais Campbell ran by and gave them high fives. I heard one kid say he was never going to wash his hand."
For their last practice before the tournament, the Jaguars also invited the team to practice inside the Dream Finder's Homes Flex Field at Daily's Place this past Sunday. They met inside the team meeting room prior to practice and were surprised with bags full of Jaguars gear for the tournament including jerseys, cleats, gloves and more. 
Fans wishing to follow their experience this week at the Pro Bowl can follow @jaguarsfoundation on Instagram.