JACKSONVILLE – He went No. 1 overall in the draft.
That was cool for Travon Walker, but how he spent the ensuing six weeks perhaps tells more about him as a player and a person. That's because he spent that time working. And learning.
"I've basically been on the grind," he said.
Walker, the No. 1 overall selection by the Jaguars in the 2022 NFL Draft, joined senior writer John Oehser for this episode of the O-Zone Podcast. He discussed multiple issues – including how his parents shaped his upbringing; how he is adapting to a new role and new team; and being the focus of media attention.
"I really don't like being singled out," he said. "There are a lot of other people out here. I really don't mind doing interviews with other players with me. That way I'm not the attention."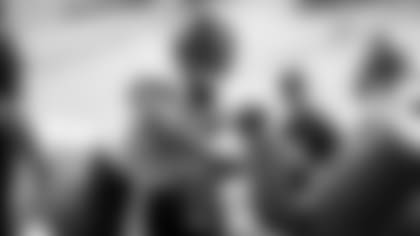 Walker, who played collegiately at the University of Georgia, also discussed the work ethic that helped make him the No. 1 overall selection. Work, he said, is something he enjoys.
"Mainly because I get to see myself grow as a person," he said. "I'm all about growing as a person. If you're staying the same, there's not really anything positive coming out of that. You always want to elevate. Just like you always want your money to grow, you should look at yourself like that."
He discussed, too, spending the last six weeks learning about the outside-linebacker position he will play early in the NFL.
"I've been coming into work every day, trying to learn everything and process everything," he said. "It's been going pretty good. I played every position at Georgia, from a zero to a nine technique. Now, I'm just focusing on one position, which is outside linebacker. That was something I already did, so I'm just growing on all of the skills that I already had coming in.
"I'm the kind of person that if I set my mind to it, I can do anything no matter how hard it is. If something's hard in life, it's probably going to be good for you in the long run. You have to put in some type of work to be the person you want to be, no matter what field it is."
To listen to the entire O-Zone Podcast with Walker, click HERE.