JACKSONVILLE – Senior writer John Oehser and Jaguars analyst Bucky Brooks examine the Jaguars' tight end position in this position-by-position look at the '22 offseason:
Position coach: Richard Angulo.
2021 starters: Chris Manhertz (11), James O'Shaughnessy (6), Jacob Hollister (2), Luke Farrell (4), Dan Arnold (3).
2021 at a glance: The Jaguars began the 2021 season continuing a long-lasting search for a playmaker at this position, appearing to find one in Arnold for a midseason stretch before losing him to injury late in the season. Arnold, acquired in a September trade with the Carolina Panthers, emerged as one of rookie quarterback Trevor Lawrence's most consistent options and played in eight games with three starts; he caught 28 passes for 324 yards before finishing the season on injured reserve with a knee injury. The Jaguars expectedly got a strong contribution from Manhertz in the running game, with O'Shaughnessy – in his seventh NFL season, fifth with the Jaguars – catching 24 passes in seven games for 244 yards. Jaguars tight ends caught 74 passes for 770 yards and a touchdown with the lone touchdown by Manhertz in Week 1.
Offseason storyline: The Jaguars for the first time in recent memory entered the 2022 offseason without a glaring need at tight end, with Manhertz – having been acquired as an unrestricted free agent in the 2021 offseason – a front-line blocking tight end and Arnold in less than half a season proving himself one of the franchise's better pass-catching tight ends in recent memory. They then strengthened the group by signing as an unrestricted free agent Evan Engram, a first-round selection by the New York Giants in the 2017 NFL Draft who has 262 career receptions for 2,828 yards and 16 touchdowns with 46 receptions for 408 yards and three touchdowns this past season. Farrell, a fifth-round selection in the 2021 NFL Draft, proved a capable option as a rookie. Jaguars Head Coach Doug Pederson's offense historically utilizes the tight end extensively – more than the Jaguars typically have done in recent seasons. "If you look at any successful quarterback in the league right now, tight end is probably at the top of the list for a quarterback," Pederson said. "That one position: Everything's kind of right over the ball, right in front of the quarterback. You also have to have a dynamic receiver as well, but that tight end position becomes the quarterback's best friend." Pederson has talked since joining the Jaguars in February about tight end being one of the team's stronger positions. It looks stronger as the Jaguars turn from free agency to the draft.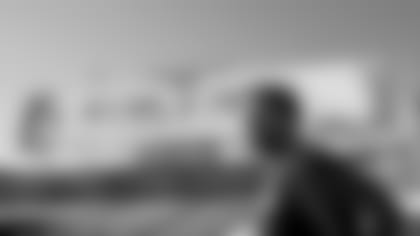 Bucky Brooks' top three tight ends prospects: Jalen Wydermyer, Texas A&M; Cade Otton, Washington; Trey McBride, Colorado State.
Offseason acquisitions: Engram (New York Giants).
Offseason departures: O'Shaughnessy, Hollister, Warring.
Oehser analysis: This was a position to watch as the offseason began, and it wasn't surprising the Jaguars made a notable move here by signing Engram. Arnold emerged quickly as a capable middle-of-the-field option for Lawrence, and he has the ability to make plays in the red zone and on third down the Jaguars have lacked at tight for far too long. Pederson's offense in Philadelphia was tight-end-centric, utilizing two-tight end sets with the position figuring heavily in the passing offense – and Engram's addition gives the Jaguars at least two capable receiving options at the position, which should help give the offense the versatility he covets offensively. "It makes that room just a little bit better," Pederson said of the addition of Engram. "You throw in Dan Arnold and now you have a couple of guys who can really stretch the field along with Manhertz and Farrell. That room has been one of the better rooms on the team and now we've made it a little bit better."
Brooks analysis: The Jaguars have upgraded this position with midseason acquisition Arnold and marquee free-agent signee Engram. The duo gives Pederson a pair of versatile pass catchers with the size, speed and athleticism to create mismatches in a variety of "12" personnel packages. With Manhertz and Farrell on the roster as true "Y" candidates, the Jaguars have enough depth and flexibility to challenge opponents from multiple tight end packages with or without draft weekend addition.