JACKSONVILLE – This wasn't perfect, and that was expected.
Head Coach Doug Pederson a day after a victory in the 2023 regular-season opener called the Jaguars "still a work in progress," which is fine if there is improvement moving forward.
"We're working on those this week.
The Jaguars rallied from a four-point fourth-quarter deficit Sunday, with running backs Tank Bigsby and Travis Etienne rushing for fourth-quarter touchdowns and the defense holding the Colts' offense scoreless for the final 26:25. The victory put the Jaguars alone in first place in the AFC South at 1-0, with the other three division teams – the Tennessee Titans, Colts and Houston Texans – losing in Week 1.
"It's hard to win in this league," said wide receiver Zay Jones, whose 18-yard touchdown reception from quarterback Trevor Lawrence gave the Jaguars a 14-7 second-quarter lead Sunday. "You go into those types of environments, with their fan base, they have a lot of energy surrounding their quarterback and the team they're building. To get that win means a lot to us.
"You're going to have to put those things to bed and have a short monitor. You have to move onto Kansas City now, which is another really good football team."
The Jaguars will play host to the defending Super Bowl and AFC West Champion Kansas City Chiefs at EverBank Stadium Sunday. The Jaguars lost twice in Kansas City last season – 27-17 in the regular season and 27-20 in an AFC Divisional Playoff game.
"It's a different animal," Pederson said. "It's a veteran quarterback (Patrick Mahomes of the Chiefs). It's a Super Bowl-winning team. They're obviously well-coached [by Head Coach Andy Reid]. It's a disciplined group. The challenges are real. We haven't fared so well against them, especially last year. It's a great opportunity for our team. It's a home game. We're looking forward to the challenge, game-planning this week."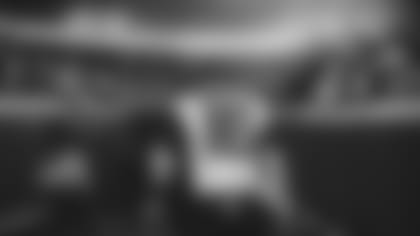 The Chiefs have won the last seven meetings between the teams. with Pederson never having won against Reid in three meetings – two last season and one while Pederson was the Philadelphia Eagles' head coach in 2017.
"We've got to try to work on that," Pederson said.
Pederson on Monday said he was disappointed in the team's third- and fourth-down conversions, with the offense converting three of 12 third downs and one of three on fourth downs. He said he would have expected a rate in the 60-to-70 percent range considering the Jaguars averaged needing four yards on third downs.
"Those are all opportunities," he said. "Those are things we'll take a look at and have to fix."
Pederson said he was pleased overall with a defense that registered four sacks, three turnovers and stopped the Colts on four of five fourth-down attempts.
"I thought the defense played well," he said. "They controlled the line of scrimmage. I just thought that the defense really kind of kept the offense in the football game."
Pederson: "Week 1's not going to decide your season at all. How many times have you seen teams jump out four, five, six-and-oh then falter in December and January? You want to be one of the teams that are going the other direction in December and January."
Pederson on Monday again addressed offensive coordinator Press Taylor handling play-calling this season. Pederson called plays in the first half of games in 2022, with Taylor calling plays in second halves. Pederson confirmed the news of the change following Sunday's victory. "Press and I have been talking about this for two years now, and it's something I've thought a lot about," Pederson said. "It's not an easy decision without a lot of conversation and just he and I talking about it. He and I have been together now seven years. We kind of know each other. I trust him wholeheartedly. That's why he's my offensive coordinator. He makes good decisions. He's well prepared. It gives me an opportunity to stay engaged within the game and decision-making in the game and help out all three phases a little bit more and deal with officials. It's not easy, but at the same time, I felt like this was the right opportunity."
Pederson said X-Rays and MRIs Monday showed veteran right guard Brandon Scherff sustained an ankle sprain Sunday. "He'll be tender the next couple of days," Pederson said. "We'll keep monitoring him the next couple of days as we go through." Pederson added, "It's obviously a loss for the offensive line, pretty substantial. If he can't, we're confident. [Veteran guard/center] Shatley filled in well. He's a veteran guy who knows the system. We have all the confidence in the world we'll have the answers there."