JACKSONVILLE – The Jaguars got comparatively good news Monday.
Running back James Robinson, the team's leading rusher, is expected to be "day to day" with a bruised heel sustained Sunday in a loss to the Seattle Seahawks. Robinson did not return to the game after sustaining the injury in the second quarter.
Meyer said he would hesitate to play Robinson if the belief was the injury was structural or that it could worsen by playing on it.
Robinson, who sustained the injury when he tried to stop quickly after being pushed out of bounds on the Jaguars' sideline on a 17-yard pass reception, finished the game with four rushes for 22 yards. He has 482 yards and five touchdowns rushing on 88 carries in seven games.
"James is obviously one of our better players, and you get your better players the ball," Meyer said. "James is a guy … of course you're going to get him the ball."
The Jaguars rushed 19 times for 82 yards in the 31-7 loss. Quarterback Trevor Lawrence threw 54 passes and was sacked once with the Jaguars trailing by double digits for the last 39:24.
"We 14- and 17-0," Meyer said. "We're not built [to play from so far behind]. I'm not sure many teams are. We certainly aren't yet. When we're balanced, we're at our best. I imagine most offenses would say that."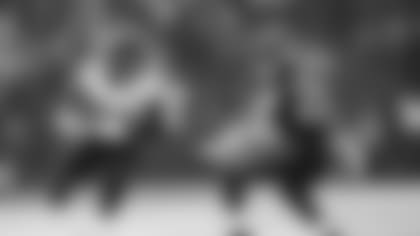 Eighth-year veteran running back Carlos Hyde led the Jaguars with nine rushes for 32 yards Sunday, with running back Dare Ogunbowale rushing twice for nine yards. Meyer said the Jaguars will discuss carries for the backs Monday evening.
"That's why we went and got Carlos," Meyer said of Hyde, who signed with the Jaguars as an unrestricted free agent. "He's a backup running back to James, but he has had some good plays for us. He ran hard yesterday. He had post-contact yardage."
Hyde played two seasons, 2012-2013, for Meyer at Ohio State.
"I personally have a lot of confidence in him because of my history with him," Meyer said. "I like those two guys. Obviously, you need more but hopefully we'll get some positive news on James."