JACKSONVILLE – He's day to day and figures to stay that way for a couple of days.
Jaguars quarterback Trevor Lawrence late Tuesday afternoon said he doesn't know if he will play against the New Orleans Saints Thursday, saying he remains day to day with a knee injury.
He said he's "optimistic," and that his game status decision would come Thursday.
"I'm going to do whatever I can to be out there," Lawrence said as the AFC South-leading Jaguars (4-2) prepared to play the Saints (3-3) at the Caesars Superdome Thursday at 8:20 p.m. "I feel a lot better today than I would've thought. So, I like how I'm progressing."
Lawrence sustained a knee injury this past Sunday in a victory over the Indianapolis Colts. Head Coach Doug Pederson on Monday called Lawrence's status "day to day."
"That's where you trust your training staff," offensive coordinator Press Taylor said Tuesday. "As long as Trevor's in a position where he can't injure himself, or as long as he gives us the best chance to win the game and without risking himself, that's what we can do.
"That's just conversation with everybody involved in the process."
Lawrence practiced limited Tuesday with a brace on his left knee.
"It's a short week anyway, so physically we're not doing much," Lawrence said. "You're trying to get your bodies back ready for Sunday, regardless of if there's an injury or not, so it hasn't affected me a ton because we just haven't done too much.
"I'm just trying to be smart about it, trying to protect it as long as I can to put me in the best position to be able to play on Thursday. I've been working out and trying to strengthen everything else to keep my body in good shape and all that.
"We'll just see how it progresses the next couple of days."
Lawrence said he doesn't yet know if he would wear the brace during the game.
"We're just kind of taking it day by day," he said.
Seventh-year veteran C.J. Beathard would start if Lawrence can't play. Beathard said he took most of the first-team repetitions in practice Tuesday and said it's "very likely" Lawrence will play.
"He's as tough as they come," Beathard said. "He's doing anything and everything he can to be ready to play."
Taylor called the team's confidence in Beathard "very high." Beathard is in his third season as Lawrence's backup.
"He has experience in this league," Taylor said. "He has experience now in our system. The guys around him trust him. We know we can go out and function in a solid way with the possibility to win the game if that was what we need to do."
Said left tackle Cam Robinson, "We trust C.J. He has been here for us for a couple of years now. We've got all the faith and all the trust in him in the world. If Trevor can't go and C.J. has to go, our expectations and what we expect from ourselves offensively and as a team don't change."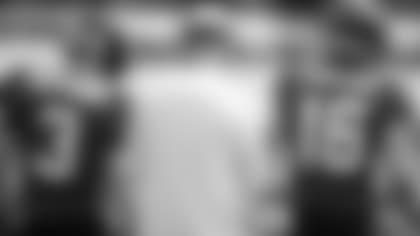 Taylor said the offense essentially will be the same with Lawrence or Beathard.
"They can run a lot of the same stuff," Taylor said. "It's like any game. You tailor your approach to what defense you're seeing and how they play and what puts everybody – not just the quarterback – in the best possible position to have success.
"There may be some things that you feature more so if it's one quarterback versus the other, but we don't feel like it really affects our offense much."
Lawrence, the No. 1 overall selection in the 2021 NFL Draft, has started the first 40 games of his NFL career.
"That's something I take a lot of pride in," he said. "We've got a couple more days. We're going to see how the rest of the week plays out. It's something that means a lot to me, just being out there, but also knowing I can put a good performance out there for my team, too, because that doesn't help anyone if I can't. You have to ask that question as well."
Added Lawrence, "This game is about toughness and it's about at times playing through injuries. But you also have to be smart. You have to feel comfortable with what you're doing and confident with that because you can't play this game hesitating at all."
Jaguars running back Travis Etienne Jr. through six games ranks sixth in the NFL in rushing with 451 yards and five touchdowns. With his 113 carries through six games leading the NFL, Taylor was asked about Etienne's ability to handle a heavy load. "He hasn't shown us he can't at this point in time," Taylor said. "Obviously, we like to spread the wealth. We like to continue with the hot hand, whatever that may be: pass game, run game." Etienne has clinched two of the Jaguars' victories with long fourth-quarter touchdown runs – a 26-yarder in Week 1 against the Indianapolis Colts and a 35-yarder in Week 5 against the Buffalo Bills. "He has been a guy that is obviously a gamebreaker for us," Taylor said. "He has been able to come through in those situations when we continue to give him the football. He has opportunities, he finds opportunities and he creates his own opportunities at times. We want to continue to give the ball to our best players at all times."
Montaric Brown likely will start at cornerback Thursday opposite Darious Williams with Tyson Campbell expected to be out with a hamstring injury, defensive coordinator Mike Caldwell said Tuesday. "He's the next guy up," Caldwell said. "He's a guy that works hard and we're confident with him going out there and he'll be ready to go. If you move too many people around, you're moving too many people around. If you can just put one guy in it, that's what they're here for. We saw what he did in the offseason and what he did in training camp. He deserves to be here. It's his opportunity to go out there and play."
Campbell was among four players listed as not practicing for a second consecutive day on the Tuesday injury report with the others being wide receiver Zay Jones (knee), left guard Walker Little (knee) and right guard Brandon Scherff (ankle). Defensive tackle DaVon Hamilton (back) was listed as practicing full for a second consecutive day; he has been injured reserve since before the regular-season opener.