When Jaguars S Jarrod Wilson steps on the field Sunday at TIAA Bank Field, he won't be alone. His new friends Ayianna, Ka'Mari, Joey, Jarael, and Zion, to name a few, will be along for the ride.
Jarrod is participating in this week's My Cause My Cleats campaign alongside 58 other members of the Jaguars roster. The annual collaboration between the NFL and players allows athletes around the league to showcase a charitable cause of their choosing through artistically-designed shoes to be worn in-game.
Jarrod selected Jacksonville's own Wolfson Children's Hospital as his cause, and on Tuesday he brought his cleats to patients on its fourth floor to put the finishing touches on the rainbow splatter paint design: the signatures of kids who will be watching from the hospital this Sunday.
Nine-year-old Logan was the first to sign Jarrod's cleats, and the two wasted no time chatting about their favorite video games. For Logan, being in the hospital has its ups and downs.
"It's fun because the food is good," Logan said. "You get treated good, but the hard part is when you do all the things and you do it over and over, it gets boring."
The visit from Jarrod and his longtime girlfriend, Desaray, cheered Logan right up. When asked to describe his feelings upon meeting the Jaguars starting safety, Logan said "Happy. Fantastic. Every happy thing!"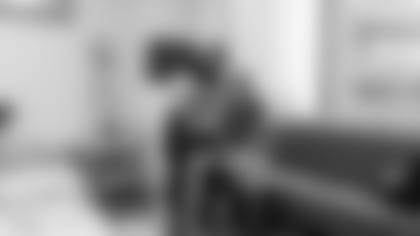 Jarrod is in the beginning stages of launching the Jarrod Wilson Foundation with child health and wellness being its primary focus. Earlier this summer, he hosted his first football camp in his home town of Akron, Ohio. Last week, he hosted a Thanksgiving dinner for women and children affected by domestic violence. Tuesday's hospital visit is his fourth over the last year.
"It's just very unfortunate for these families and these children," said Jarrod. "Hopefully I can just be a glimpse of light that day that just turns their day from bad to good. You never know the situation walking into the room, what they've been through just throughout this day alone, let alone weeks. I'm just trying to bring some light into their day."
On Tuesday, Jarrod collected signatures from kids ranging from 5-months to teenagers. He was greeted on his final stop by 14-year-old Talen already sporting his Jaguars gear.
"I am so excited because [Talen] doesn't go out the door," said Talen's mother Michelle. "When Jarrod walked in, Talen actually smiled. That was nice just to see a smile. It's been an emotional time. Just to see him smile, it makes me smile."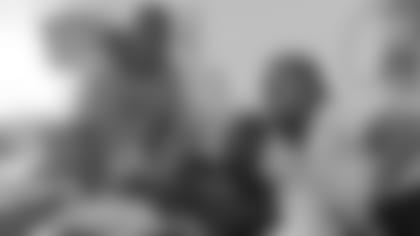 Talen's family are charter season ticket members, but Talen hasn't been able to attend any Jaguars home games this season due to his ongoing treatment.
"You'll be back out there next season," shouted Jarrod on his way out. "Look forward to seeing you!"
All-in-all, nearly a dozen signatures have been added to Jarrod's custom cleats for Sunday's matchup against the Chargers. Jarrod hopes his My Cause My Cleats partnership with Wolfson is the first of many more community partnerships to come both in Jacksonville and Akron.
"I know God has blessed me to be in this position, and it's not about what I do on the field," said Jarrod. "I think it's more important what I do off the field and just giving back. I'm only one of 7.6 billion people out here in the world. I'm just trying to help the world as best I can, one day at a time."