The Suncoast Chapter of the National Academy of Television Arts & Sciences awarded a regional EMMY® in the COMMUNITY SERVICE category* *to the Jaguars Foundation for the 2013 Jags Teen Talk…Game Plan for Success television program.
In a unique and unprecedented partnership, the Jaguars, Florida Blue, local media including all of the Jacksonville television stations, and nonprofit organizations collaborate to produce an annual prime time television show to provide a forum for teens and parents to help teens develop their own game plan for success in life. The program helps teens focus on setting goals for success and deal with obstacles they may encounter on their path to success such as cyber-bullying, teen pregnancy, HIV/AIDS and other sexually transmitted diseases, drugs, alcohol, and tobacco.
Jaguars linebacker Russell Allen teamed up with Shenette Howard from The ROAR of the Jaguars Cheerleaders to co-host the show, and Jaguars Head Coach Gus Bradley appeared as the featured special guest.  The 2013 show was produced and filmed at WJCT- Public Television studios in Jacksonville under the direction of WJCT senior producer Stephen Jones. Jennifer Candelino was the show's producer.  Each television station aired the show between May 30 and June 2, 2013.
Peter Racine, Foundation President, expressed, "Teens today are subjected to a barrage of negative influences that can derail them on their path to become successful adults.  This regional EMMY award reflects the amazing power of our tremendous media partners who work together to promote the important message to teens that making positive choices today will lead to a better future."
Susan B. Towler, Vice President of the Florida Blue Foundation, added, "Florida Blue is proud to partner with the Jacksonville Jaguars on this important health initiative. Quality programming like this helps educate teens and families on ways to lead a healthier life."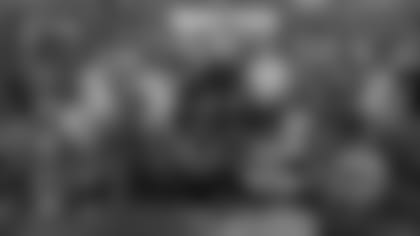 The Suncoast Chapter of the National Academy of Television Arts & Sciences is the standard-bearer for excellence in the television industry and awards the prestigious regional EMMYs for the Suncoast Region. The 37th Annual Suncoast EMMY® Awards were held Saturday, November 23, 2013 at the Westin Diplomat Resort & Spa in Hollywood, Florida.
The 2013 show featured four area teen initiatives: APEL Project YouthLink, Landrum Middle School Ride With Pride and anti-bullying programs, PACT Prevention Coalition of St. John's County, and Big Brothers Big Sisters of Northeast Florida – Beyond School Walls at Andrew Jackson High School.  Students from these programs along with 30 middle and high school students in the studio audience discussed developing their game plan for success. Cyber Expert Theresa Payton gave tips on internet safety, and local DJ T-Roy kept the set energetic throughout the show. Special guest Jaguars Head Coach Gus Bradley answered questions and shared his personal experiences growing up; encouraging teens to keep strong bonds with their parents, avoid risky behavior and overcome challenges.
The partnership with Jacksonville media included WJCT 7, WAWS FOX 30, WTEV CBS 47, WJXT 4, CW 17, WTLV 12, WJXX 25, Comcast On Demand, The Florida Times-Union/Jacksonville.com, Clear Channel Outdoor, PRI Productions, and United Way 211. WJCT 7 Public Television was the producing station. Jacksonville.com produced the Jags Teen Talk Website. CW17 produced the promos for the show and PSAs that are featured on the website. Clear Channel Outdoor provided outdoor advertising for the show and PRI Productions provided resources for the set. Florida Blue underwrote the production of the show. For additional information and a list of resources, teens and parents can go to the Jags Teen Talk website at http://jagsteentalk.jacksonville.com/