The Jaguars' head coach was speaking this week about the team's defense – specifically, where a unit that improved late in a memorable 2022 season must improve in 2023.
Pederson mentioned multiple individual players – and one critical area.
One is fifth-year outside linebacker Josh Allen. The other is second-year outside linebacker Travon Walker. Allen, the No. 7 overall selection in the 2019 NFL Draft, led the Jaguars in 2022 with seven sacks, 22 pressures and 11 tackles for loss in 2022. Walker, the No. 1 overall selection in the '22 draft, registered 3.5 sacks as a rookie with 10 pressures and five tackles for loss.
"You want to see Travon take that next step in Year Two," Pederson said. "You want to see Josh come along again as an edge rusher, and really in his fifth year make an impact with the team."
Pederson discussed Walker extensively while meeting with the media Monday, saying he loved Walker's competitiveness, athleticism and strength.
"One of the things I appreciated with Travon is how he improved," Pederson said. "Some of these young guys don't know how to study the game as well. Being able to show him how to study, what to look for, who to study – great edge rushers in our game, to try to take some takeaways from that – and again, there's so much room for improvement with him."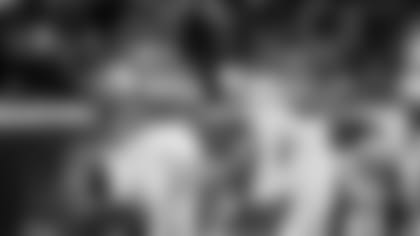 Pederson compared Walker's potential for Year 2 improvement with that of Jaguars quarterback Trevor Lawrence, the No. 1 overall selection in the 2021 NFL Draft who threw 25 touchdown passes with eight interceptions in 2022 after throwing 12 touchdowns and 17 interceptions as a rookie.
"Just like Trevor, we can only go up, right?" Pederson said. "He can be a really dominant impact player for us, and this will be a good plus: He'll have an offseason to kind of rest, too. This time last year, he was going with [pre-draft] visits and the [NFL Scouting] Combine.
"Now he's had a chance to kind of recover, heal, get back in the weight room and start working on his craft."
Walker and Allen in 2023 could key a pass rush that finished 2022 with 35 sacks – a group that lost reserve outside linebacker Arden Key as an unrestricted free agent to the Tennessee Titans with veteran pass rusher Dawuane Smoot still unsigned after becoming a UFA on March 15.
While the Jaguars' defense was improved against the run in 2022, and while it was one of the NFL's best turnover-forcing units, Pederson said key to the unit taking a step in 2023 is clear.
"I thought we were good in the run," Pederson said. "We just have to continue to get better against the run and shore up some things there, but I think, too, the passing game is the area that we have to look at and address this offseason and clean that part of it up.
"It all starts up front putting pressure on the quarterback."
Pederson this week, too, discussed insider linebacker Devin Lloyd. A first-round selection in the 2022 NFL Draft, Lloyd started 15 of 17 regular-season games as a rookie, finishing second on the team with 115 tackles – 59 solo – with three interceptions and eight passes defensed. "It's high," Pederson said of his confidence in Lloyd. "He really improved throughout the course of the year for us. He took a step in the right direction, I think. I think a couple games in there where we kind of kept him on the sideline a little bit as the backup guy really made an impact for him. He's another one of those guys just learning how to prepare, learning how to study, how to understand the game plan, his role within the game plan. Those are all things he's going to benefit from this offseason."