JACKSONVILLE – The progress is real, and really important.
The Jaguars beat the New Orleans Saints Thursday night. Winning a fourth consecutive game mattered to Head Coach Doug Pederson. The manner in which they won perhaps mattered as much.
This victory was guttier than it was pretty.
"Definitely a product of learning how to win," he called it.
And to Pederson, there was beauty in that.
"Last year, we probably would've made an effort but came up short in a game like this," Pederson said Friday, a day after the Jaguars' 31-24 victory at the Caesars Superdome in New Orleans, La. "What we've been able to accomplish at the end of last season and in the first part of this season is these guys are locked in for sixty minutes."
The Jaguars have won 10 of their last 12 regular-season games. Thursday marked their second winning streak of four-plus games during that span, and it was their fourth victory in 19 days.
The Jaguars beat the Atlanta Falcons and Buffalo Bills in London in Weeks 3 and 4, then beat the Indianapolis Colts at EverBank Stadium Sunday before winning in New Orleans for the first time in franchise history Thursday.
"It's a challenge," Pederson said. "You're crossing about five different time zones to get from Jacksonville to London and back. You go back to October 1 when we had our first Wembley game (in London) to last night, it was 19 days or so that we played four ball games. That's extremely hard on the guys, coaches and players.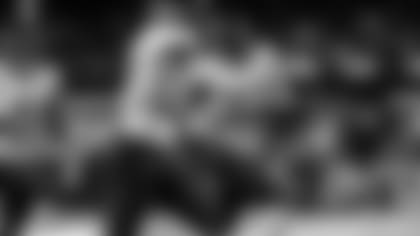 "My credit goes to the players for how they handled the last three weeks and really locked in. Whether we were doing a walkthrough or a full practice, the mental side of the game. There are still mistakes out there being made but overall, from a team perspective, definitely pleased with how they've handled the last three and a half weeks."
"They know it's going to come down to the wire, and really, there's no blowout type of games in the NFL anymore," Pederson said. "The scores are always going to be close, teams are too good. Our team is learning that and they're learning how to play, how to play together."
The Jaguars, after rallying from seven or more points in six of their last eight victories last season, haven't trailed by more than four points in any of their five victories this season. They have not trailed in three of their victories and did not trail the Saints Thursday. They have not trailed in the second half during their current four-game winning streak.
"It's amazing too, how nothing really shocks this team," Pederson said. "Whether you're up 14 or 17 or down 14 or 10, these guys just continue to play and somewhere, somebody is going to make a play. That's what I ask them to do. We don't go chasing plays, we just make the ones that come to us. That's what the guys are doing right now, learning how to win.
"Our guys are figuring that out and it's good to see."
Safety Andre Cisco left Thursday's game in the second half with cramps mostly for precautionary reasons, Pederson said. "It just didn't loosen up enough on him and his hamstring, so we just kept him out," Pederson said. Pederson said Lawrence "came out of the game extremely well on the [left] knee after practicing limited Tuesday and Wednesday and being questionable entering Thursday. "This will be a good couple of days here for him to rest and heal and get some more treatment on it," Pederson said. Pederson said right guard Brandon Scherff had no setbacks while playing through an ankle injury sustained against the Colts the previous Sunday, and he also said wide receiver Zay Jones and left guard Walker Little could practice next week after missing the last two games with knee injuries. "We're doing OK on the injury front," Pederson said. "We're just nicked up right now and banged up a little bit. This is a good time for this mini bye."
Lawrence, who sustained a knee injury in Sunday's victory over the Colts, was not sacked Thursday and the Saints were credited with two hurries. "To me, it's one of the best performances," Pederson said of the offense and offensive line. "Trevor was banged up going into the game, Brandon Scherff was beat up going into this game amongst other guys. The offensive line really put it upon themselves to keep Trevor clean in the pocket. Other than the runs that he had, he wasn't touched back there. I give credit to [offensive coordinator] Press Taylor's play calls. Balls were coming out of his (Lawrence's) hand extremely quick, receivers were doing their job. It was a really good performance there. Not only by the offensive line, but I think also the guys around Trevor helping him out in that situation."
Pederson: "Even though we're young, I feel like we're a veteran team and been around each other now for a year and a half. It's a credit to the players. The resiliency, it's the no-quit mentality, we're in it to the end. We're still seven games in and 10 more to go. It's still a long season."