JACKSONVILLE – Senior writer John Oehser examines Head Coach Urban Meyer's postgame press conference following the Jaguars' 31-19 loss to the Arizona Cardinals in a 2021 Week 3 game at TIAA Bank Field in Jacksonville Sunday …
1. Meyer believes in this team as much as ever … Meyer following Sunday's loss said what he said following a Week 2 loss to the Denver Broncos a week before – that he believes the Jaguars are progressing, and he very much likes this Jaguars team. The Jaguars, after a 37-21 loss to the Houston Texans in Week 1 in which they trailed 34-7 early in the third quarter, trailed just 10-7 at halftime in a 23-13 loss to Denver in Week 2. They led 13-7 at halftime Sunday and 19-10 in the third quarter before Arizona rallied with three consecutive touchdowns in the third and fourth quarters. "We're going to get this thing going," Meyer said. "I know I said that last week. Our players played their asses off. We just have to eliminate some mistakes and learn how to win. The locker room is as good a locker room as I've ever had.
2. … and he absolutely believes in Lawrence. Meyer on multiple occasions Sunday supported rookie quarterback Trevor Lawrence, who completed 22 of 34 passes for 219 yards and a touchdown Sunday – but who also threw two interceptions and lost two fumbles when sacked. "Trevor's a unique individual," Meyer said. "He competed his tail off. He's a unique cat now. I know what he's going to be like tomorrow: the same was he was last week. He's one of the most consistent players I've ever been around."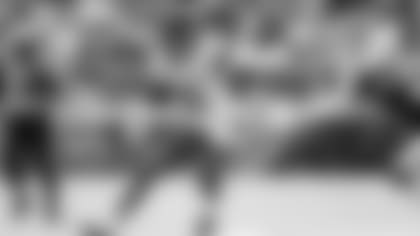 3. Meyer liked how the Jaguars' offensive line played … Meyer mentioned this on multiple occasions Sunday, praising the offensive line for playing well against a Cardinals defensive front that includes Pro Bowl linebacker Chandler Jones and long-time All-Pro defensive lineman J.J. Watt. The Jaguars allowed just three sacks Sunday and rushed 29 times for a season-best 159 yards. Meyer particularly noted an eight-play, 75-yard drive – all runs – in the third quarter that was capped by a four-yard touchdown run by running back James Robinson for a 19-10 Jaguars lead. "Think about who's in that defensive front: To march it down the field and come slamming off the ball like our offensive line did – and our back's running hard," Meyer said. "We've just got to finish it." Meyer added, "I thought it was one of the best performances against a good defensive front – pushing the ball. I kind of thought we controlled the line of scrimmage."
4. … and he liked how the running backs played, too. Robinson rushed for 88 yards and a four-yard third-quarter touchdown on 15 carries Sunday, with running back Carlos Hyde adding 44 yards on eight carries. The Jaguars rushed for 5.5 yards a carry Sunday. "I thought he was fantastic," Meyer said of Robinson. "He has been practicing like that and I thought Carlos ran hard. That was a plus, especially who we're playing. We had them on their heels. Those guys were running hard."
5. Meyer's concern over Lambo is growing. Meyer following the loss Sunday remained supportive of kicker Josh Lambo while also saying his concern over the veteran's performance was very real. Lambo, who made 76 of 80 field goals for the Jaguars from 2017-2020, entered the game having missed all three of his field-goal attempts this season – from 55, 52 and 48 yards. He did not attempt a field goal Sunday but missed two of three extra points. "He's the hardest-working specialist I've ever had," Meyer said. "But it's also reality. Now, we're missing extra points, so I'm not sure what we're going to do. Like everybody, I want to see him make it because he works so damned hard at it."
6. Tricky trick play. Meyer as expected following Sunday's loss discussed a failed "flea-flicker" play by the Jaguars in the third quarter, a play that began with Hyde pitching back to Lawrence and ended with Cardinals cornerback Byron Murphy Jr. returning an interception 29 yards for a touchdown to give Arizona a 24-19 lead. The play came on 2nd-and-6 after the Jaguars had run on their previous nine plays – the eight plays on their 75-yard touchdown drive and a four-yard run by Hyde to start the possession. "I always tell Bev (offensive coordinator Darrell Bevell) to be aggressive," Meyer said. "I've always told my coordinators all along the years, 'Let me be the over-ruler. Be the aggressive guy.' I heard it come over the headset and obviously I didn't stop it. I looked up and saw wide receiver] [DJ [Chark Jr.] behind the defense. It was a big one. I look up and the ball was picked. It was a decision I made a long time ago: 'Be aggressive.' You have to be smart but be aggressive. It's going to be a hard one to get out of my mind. You want creativity in the offense. I'm pushing every game, 'Be aggressive. Be aggressive.' It's my job to say, 'If it's not there, don't do that.'''