JACKSONVILLE – An improving area improved a bit more.
The Jaguars opened the 2022 League Year last week already feeling good about their defensive front seven. They also opened it wanting to further strengthen a run defense that took a step forward in 2021.
Mission accomplished, as Head Coach Doug Pederson saw it.
"We felt like we got better there," Pederson said.
The Jaguars last week acquired seven unrestricted free agents, a group that included defensive tackle Foley Fatukasi and linebacker Foye Oluokun. Fatukasi played his first four seasons with the New York Jets and Oluokun played his first four seasons with the Atlanta Falcons.
Both players figure to strengthen a run defense that ranked 24th in the NFL last season allowing 125.1 yards per game after ranking 30th in the NFL at 153.2 yards per game in 2020.
"We feel better," General Manager Trent Baalke said of the run defense. "If you look last year, there were stretches of games where we were very good up front. We've got some good football players on this roster who can stop the run. Adding Foley to the mix just increases our ability to do that.
"If you want to win this division, it starts up front. You have to be able to win the line of scrimmage on both sides of the ball."
Pederson, too, discussed the importance of having a strong run defense in an AFC South that features two of the NFL's best running backs – Jonathan Taylor of the Indianapolis Colts and Derrick Henry of the Tennessee Titans.
"The ability to stop the run ... with our division, you better be able to do that or it's going to be a long day for you," Pederson said. "Then you have to have your edge pass rushers, to, so you can get your sacks – or at least disrupt the timing of the quarterbacks – on third down."
Oluokun, a sixth-round selection by the Falcons in the 2018 NFL Draft, led the NFL with 192 credited tackles this past season. He said his early discussions with defensive coordinator Mike Caldwell focused on run defense.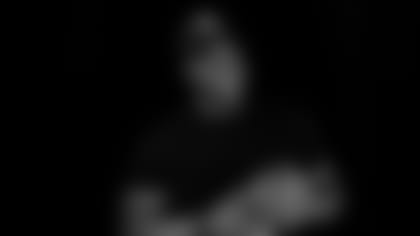 "Obviously, we have a [division] where they run the ball well and it's just more opportunity for me," he said. "It's definitely fun to go up against that kind of competition and that kind of talent. I tell myself a lot of times before I play a back that I feel like is good, if I go up against him, then I'll be recognized, like I'll get that respect and it's just fun to play against those kinds of guys. I'm happy I'm in this division where I get those opportunities and I'm looking forward to it."
Fatukasi called the division "a great challenge."
"They're extremely great players and hard to tackle," he said of Taylor and Henry. "Why would you want to go into a situation where it's easy? It's going to be fun and from what I'm hearing about the guys that are around here, it seems like we're already up for the challenge."
Pederson called stopping the run in the NFL "the key to the kingdom" – noting that if you can't stop the run, it's difficult to get into situations to rush the passer effectively.
"We know this is a passing league, but when you have a division like we do with some big backs and some gnarly backs in there, you've got to be able to put them on the ground and focus on stopping that first," Pederson said. "We've been able to do that not only with the guys on the roster but adding a couple of pieces.
"Looking at this football team from afar, as I did, prior to being hired, I felt like the strength of the team was the defense – those front seven guys. By going out and adding the two pieces we did, it really shores up the middle of our defense."