JACKSONVILLE – The work remains in progress.
But if that's true regarding the Jaguars' offensive line, and if how the group will look next season is still unknown, something else is equally true:
The team has made strides in that area already this offseason.
"It's heading in the right direction," Jaguars Head Coach Doug Pederson said.
Pederson and General Manager Trent Baalke agreed on that front last week when discussing the Jaguars' 2022 free-agency class – a huge part of which was offensive guard Brandon Scherff, a five-time Pro Bowl selection in seven seasons with Washington.
The Jaguars the previous week had placed the franchise tag on six-year left tackle Cam Robinson, ensuring a strong veteran experienced presence at least at two offensive-line positions. Pederson said last week he expects Scherff to start at right guard.
"It's something we had to take a strong, hard look at," Pederson said. "We took some really good steps forward in that direction with keeping Cam and getting Brandon Scherff. We're putting the pieces together, and we still have the ability in the draft to add some more depth and add some more value at that position."
Said Baalke, "We want to be able to run the football and we want to run the football and impose our will on people. We feel we're getting closer to be able to do that."
The Jaguars' '22 offseason hasn't just been about additions. Andrew Norwell and A.J. Cann, starting guards for the Jaguars since 2018 and 2015, respectively, signed with Washington and the Houston Texans. Starting center also remains uncertain, with Baalke saying last week no decision had yet been made regarding nine-year veteran Brandon Linder's future.
The Jaguars re-signed nine-year veteran and longtime reserve center/guard Tyler Shatley before free agency began. Third-year Ben Bartch, who started the final 13 games of last season following a season-ending injury to Cann, also will return.
"I'm not going on record and commit to a starting five, because there are a lot of things that can happen between now and opening day," Pederson said.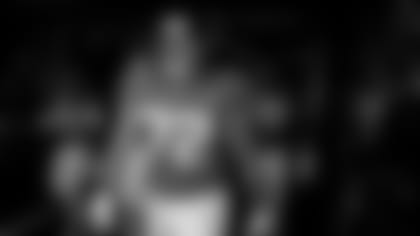 Another position of interest: Right tackle, where Jawaan Taylor has started every game the last three seasons. Walker Little, a second-round selection in the 2021 NFL Draft, played three games at left tackle in place of Robinson and played at a high level.
"Walker's a good football player; I think we all agree on that," Baalke said. "Finding a way to get the best five on the field – that's what the coaching staff will be working on. But we like our room right now."
Pederson said, "We like all those players, and Walker's obviously in that mix. There's going to be some good competition. That's really what it will boil down to, is the competition on the football field. You play the best five. You have guys in backup roles you can also count on.
"It's early to commit to a five, but I'm encouraged because we have depth at the position."
Baalke when speaking to the media last week discussed both Little and Taylor extensively, saying, "We feel very good going into the process that we can line up and play good football with those two guys." Baalke on Taylor: "We feel very comfortable with him. Is there growth that has to take place? Is there more consistency [needed]? I think we could say that about every player. If you look at our film last year, we could point to a lot of inconsistencies. He's a good football player." Baalke on Little: "Walker Little is a good football player. He proved last year he can play left tackle. He started three games in the National Football League and played winning football. Can he play right tackle? We're confident he can. Can he move into guard if needed? We're confident he has that potential."
Baalke on the '22 free-agency class: "We feel good. It was a long process. We worked our way through it. We were fortunate enough to land seven guys we feel are going to be great additions not only to the football team, but the community as well. You don't know what's going to happen. Players could get released. There could be trades. Every day you're looking to get better, so you never say you're out of anything. You're always looking to improve every room that's there, even when you have a room that's strong. I don't think the search ever ends."