JACKSONVILLE – Doug Pederson's first impression is still the big impression.
When it comes to his thoughts and expectations for quarterback Trevor Lawrence, the Jaguars' head coach has said often since taking the job they hardly could be higher.
Pederson reiterated that thought last week.
Pederson, hired as the Jaguars' head coach February 6, spoke to the media last Wednesday shortly after the Jaguars announced they had acquired seven unrestricted free agents: cornerback Darious Williams, wide receivers Zay Jones and Christian Kirk, tight end Evan Engram, offensive guard Brandon Scherff, defensive tackle Foley Fatukasi and linebacker Foye Oluokun.
Pederson and General Manager Trent Baalke discussed multiple topics that day, and we'll continue examining their thoughts this week on jaguars.com. Among the day's highlights: Pederson's one-word response when asked if a lot of the Jaguars' '22 offseason was about giving Lawrence the best chance to succeed.
"Absolutely," Pederson said.
The response drew laughter, but the focus on Lawrence this offseason is serious. Signing Kirk and Jones gives the Jaguars a receiver group that now also includes veterans Marvin Jones Jr., Laviska Shenault Jr. and Jamal Agnew – and adding Engram gives them a one-two combination at the position of Engram and Dan Arnold.
The tight-end combination is perhaps the team's strongest receiving duo in recent memory. Now, Lawrence must develop and take advantage of what's around him, with Pederson saying his confidence in the No. 1 overall selection in the 2021 NFL Draft stems from "the way he's made internally, just his attitude."
"He's a confident person; he wants to win," Pederson said. "I think that's important. He wants to win and losing bothers him."
Lawrence started all 17 games for the Jaguars last season, turning in his season's best performance with two touchdowns and no interceptions in a victory over the playoff-contending Indianapolis Colts in the regular-season finale. He finished the season with 12 touchdown passes and 17 interceptions.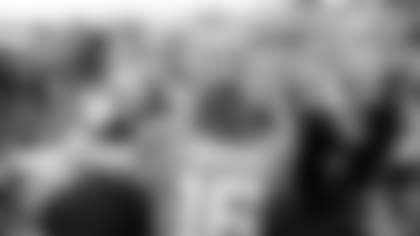 "He wants to learn," Pederson said. "He wants to get better. He knows he doesn't have all the answers and we're going to try to answer a lot of the questions he has for us. He's like a sponge right now. He wants to absorb everything.
"That's the encouraging part, having a guy like that leading your organization, leading your team."
The Jaguars entered the 2022 NFL League Year among the NFL leaders in terms of most available salary-cap space. Baalke said he still likes the Jaguars' cap situation following last week's signings – not only for the present but into the future. "We feel really good about where we are on the cap," Baalke said. "We haven't kicked anything forward at all. We're working off a set number for this year and we were able to stay within that. Next year's cap by nature is going to be a little tight, then it opens up again the following year. We feel really good with where we are from a cap standpoint."
Pederson on discussing Jacksonville with prospective free agents: "It's not a hard sell to come to Jacksonville. A lot of the players we talked to want to be here. Even though the won-loss record hasn't been there, it's a credit to the current players on this football team – and what Trent and myself – are trying to build as an organization here. It all plays a big part. That's the exciting thing. We want this to be a destination spot for top players. We had to start somewhere and we felt like we did that."
Pederson on the importance of off-field makeup in a player: "High character has got to be at the forefront of anybody that you bring on your team – whether it's a free agent, a draft pick or even your current players. All of these guys have that. Then you look their skill set. You look at what they've done on the field, the production. And then you look at how they're going to fit into the system we're going to install. All of that has to play a part in the selection process when you make decisions to bring guys on your team."